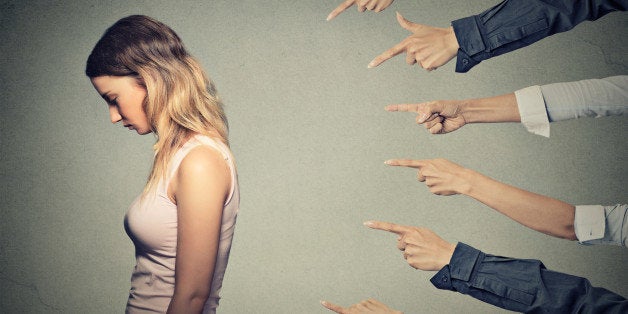 I'll get fired if I don't obey my boss. I shouldn't eat a second slice of pizza. I need to stay awake until 1 a.m. or else my business will suffer. I didn't follow through with my New Year's resolution.
Thoughts like these describe one word you've been experiencing since childhood: guilt. Guilt is an emotion you feel when you think you've violated a standard: the standard to do what's expected of you at work, home, and in your relationships.
We experience guilt from an early age having heard phrases like: "Don't do that," "Go to your room," or "Eat that because there are starving people across the world." We felt wrong if we did something different than what was expected because we knew punishment was the consequence of being disobedient. Every time we did something different than what our parents, friends, or society expected of us, we felt guilty. Whether we realized it or not, these feelings came with us into adulthood.
While guilt might have a positive intention (to do what's right), it can have negative consequences on our mood and behavior. Guilt can lead to unhealthy diets where we starve ourselves, working more hours to the point where we lose sleep, or isolation because we're too scared of what other people think about us. These behaviors lead to lack of self care, which can have major consequences on our stress and anxiety levels. Guilt can be a form of self abuse.
If you're feeling guilty about doing or not doing something that's expected of you, you need to stop it now before it's too late.
When we feel guilty, there's one simple word we can use to dramatically change the course of our future. Do you know what that word is? 'No.' The word is 'no.'
After we say 'no' to what other people expect of us, we stop conforming to other people's wants and desires. This allows us to start saying 'yes' to our wants and desires. This is not an easy word to say, and that's why we need to remind ourselves of the consequences we face if we continue to remain feeling guilty.
It's time to start saying 'no' to other people and 'yes' to ourselves. We are no longer children who need to feel powerless amongst the wants and desires of our parents. We are grown adults who can make mature choices and actions based on our core desired feelings.
I have a family member who expects me to visit them on a regular basis. They want me to leave my home, travel thousand of miles, and do everything that they want to do according to their schedule. When I vocalized my desire to stay at home for a holiday, the guilt came flooding into our conversation like a tornado hitting Kansas. My heart sank toward the bottom of the ocean and it felt as if I had lost my voice.
Then I learned how to say 'no' to this family member and 'yes' to my desires. This took a lot of strength, courage, and practice, but I now feel empowered to take care of my needs and my desires now that I know how to use these words.
And, yes, you can do the same. You can stop feeling guilty before it's too late.
Are you feeling guilty about a situation or are you still having difficulty saying 'no' to someone?