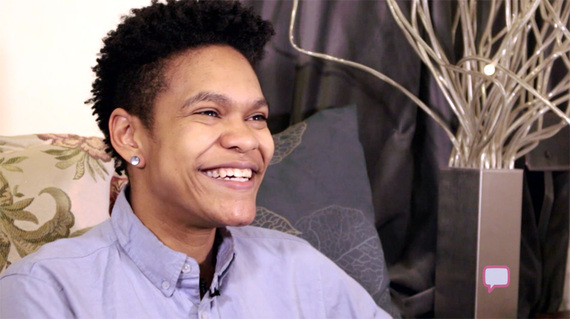 I'm From Driftwood is a 501(c)(3) nonprofit archive for lesbian, gay, bisexual, transgender, and queer stories. New stories are posted on the site every Wednesday.
We've all been there: You see someone cute on the subway but don't know what to do or if you should chat them up. Simone Davis recalls finding herself in that exact scenario one morning on the way to work:
The train comes, and we get on the same train together. I keep looking up at her, and I keep looking back down at my poetry book and writing, and then I keep looking up at her. ... I don't say anything, because I'm too shy. And I'm thinking, "This girl will think I'm crazy for just walking across the train and talking to her out of nowhere."
Fortunately, the object of Simone's affection wasn't quite as shy:
[J]ust before she gets off the train, she hands me a note. The train doors close, and I look down at this note, and the note says, "I'd like to read it/hear it when it's finished." And it has her email address after it. And I'm like, "Yes! I won!"
Unfortunately, it just wasn't meant to be -- yet. After some email mishaps, there was no communication between the two for a full year and a half. Fate wasn't quite finished with these two, though. Simone's friends insisted that she go out with them one night, and after some resistance she agreed:
I'm sitting there, having a good time with my friends, and in this girl walks, the girl from the train a year and a half ago. I start telling my bros this story, and they're like, "What? What? What are you doing still sitting here?! Go in there and talk to her! Go in there and get her!"
After some dancing and reintroductions, Simone and Katrina hit it off once again. This time, though, they immediately set up a first date, which ended up involving a ferry ride and a first kiss. Simone's advice? If you ever have a chance, take it and go all in:
Take that chance. Take that risk on speaking up, because unlike my story, we often don't get second chances. Sometimes we only get one shot. It took one person to step up and to make that introduction to make this story happen.
REAL LIFE. REAL NEWS. REAL VOICES.
Help us tell more of the stories that matter from voices that too often remain unheard.