Originally published on Turnstylenews.com, a digital information service surfacing emerging stories in news, entertainment, art and culture; powered by award-winning journalists.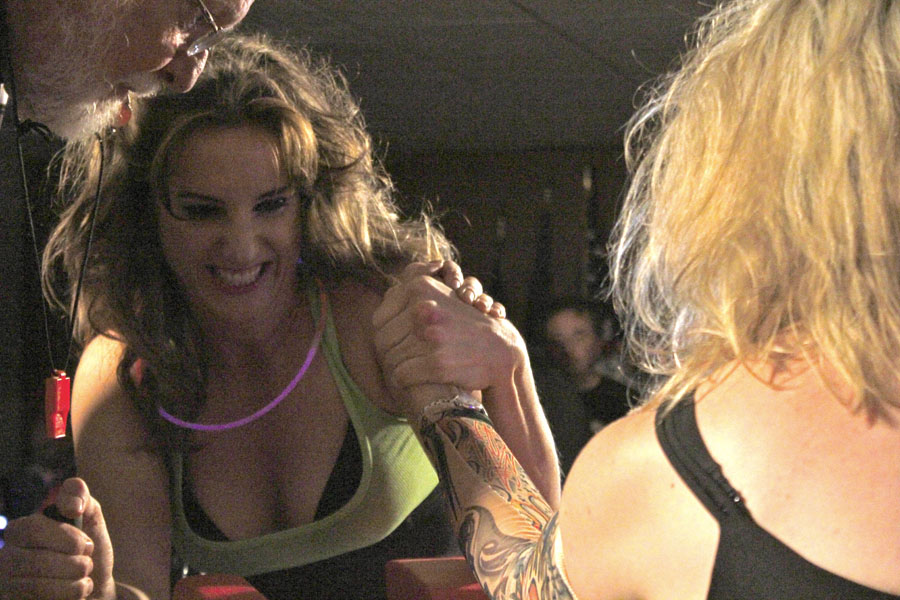 Grrrrrrraaawwwww! That's how they start every tournament. They are motivated, they're moms and they've got mounds of muscle. They're part of a new movement of women coming together to raise money for charity through the art and performance of arm wrestling. They call themselves CLAW, the Collective of Lady Arm Wrestlers. The Washington D.C. chapter, or DCLAW as they're known locally, raised over $3,300 at their latest event for a shelter that caters to homeless women. Turnstyle News sat down with co-organizers Holly Rothrock and Ann Marie Allison (reigning champ of the golden bicep award!) to find out just what it takes to rally a smack down event such as this.
Turnstyle News: How did you get the idea to start a lady arm wrestling league?
Holly Rothrock: I saw an article in the Washington Post in February of 2010, and it was about the Charlottesville Lady Arm Wrestling League. It was fairly new in Charlottesville at the time. And, it had been quite a hellish winter in D.C., and I'd had a lot of caffeine, so I called up Ann Marie and said, "This is what we are going to do." Start a lady arm wrestling league. It was for a great cause. You get to dress up and also do something for charity. It was right up my alley. And I knew it was right up Ann Marie's, too. My background is social work, and I'm always looking to give back a little bit. But since I had kids and I stopped working, I had been looking for something to do. It really filled a void for me.
Ann Marie Allison: We had both talked about some ideas on how to get more involved in charity, so when Holly came across this, it just clicked. I clearly remember the day she called me because she was super excited about it.
Turnstyle News: Once you have the idea, how do you get started?
Holly Rothrock: I looked on the Facebook page of the Charlottesville League and saw that the Washington Post article was posted there with a message saying D.C. should have a league. There were comments from Susan Whitney and Andrea Kavanagh. So, I wrote to them. I said, "If you ladies are serious, let's meet." Ann Marie and I did not know Susan or Andrea, but we met and decided, "Let's do this!" Andrea had a connection at the American Legion. They offered to partner with us and let us use their space. Then the women's auxiliary, which is part of the legion, came on board, too.
Turnstyle News: How did you come up with your wrestling personas?
Ann Marie Allison: We immediately started brainstorming the personas. For us, that was the most fun part of it. I'm from Atlanta and a screenwriter, so my mind went right to famous movie characters. I came up with Scarlet O'Scara. The charity thing makes you feel good, but people also get very exited about their character, what their costume is going to look like and what their entourage is going to do.
Holly Rothrock: The entourages were part of the Charlottesville League. I don't know if they called it entourage or posse, but they are essential to the whole event. Not only do they represent your persona, they also get money from the audience for the charity. The wrestlers stay backstage, while the entourage talks up the wrestler and asks for bets on the outcome of the fight. They say things like, "Look at my wrestler, look at he guns on her!" to charge the crowd. To add to that, the audience has a little bit of incentive, too. When they put money on a wrestler and that wrestler wins, they get a prize. Those prizes are a donation from the community. The wrestlers also bring a lot of acting to the part. They drum up the crowd. We've gotten different groups of women wrestling each time. The first group were the organizers and recruited friends and neighbors. Then, once we had our first event, people were sold, and they started asking to be in it. We usually have about six new wrestlers and two veteran wrestlers and two alternates. We're hoping to do an all-star event where the winners get to wrestler each other.
Turnstyle News: What's the turn out like at these events?
Holly Rothrock: The first went from about 70 audience members to third one at about 200 audience members. For this one, we probably had 150-200 people in the audience.
Turnstyle News: How much money do you raise each time?
Holly Rothrock: In a year, we've raised a total of about $12,000. Each time, we give to a different charity. The first one was about $1,600 to House of Ruth. The second one raised about $3,000 and we gave that to Swan, which stands for "Service Women's Action Network." For the third one, we raised about $4,000 and that went to the Fisher House Foundation. For this last one, we raised about $3,300, and that went to N Street Village.
Turnstyle News: How do you choose the charities you're going to contribute to?
Ann Marie Allison: We ask the wrestlers to bring ideas, and recently we started focusing in on charities that would feel the immediate impact of the donation. We started to look at local organizations where a few thousand dollars would really impact them.
Turnstyle News: What are you goals for the next year?
Holly Rothrock: There is a national movement, and we've signed on to be a part of that. It's called CLAW USA, and it's all of the new leagues who have been popping up and joining this bigger national movement. Collectively, it's getting the word out. One of our organizers is on the board, Andrea Kavanagh. They'll set some goals. One of the things we're trying to is take trips to see other events in other cities and get the word out. Making it a bigger connection will help all the individual local chapters. And, the more press, the more people will know about it. Ultimately, our goal is to see us grow bigger and raise more money for charities.
Ann Marie Allison: We are trying to expand our marketing efforts so we get more connections, whether its through the Washington Post or other publications in the area to drum up interest and get more people involved . We've been extending our reach that way. I met some people in my improv class that could help get the word out to that group of people in the Washington acting and improv circle. I think that would be a great fit.
Turnstyle News: What else is special to you about this movement?
Holly Rothrock: It's very empowering for women, and we've seen women who are shy and introverted and then they get dressed in this costume and they become this other person. It's wonderful to see. And usually, we have a representative from the charity come and talk during the event. It's great to see the impact and feel what we're doing is reaching that group in need. It's very empowering.
Turnstyle News: What's your advice to someone wanting to start a lady arm wrestling group?
Ann Marie Allison: To not be intimidated by the planning of the event. It's really really worth it. We learned a lot from the other chapters. We got a lot of information and encouragement from them. It's such a great time, and so much fun. It's worth any initial hesitation. We've got our Facebook page and the blog if you want to connect with DCLAW. CLAW USA also has a page.
Holly Rothrock: CLAW USA also has literature now to help people get things started. But if you want a personal account of our story, please contact us directly. There are also two guys out of Charlottesville doing a documentary about the movement. It's a good time. You will not be bored. Whether you're a participant or an organizer or you're coming to watch, you'll have fun!
Ann Marie Allison: What's your persona...?
Related
Popular in the Community