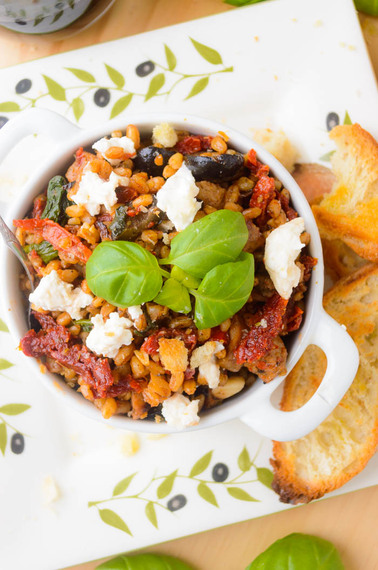 Do you ever have food obsessions? Like that one type of food you can have everyday. The one you gush over to anyone who will listen. The food you daydream of ways to cook with, who to cook it for and whether it's acceptable to make into a breakfast, lunch and dinner.
Oh love, you're so great. On a serious level though Farro has been my jam lately. It's the bomb diggity bomb.com and you need to hop on this Farro love train asap.
If you're feeling uncertain here's a little background: Farro is a type of grain that has a crunchier texture than rice and some lovely nutty notes that my heart melts over.
It's basically a step up from your normal boring quinoa game and has all this awesome hearty fiber that your health vibes are going to go nuts for.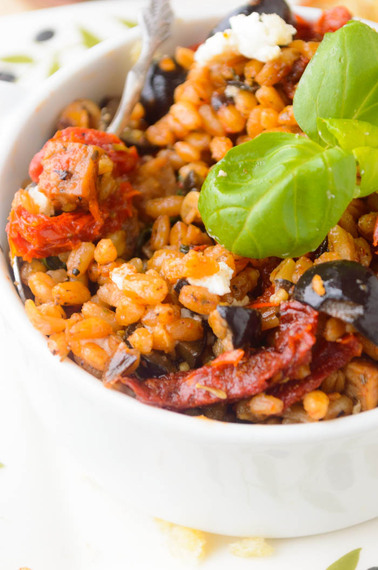 This specific recipe is super easy to throw together and highlights my love for Italian flavors. Think lots of fresh basil, mozzarella, sun dried tomatoes and olive oil. Swooning.
It would be awesome paired with pasta but it's time to be a little more adventurous and test out this Farro love, yes?
Ingredients
2 cups Farro, cooked*
1 Tbsp extra virgin olive oil
1 small onion, roughly chopped
2 garlic cloves, minced
4 chicken sausage links, diced (casings removed)
2 big handfuls of fresh spinach (about 2-3 cups packed)
1/3 cup black olives, sliced
1/3 cup sun dried tomatoes, packed in oil**
Handful of fresh basil, chopped
Optional: pine nuts, parmesan cheese, mozzarella cheese
Directions
Heat oil in a large sauce pan over medium heat. Add onion, garlic cloves and diced chicken sausage. Cook sausage for about 10 minutes, or until it begins to brown. Add in the spinach and stir for a few minutes, allowing it to wilt. Reduce heat to medium low and mix in the cooked Farro, black olives and sun dried tomatoes packed with oil. Stir everything up then toss in the fresh basil and optional cheeses/pine nuts. Test the recipe to see if it needs a little sea salt.
Serve immediately with fresh basil to garnish or extra cheese of choice.
Notes
*I used 10 minute cooking Farro from Trader Joe's, so convenient and delicious. **You must use sun dried tomatoes packed in oil. This is vital for the recipe, do not use bagged sun dried tomatoes.
Recipe originally featured HERE!