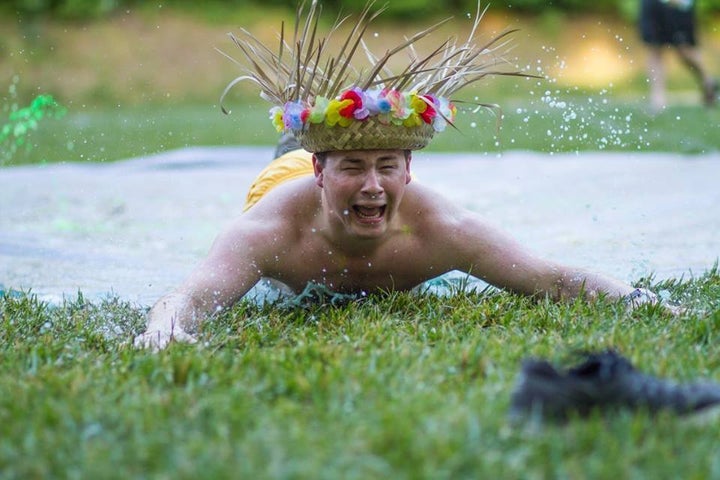 A little over a year ago, I was stumbling over myself to figure out which law internship I would take on for the summer. I was still partly open to doing something else, but when everyone around you is scrambling to get ahead and build resumes, it's easy to succumb to the same pressure. I had yet to even consider an internship in college and so I settled into the routine of pushing myself to figure out what it was going to be.
Fast forward to a few months later, when I heard the bell that wakes up an entire camp each morning. A bell that has lovingly rung in my head nearly every day this year and one I will hear much sooner than later. Fast forward from this internship search of mine to when I found myself in the mountains of North Carolina, surrounded by Falling Creek campers and counselors who all shared one collective goal: to have fun.
Yes ― I chose to serve as a camp counselor over a law internship that would have undoubtedly boosted my resume, but I chose much more than the position. I chose the simultaneous difficulty and sense of accomplishment that comes with getting eight seven-year-olds out of bed and dressed for the day in thirty minutes. I chose being challenged by a group of campers to close my eyes and fall backward off a high dive into a lake far below. I chose to share three meals, every day, with my cabins across four different camp sessions as I watched my guys grow a little more each day. I chose to share campfires on Sunday nights with everyone and, if you could look out over the crowd on any given Sunday, you'd be able to see that I chose happiness and brotherhood above all.
I chose the simultaneous difficulty and sense of accomplishment that comes with getting eight seven-year-olds out of bed...
"What are you going to be doing this summer?", I so often hear from close friends and family members. This year, I have felt so proud to say each time, "I'm going back to camp." Not once have I hesitated or felt any shame in not having what some misguided people might deem a "real job." Instead, I've felt nothing but sheer joy and excitement, because sharing my summer plans gives me both a resume builder and another chance to better the lives of as many kids as possible. I truly cannot wait to be back in the place that makes me the happiest with people I know I will stay close to for a long time. I'm a college student who is going back to camp.
Plenty of my friends have asked me what it is about Falling Creek Camp that enticed me to return, to forego the chance at an internship now that I already have one summer as a residential camp counselor checked off my list. My response isn't always the same, but it often includes words like passion, happiness, love, fun, brotherhood, and freedom. I'm not willing to do what so many college students make themselves do for the sake of traditional career-building. I'm not willing to take an internship right now when I know I'll be happier at camp.
Why should you be a camp counselor instead of an intern? Because you will walk away a better person and, more importantly, you will have become a positive role model for at least one boy or girl who you will make at least a little more confident in themselves. "You have grown so much..." is what our staff director told me at the end of last summer, and he was so right. Be a camp counselor because you'll grow more in that capacity than you would in most others. Be a camp counselor because you will learn aspects of yourself you never knew existed. More than anything, be a camp counselor because there are children out there who are counting on you, and this is your chance to make their summer unforgettable. Be someone's superhero. Become a camp counselor.
Calling all HuffPost superfans!
Sign up for membership to become a founding member and help shape HuffPost's next chapter
BEFORE YOU GO