As an artist, I've never thought of myself as a collector, but on a spring day in 2006, I crossed over to the other side, lured by Kalup Linzy's gouaches. At the time, my studio was down the hall from him in a loft building in Tribeca, but I didn't know him well. He wasn't famous yet as a performance and video artist, and he only occasionally drifted out of his studio -- from what I could tell as his neighbor, he was working 16 hours a day.
One afternoon I knocked on his door, and saw him leaning over a large table painting. He had a western exposure and the heat inside was stifling; the sun was baking the studio through the paper he had taped to the window. Kalup just kept painting as I looked at his 50 or so paintings pinned to the wall.
Kalup's paintings were simple, abstracted storyboards -- the product of organizing feelings and ideas for his videos. Like Rodin -- who created drawings to prepare for his sculptures -- Kalup's paintings were powerful because the marks on paper were made to think through larger projects, rather than an end in themselves. I decided I wanted some of these small paintings that made me feel connected to the process I saw unfolding in front of me.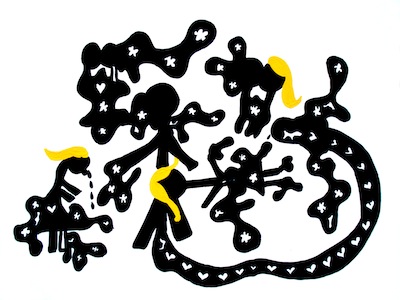 Kalup Linzy
"Ordinary People" "Katonyah"
Gouache on paper
12" by 16"
2006

Both as an artist and -- thanks to Kalup -- a collector, I've seen that many people are hesitant to start collecting art. After all, when you picture an art collector, you're likely to think of a New York magnate building a high-priced trophy collection. But the truth is, you don't have to be a millionaire to collect good art. If you care about the artistic process, collecting works by emerging artists -- those at the start of their careers -- can be one of the best (and most affordable) ways to engage. It's a form of angel investing: a way to identify and nurture talent at its earliest stages. I certainly owe my career to the collectors who were willing to take a chance on me more than a decade ago, when I was first establishing myself as an artist.
I had moved to New York City in 2000 to see if I could make it as an artist. I dropped off slides to 20 galleries in Chelsea, but only got one reluctant taker. The gallerist stuck my painting in his storage space and grudgingly agreed to "think about it." But as luck would have it, the next day Beth Rudin DeWoody -- a major collector -- walked into his back room and bought it on the spot. In short, that one brief interaction -- and Beth's willingness to support an emerging artist -- launched my career.
So how can you get started? Begin by embracing studio visits. Before buying, consider asking the dealer to arrange a studio visit for you, and if that fails, contact the artists directly through their websites. They'll be happy to meet with you because you're sincerely interested in increasing your understanding of their work. You'll also discover their work in a dynamic way not possible in a gallery. Recently I visited Rosson Crow's studio in Burbank, where I saw her new monochrome works, which shimmered in their place of origin. No matter whose studio you visit, you will come away with an unexpected insight and possibly an indelible memory.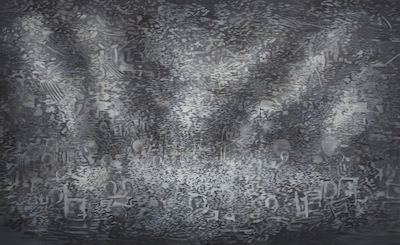 Rosson Crow
July 28th 1960 (Accepts the Nomination)
Ink, acrylic, oil on canvas
96" by 156"
2012
Courtesy Honor Fraser and photographed by Josh White.
What has your experience been in collecting works by emerging artists?
Popular in the Community