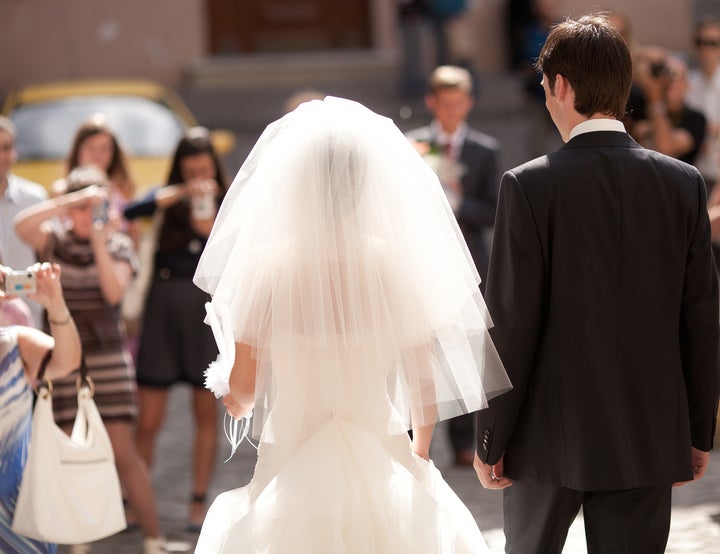 What's an unplugged wedding?
An "unplugged wedding" is when a couple getting married have made a decision that they would prefer if their wedding guests didn't take photos and/or upload them to social media.
There are many variations on this, from having an unplugged ceremony only, when guests are encouraged to put their phones and cameras away until after the marriage certificate has been signed, to a strict 'no photo policy' for the entire wedding celebration, to a complete 'social media blackout' until the following day or when the bride or groom have a chance to announce their marriage themselves.
What's the big problem with taking a few photos?
Over the last 10-15 years, advancements in technology like the development and affordability of DSLR cameras, the quality of built-in cameras in cell/mobile phones and the immediacy and capacity to share photos on social media have changed everything. These changes have meant that most people now have the ability to take photos or video and share them for the world to see in a matter of seconds.
In many everyday situations this is not a problem, but it only takes a short conversation with a publicly recognised identity, parent or event manager to tell you that it can cause big issues with public relations, privacy requirements, exclusivity contracts and embargo agreements.
For the average Mr Groom or Miss Bridey McBride, the consequences of guests taking photos at their wedding and sharing them publicly aren't generally as litigious in nature as this, but the effects can be infinitely more profound and long lasting.
What are the benefits of having an unplugged wedding?
1. Your guests will listen and interact more
Without the distraction of their phone and/or camera, your guests will be free to immerse themselves in the experience that you've spent months planning. They will be more likely to listen to and remember your ceremony better (so make it awesome!), engage and react to your heart-felt speeches and cheer you on for your first dance rather than experience it through a viewfinder or small screen.
And, without constantly checking their phone, your family and friends will be much more open to, and may even actively seek out (gulp!), interactions with other guests that they may not have met before.
"These days 90% of my weddings are unplugged and so when the ceremony is 'plugged in' I really notice it now - mainly in how engaged/disengaged the guests are. Phones are such a huge part of our day-to-day lives, so it's nice to have an excuse to switch them off and really be in the moment to witness our friends' once in a lifetime commitment." — Vicky Flanegan, Marriage Celebrant
2. Your professional photos won't be compromised
Here's the harsh truth: although the technology of taking photos has advanced, the photography skills of most people haven't.
A professional and experienced wedding photographer will make the best of any lighting situation so you can skip the unflattering, inappropriate, grainy or dark photos that some guests think are okay to upload to social media.
The extra benefit of not having a camera in everyone's hands means that your photographer won't need to jostle for prime position with Aunty Beryl, be blocked down the aisle or have blinding flashes over expose the photos they do take.
3. Every guests' privacy, including yours, is respected
Some people love posting everything that happens in their lives online and others avoid it at all costs. If you want to get technical, when a guest takes a group photo at a private wedding they are assuming that everyone in the shot is okay with it being publicized, which may not always be the case. Although the person who takes a photo owns the copyright (not the person that owns the camera or phone - always good to know), they don't automatically have the right to share the photo.
In addition to your wedding guests' rights being considered, a couple also needs to think about the people they didn't invite. A couple often walks a fine line in deciding who will be present at their special day and who will not. Sharing photos and video with those who have not been invited (even inadvertently) can sometimes lead to uncomfortable and awkward social situations and confrontations.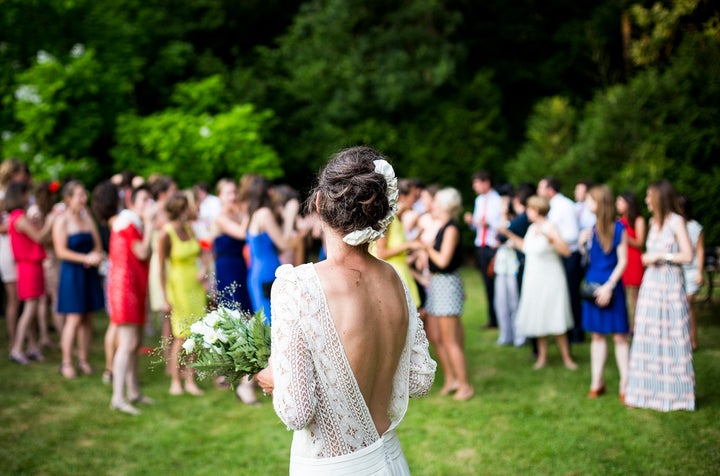 Is there a downside to having an unplugged wedding?
My husband and I had an unplugged wedding ceremony a couple of years ago and at the time I couldn't see why some family and friends weren't thrilled with the idea. Looking back though, there were some things that I hadn't banked on, such as the feeling of slight disappointment in the week following our wedding when there were only a handful of reception photos to look back on until the official photos came through.
And also the sharing of the official photos when they did arrive - how were our family and friends going to be able to view, save or print them? Ooops, I hadn't really thought that one through..
Have a sharing plan in place and let your guests know about it
Talk with your photographer about sharing a 'sneak peak' of a handful of photos a few days after the wedding on social media to whet everyone's appetite until the rest are ready.
Also, be sure to discuss the timeline of when your photographer will have your photos ready by and make arrangements to have an online portal or file sharing process for your guests that doesn't compromise your photographer's copyright.
Give your guests some photos to take home
Bringing in a photobooth for the reception or having an instant camera and props available for your guests is a smart way for them to be able to capture the moment and take some memories home with them.
Limit the 'unplugged part' of your wedding
You don't have to have an entirely unplugged wedding from start to finish.
Your ceremony is the perfect time to ask guests to put their phones away and enjoy the moment. You can then make it clear, by arranging for your priest/celebrant/officiant/MC to make an announcement at the beginning and end of the ceremony.
The most important part of arranging an unplugged wedding is the communication of your wishes to your guests. For some family and friends, your wedding may be the first time they've heard the term 'unplugged wedding' so you need to be very clear about what you are requesting of them and why.
1) Let your guests know ahead of time via your invitations (but never ON the invitation ― use an insert in the envelope or alternatively, add the notification to your wedding website). Avoid cutesy poems and funny verse, if you can help it. This is your first opportunity to make it clear what your expectations are.
Something simple like: "We invite you to be truly present at our ceremony, and respectfully request that all cameras and phones be turned off. We look forward to sharing our professional photos with you after the big day."
2) Nominate a diplomatic friend or two to help encourage other guests to put their phone/camera away and have signage or a program to back them up. Have a look at these great signs (below) for unplugged ceremonies.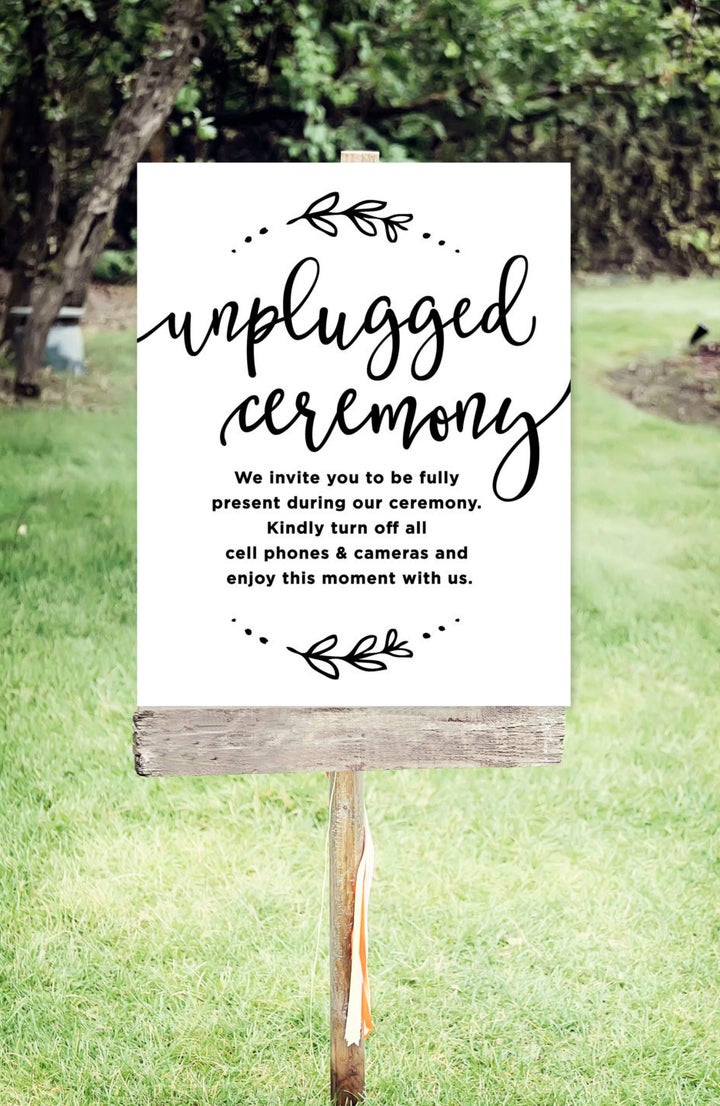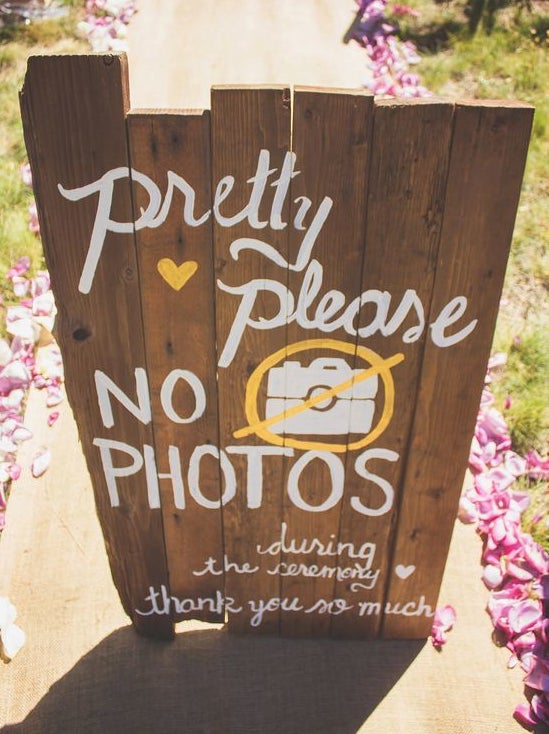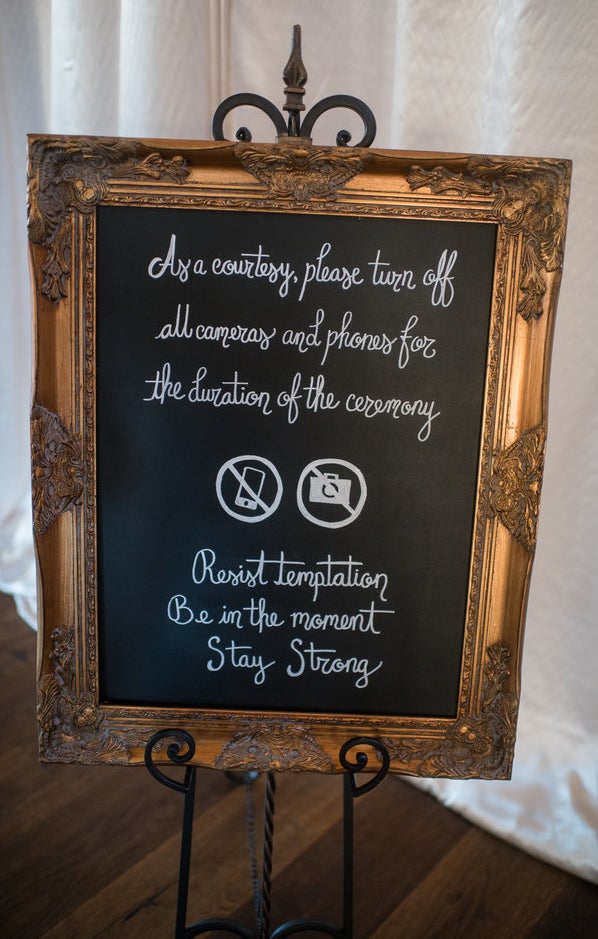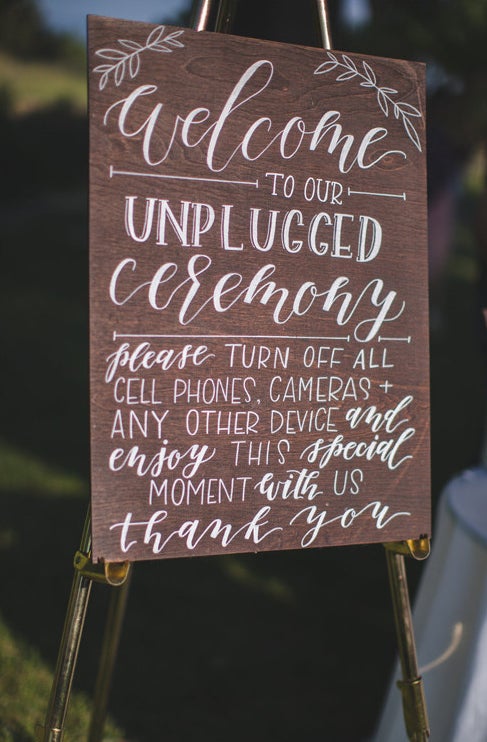 3) Ask your priest/celebrant/officiant/MC to make a housekeeping announcement before the ceremony begins.
Celebrant, Deborah Lilley, suggests something similar to the following:
"Before we begin, can I please ask you all to make sure your phones and any other devices are on silent? Bride and Groom have requested that you put your devices away for their ceremony/wedding, that you watch with your eyes and not your cameras, and that you all be present in the moment with them.
And could you please be mindful of where the photographer is taking her awesome photos from, so as to not get in her way? They are more than happy to share the fabulous photos with you later."
What are your thoughts on the etiquette of unplugged weddings? Please let us know your experience in the comments.
Before You Go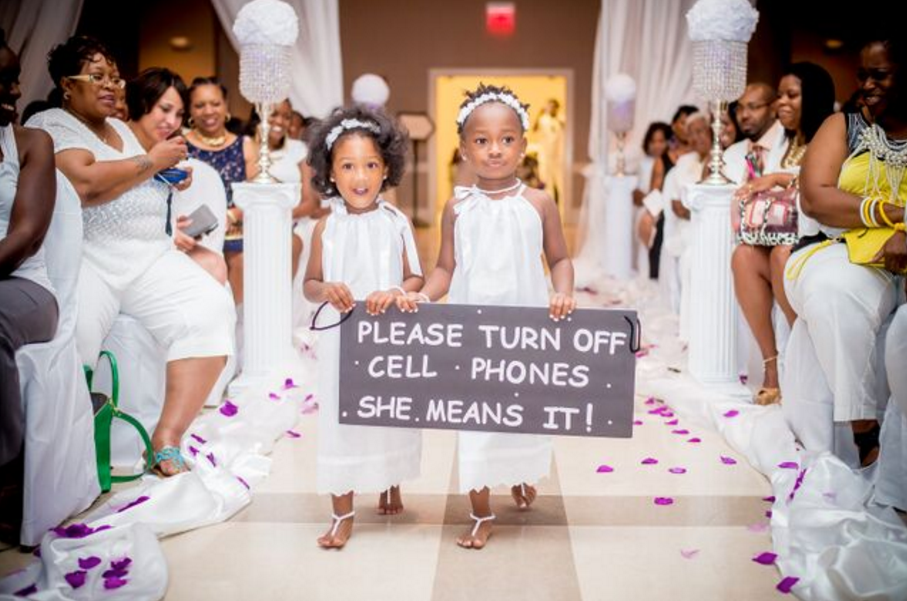 Unplugged Wedding Signs
Popular in the Community