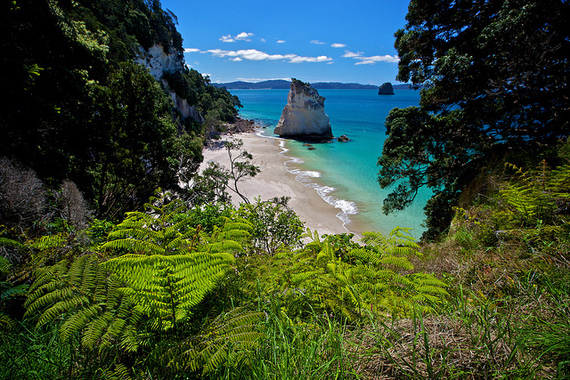 A land of tree roots and butterflies and sea cliffs: not only is New Zealand a volcanic dreamland, it's also one of the safest and socially progressive countries in the world. Until recently, however, this island country has been inaccessibly expensive for budget wanderlusters like myself. For that reason (along with the $2K plane ticket) I had this rain forest dreamland relegated to just that -- my dreams. However, things have changed. In a big way. Not only is the exchange rate in our favor for the first time in years, the planets are quite literally aligning. This is a now or never moment, y'all. Grab a hand pie and let me explain.
New Zealand is notoriously expensive. It's hard to have a pint and a burger for under $30. But thanks to the strong U.S. dollar, that's now turned on its head. Holding steady at a solid $0.60 USD for every $1 NZD, you pay only a fraction of the price tag. So while a $20 hamburger seems outrageous, do some quick math and take a breath.
The exchange rate is always in flux, of course. So, no dilly dallying. This USD advantage might not last forever. Check the latest exchange rate here.
Just Named One of the Safest Countries in the World
New Zealand was just named the 4th safest country in the world in the 2015 Global Peace Index. The ranking is based on criteria such as low crime rates, political and social stability, race harmony, and low levels of corruption.
In addition, solo travel, hitchhiking, and "freedom camping" are welcome and widely practiced. Camp freely in all backcountry, public conservation land, and most National Parks. (Just avoid fees on Department of Conservation (DOC) land. Before you go, check the location here to be sure.)
Plus, when you're bushwhacking to your free campsite, you don't have to worry about bear attacks or snake bites (you can keep your funnel web spiders over there, Aussies). There are zero predatory mammals, snakes, and indigenous poisonous insects. This place is safer than the State Fair.
Ranked Top 5 Most Socially Accepting Country
Due in part to its excellent national healthcare, robust social welfare programs, and strong personal freedoms, NZ was recently ranked in the top five most socially advanced countries in the world. According to the annual Social Progress Index, New Zealand also tops the list for water and sanitation, access to education, and inclusion of minority groups. Historically, NZ has a legacy of championing human rights and environmental sustainability: The first country in the world to give women the right to vote (1893), they also legalized gay marriage country-wide in 2013, and have led the global charge in organic farming and viticulture.
How does this relate to you, as a traveler? Incredible opportunities for WWOOFing and eco-tourism, with the social infrastructure to support affordable travel insurance and access to emergency care. Wider NZ culture is one of mutual respect and social responsibility. That's not to say bad things don't happen. But the historical legacy of kiwi tolerance and equality lends itself to a more hospitable and respectful environment, especially for solo travelers.
They Give Out Visas Like Candy
It's super easy to get a work/holiday visa if you're under 30. Some light paperwork and a few online forms, and BOOM you've got 365 days to work and play as you wish. After the big three-oh a work/holiday isn't impossible, it's just not as easy. So if you're 29 (like me), your wanderlust clock is ticking. YOLO, gurl.
Leave Now to Skip Winter
Forget Mercury in retrograde, your own planet is rotating into perfect alignment for New Zealand travel. Trade in puffy coats and salty sidewalks for turquoise waters and 80-degree sunshine. Because seasons are opposite in the Southern hemisphere (it's 75 degrees at Christmas), you'll leave just in time to miss the bleak winter months, and earn yourself a second summer. The extra bonus? You don't have to miss ski season. Find year-round skiing on the slopes of
on the North Island.
On my 29th birthday, after years of planning and postponing, I finally put in my paperwork for a work/holiday visa. I boarded a plane six weeks ago, and arrived solo and shaky-kneed in Auckland. Needless to say, I haven't regretted it for a second. But if you need something besides the best hikes in the world and the most unique wildlife to convince you -- there's also pavlova.
So, strap on your jandals and get over here.