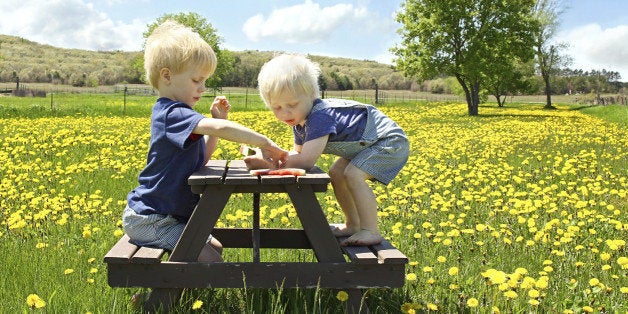 "For a new generation, nature is more abstraction than reality."
- Richard Louv, Last Child in the Woods
What are you doing with your kids this Labor Day weekend? How about taking a family camping trip? Or going to the beach? Or packing a picnic for the park?
The Nature Conservancy has launched a program called Nature Rocks, which is designed to inspire parents to get their children out into the natural environment. Check out their infographic below.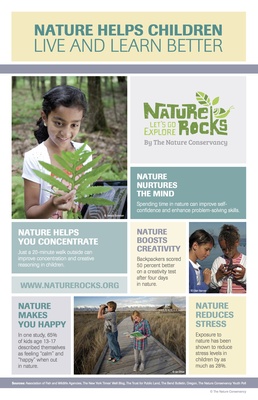 With support from Disney, the Conservancy recently surveyed parents of kids between the ages of 3 and 18 in the U.S., Brazil, China, Hong Kong and France. Their research revealed that 65% of American parents feel their kids aren't getting enough time outside -- in spite of the fact that an overwhelming 82% of them view spending time in nature as a high priority.
So, what's the problem? Where is the breakdown between parents desiring time outdoors for their kids and yet not making it happen? Naturally, homework and after-school activities like basketball practice and dance lessons take up a lot of room in young people's schedules. But so do endless hours spent on electronic devices. Parents have to make a commitment to being their children's stewards, planning outdoor activities for the family and encouraging time spent in nature.
Fear of what might go wrong also impedes many parents and children from adventuring more frequently into the outdoors. We've all heard nightmare tales of people getting Lyme disease on a camping trip, breaking a leg while skiing or even drowning while whitewater rafting. But the reality is the benefits far outweigh the rare "horror story" risks, and getting outside doesn't have to mean getting totally crazy. Even a hike or swim in the lake can make us breathe easier and remind us that we're part of a larger, interconnected world.
The good news for urbanites is that you don't have to take your kids hundreds of miles away to a national park or wait for your next vacation in order to enjoy the benefits of the great outdoors. Even a trip to the local city park can increase feelings of happiness and calm. Sitting on a lawn amongst the trees gives us a much-needed break from traffic, noise and technological distractions.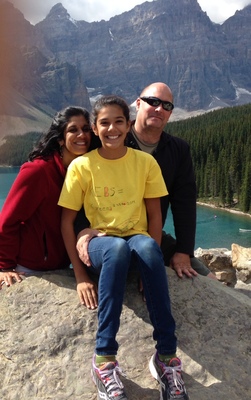 Nature Rocks program director Sarita Bhargava lives in northern Virginia with her husband and daughter (pictured above). She says, "Nature is our playground, and I am learning everyday how nature helps my daughter develop holistically. She gets mental and physical benefits from the outdoors that I know will contribute to her success in life. The doctors just gave us a free prescription to get outside. In my family, nature seems to be having a positive influence with no side effects."
So go on and get outdoors!
Infographic credit: Nature Rocks; Photo credit: Sarita Bhargava
Popular in the Community