I did it! I took off my clothes and bared it all to Tiffany Walker of Adeline and Grace Intimates, a photographer I have followed for years! In case you missed the backstory, check out my previous blogpost here. Let's just say I was not in the kind of shape you would think you would want to be in for a boudoir photo shoot.
I have had a few weeks to process and I have to say, as terrifying as it felt leading up to the day, it was actually quite liberating. I can now say I highly recommend doing a boudoir session, to any woman who wants to embrace who she is at this very moment and to have a blast doing it. I will be writing another blog about the "Couples Boudoir" aspect of our session, as that was an incredible experience as well.
The morning of my boudoir shoot with Tiffany I woke up and had instant butterflies. I can't remember the last time I felt that nervous. I knew I was going to have fun and I also knew being in front of the camera was not going to be easy for me. As a photographer, I like to be behind the lens. Being in my bra and underwear wasn't going to help. I am a smart, logical gal, yet I was having such illogical thoughts? What is Tiffany going to think of my cellulite? How much will she edit? Will she be sorry she picked us? Will she edit out my big fat lump on my thigh?
It was surreal to finally be standing in Tiffany's studio. I had seen it in the background of so many of her photos. Now I was going to be one of her models. It instantly felt like a safe space and I could see how she made women of all shapes and sizes feel sexy.
I was introduced to Sarah Dean, make up artist extraordinaire and was put right at ease. I had not had my hair and make up done professionally since my wedding 25 years ago. It was very exciting to be pampered. I drank champagne while getting my make up done. I felt like I was just hanging out with my girlfriends. We laughed and chatted and the champagne continued to flow. You know what they say they say about liquid courage.
When Sarah finished and turned me to the mirror I was blown away! Wow, I loved what I saw in the mirror. I felt so glamorous and sexy! Tiffany gave me a bra and panty set to put on....breathe, you can do this...I put it on and looked in the mirror. I didn't look long, just enough to see my amazing hair and make up and to question how Tiffany was really going to make me look good. She handed me some sexy high heels to put on. I fumbled with them for a minute and quickly realized I had to get to my destination across the room barefoot and then put them on. I had no clue how to walk in heels. It was pretty comical.
Tiffany started me with the so called "easy" poses. It felt fun and weird, all at the same time. I trusted her and knew that she wanted me to look my best. I didn't look down at my body. I pretended that I was wearing clothes. I tried to channel the smoldering, sexy Victoria's Secret models. It didn't take long before I realized I am more of the giggling girl next door and I'm ok with that. I wore a few different looks and we did tons of different poses. It was truly a blast, when all said and done.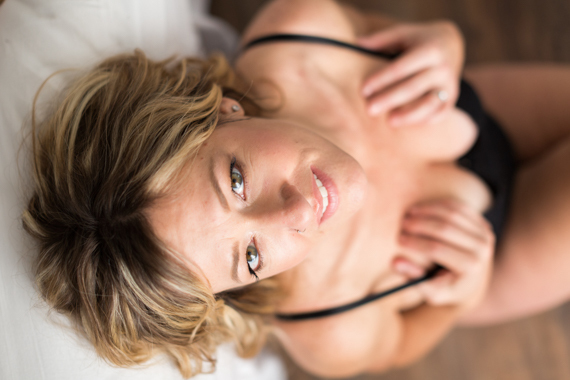 Photo Credit: Adeline and Grace Intimates
The next test was looking at the photos. Tiffany had my husband and I grab a bite to eat, then come back and look at our images. I was so excited and nervous to see the photos. When she put the first one up on the wall I was very pleased. Who was that pretty girl on the wall? It was me! It was strange to see myself look so glamorous, especially with so little clothes on. Tiffany took photos of me alone, and also photos of my husband and I together. He pretty much looks like a Greek God, so it was fun to see us together. He definitely looked hot! We had fun going through all of our photos.
When I was at home sitting in front of my computer, looking through the photos again, I started to judge myself. I had to stop and reflect. I am 46. I am supposed to have smile lines. I am a happy person. Most women have cellulite, even though the media would have us think otherwise. Tiffany did a great job editing the photos so I look like me just a little softer. My husband kept saying how hot I looked during the shoot and he LOVED the photos. I am so happy we did the shoot and I am so happy to have these photos. I know when I look at them in 10 years I will appreciate my 46 year old body and my adventurous spirit. I recommend that every woman treats herself to a boudoir shoot. Don't wait for the perfect time because there isn't one. Just do it, I promise you won't regret it.
Calling all HuffPost superfans!
Sign up for membership to become a founding member and help shape HuffPost's next chapter