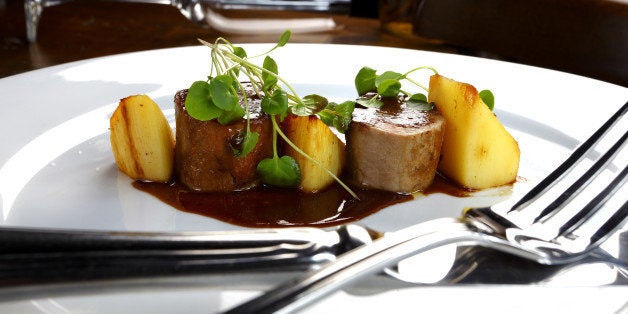 Not so long ago, adventurous eating meant a visit to the local Chinese restaurant for chow mein or an Italian café for pizza. Now, we're just as likely to go out for Indian or Thai food. International travel has opened Americans' eyes (and palates) to the delights of other countries' cuisines.
Driven by an insatiable hunger for something new, celebrity chefs now cook up exotic fusion foods like Asian-French or Pan-African. World cuisine cookbooks are hot, and grocers have begun to stock unusual ingredients for "foodies" who like to experiment at home.
But what's the next thing YOU should try? Well, what's your sign? That may seem like a bad pickup line but each astrology sign has its own characteristics and tastes. So take a tip from your Zodiac sign's traits and see what type of exotic cuisine might appeal to you...

Aries (March 21 to April 19)
You tend to like hearty fare with a zip to it. You would likely enjoy the wide variety of Southwestern and Latin cuisine now available, featuring sharp flavors like cilantro, hot peppers and sweet canela (Mexican cinnamon). Try grilled fajitas drizzled with a spicy poblano chile sauce, Texas crab cakes with green chile chutney, or Yucatan grilled fish wrapped in banana leaves, with mango salsa and corn on the side.
Taurus (April 20 to May 20)
You'll eat just about anything, as long as it's fresh and well prepared. And, many of you are excellent cooks. But you also tend to fall into ruts. Your sensual palate might enjoy the unusual flavors of Ethiopian food, like eggplant salad, chicken stewed in red pepper paste or vegetables with garlic and ginger. Or, experiment with Indonesian fare, such as grilled duck with green chiles or vegetables with peanut sauce.
Gemini (May 21 to June 20)
You get bored easily with the same old food, and are always on the lookout for something fun and different. Check out Native Australian cuisine, featuring some of the most creative dishes in the world, from crusted beef with native spices like sea parsley and quandong, to smoked Tasmanian salmon egg roll-ups and Witjuti grub soup. Or, try Brazilian fare like shrimp stewed in coconut milk with rice balls on the side.
Cancer (June 21 to July 22)
You appreciate the fresh flavors of the sea, so sushi is perfect for you. From rainbow rolls to scallop hand rolls, sea urchin to seaweed salad, the subtle flavors of Japanese food would make you melt. Or, if raw fish isn't your thing, try the eggplant miso soup and teriyaki salmon. As long as it's not too spicy for your delicate tummy, an Indian dish like creamed curried spinach with cheese and saffron rice would delight you.
Leo (July 23 to Aug. 22)
You pride yourself on being a world traveler, open to new culinary adventures. But have you tried the latest Pan-African delicacy -- blue caterpillars served sun-dried and fried with peanut or chile sauce? Didn't think so. With your taste for elegance, you might prefer a French cream of lettuce soup, quiche Lorraine and crème caramel, or a dramatic Asian-French fusion dish like grilled tournedos of wild boar in lime and ginger sauce.
Virgo (Aug. 23 to Sept. 22)
You're a purist, Virgo. Many of you are vegetarians or at least prefer your food fresh and light. Fried potatoes and sausage are not for you, so stay away from Polish or Russian cuisine. Ethiopian food, with its delicate chickpea pancakes, eggplant salad and vegetables in garlic and ginger, is right up your alley (just avoid the red pepper paste to avoid upsetting your delicate system). Thai food also has appealing vegetarian dishes.
Libra (Sept. 23 to Oct. 22)
Your harmony-seeking nature would appreciate Japanese, Chinese and Korean food. All share a balance of sweet, salty, bitter, hot and sour flavors. Try a Korean meal like stuffed cucumber kimchee, mixed vegetables with beef and asparagus cooked like ferns. Scandinavian countries also strive for a healthy balance and variety, serving small portions of fish, meat, vegetables and grains smorgasbord-style for a single meal.
Scorpio (Oct. 23 to Nov. 21)
Indian food would suit your taste for strong spices and dark, exotic flavors. Try a dish like chicken curry with saffron rice and cucumber salad, or creamy curried beans with Indian cheese and fresh mango chutney. You might also enjoy the contrast of soothing coconut and fiery spices found in Indonesian dishes such as grilled Sumatran duck breast with green chiles and cooked vegetables in peanut sauce.
Sagittarius (Nov. 22 to Dec. 21)
You're a seasoned explorer, Sagittarius. Many of you have developed a particular fondness for Latin cuisine, from South American to Italian. Your adventurous taste buds might enjoy Salvadorean fried yucca root and plantains with sour cream, or Cuban stewed chicken, rice and black beans. You'd be equally game for an exotic pizza with sun-dried tomatoes and goat cheese, or a tasty, tried-and-true eggplant parmigiana.
Capricorn (Dec. 22 to Jan. 19)
You like hearty, old-fashioned fare, Capricorn. Irish corned beef and cabbage in ale with green potato pancakes might tickle your palate. Or, try the fresh game, Baltic herring, red beet borscht, kielbasa sausages and poppy seed pastries of Poland, and caviar and blinis of Russia. Whatever Mama used to make, whether it was Italian baked lasagne or Middle Eastern grilled kebabs with hummos, rice and samosas, suits you just fine.
Aquarius (Jan. 20 to Feb. 18)
A convivial atmosphere is more important to you than what's on the menu, Aquarius. That's why Shabu Shabu, the latest Japanese trend, is ideal for you. Everyone gathers at a big table and partakes from one steaming pot of savory broth featuring beef, vegetables and noodles. Your experimental, I'll-try-anything-once nature might also enjoy the variety of choices at a Scandinavian smorgasbord or Middle Eastern buffet.
Pisces (Feb. 19 to March 20)
Whether it's Spanish paella over saffron rice or spicy Creole gumbo, shellfish speaks to your sea-loving nature, Pisces. You might also adore a fresh Greek salad with feta cheese and blackened shrimp. Blurring boundaries comes naturally to you, so try the latest fusion cuisine. Experiment with a Creole-Japanese dish of blue crab cakes with zingy wasabi sauce, or Tex-Mex grilled oysters cooked in garlicky poblano chile pesto.