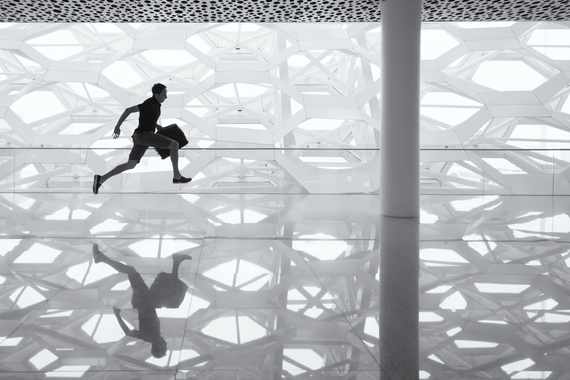 "Life is like riding a bicycle. To keep your balance you must keep moving." -- Albert Einstein
This quotes resonates, and yet I'd argue that worse than falling over is staying completely still.
Resting on past successes and settling in to certainty and comfort.
Success and accomplishment feel amazing in the moment, but those feelings can also hold us back from starting something new again. We can hesitate to put ourselves back out there, worried that our next effort won't be as good as the last.
Scared that people might think about us differently if we don't have the same triumph again.
But one thing I have learned from the best innovators, entrepreneurs, athletes, and business leaders is that it is critical to push beyond this fear.
We need to start again -- to force ourselves back into the arena where results aren't guaranteed.
"The key is to never stop moving forward," says Ed Catmull, President of Pixar and Disney Animation, in his New York Times bestselling book, Creativity Inc.
Catmull knows a little something about creativity, success, and consistently putting yourself out there -- he pioneered the computer-animated film industry, and then led Pixar to 14 consecutive #1 box office hits and 30 Academy Awards.
And yet he freely admits that, "Early on, all of our movies suck."
Catmull requires his team to endure the inevitable mess at the beginning of a project in order to produce great work in the end. And he doesn't allow complacency after success. He believes that getting started again and making needed adjustments along the way is far better than remaining still.

Always moving forward means embracing that attitude of relentless progress, even if it isn't pretty at times. Even when it is slow and barely noticeable.
It means being committed to learning, experiencing, experimenting, and doing.
It means having a bias toward action, not being paralyzed by the pressure of perfection.
As famous author Margaret Atwood said, "If I waited for perfection, I would never write a word." This coming from someone who has written more than 40 books.
The key is to always start again.
Never stop moving forward.
"To me, if life boils down to one thing, it's movement. To live is to keep moving." - Jerry Seinfeld
Andrew Merle writes about good habits for happiness, health, productivity, and success. Read more at andrewmerle.com and follow him on Twitter and Medium.
Popular in the Community