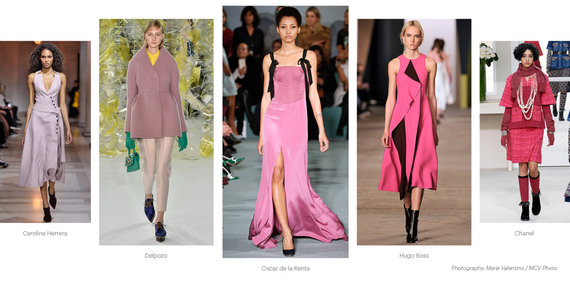 Pink gets a bad rap. Fearing the flounce factor, perhaps, or the "pretty in pink" moniker, women sometime steer clear of this color. Which is a real shame. The burst of pink on the runways, part of the designers' liking for feminine shapes and shades, is a trend we can get excited about. It may not be a traditional Fall color, but never mind that.

Pink is super flattering. With your complexion in mind, choose your hue--whether it's a vibrant coral or a palest pearl or anything in between--and you'll be tickled by the results.
Carolina Herrera Nothing babyish about this pale pink stunner. The sensuous lines and plunging neckline of this cocktail dress are tempered by the soft pearly hue.
Delpozo The subtle tea-rose shade of this sophisticated jacket and pants almost appears neutral when paired with a bright yellow blouse and an unexpected, artful mix of colorful accessories.
Oscar de la Renta A romantic column in a vibrant shade of cyclamen pink benefits from the seductive addition of black straps. Ooh la la.
Hugo Boss The architectural cut of this striking azalea sheath dress is underscored with deep burgundy folds that flutter like flower petals. Mesmerizing.
Chanel A statement-making suit if there ever was one. The delicious combination of watermelon and berry will stand out among the usual array of autumnal tweeds in the months to come.
When picking your pinks, keep this in mind:

Going for the classic: For women with cooler complexions, the more pastel-ish pinks, the classic hues, work well. We love the A.L.C. ribbed turtleneck sweater in peony, the T by Alexander Wang off-the-shoulder dress in blush, the Ann Taylor polished T in soft lotus.
Embrace the power: For warmer-toned complexions, go for the stronger shades, even the one and only hot pink. Check out the Milly one-shoulder top in rose or the Elie Tahari willow-pleated silk blouse in a bright shade. And how about these Etro cigarette-leg satin trousers in strawberry pink!

Structure is the answer: If you're still a little wary of pink, then choose a structured piece for wearing the shade: It creates an interested contrast. We like these coats from Theory and Helmut Lang. And the Basque lace off-the-shoulder dress from Nicholas, in blush, is simply exquisite.