There is a line in Matilda where Mr. Wormwood sings: "All I know I learned from telly." It's meant to be a negative, and I get why, but I am not ashamed to admit that I learned a lot from television. Two shows I watched many times growing up were Alice and Knots Landing, mostly in reruns. So needless to say I was extremely happy when The Tale of the Allergist's Wife was announced. This was before I covered theater for a living, back when I was a mere fan, and I knew I had to go. Lucky for me, not only did I see Linda Lavin and Michele Lee in that, but I've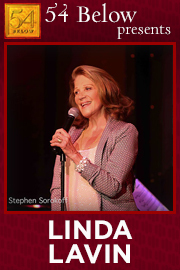 seen them both since, Lavin more frequently than Lee. While the latter is currently donning a tremendous amount of stage makeup and multiple wigs for Wicked, the former is gracing a more intimate stage, that of 54 Below. You should go tonight or tomorrow.
This isn't Lavin's first visit to 54 Below, though it's the first time I've had the opportunity to enjoy it. Lavin's Starting Over is so named because she says "that's what I've been doing my whole life." She doesn't delve very deeply into any Lazarus-like experiences she may have had, but it doesn't matter. Lavin, age 77, is as charismatic as she has ever been. She delivers a line and a song with a tone that is immediately identifiable and still unique. About a quarter through the piece, she discusses briefly her performance off-Broadway in the mid-1960s revue The Mad Show, with music by Mary Rodgers, and makes light of the fact that the song she is about to sing, "The Boy From...," features lyrics by Esteban Ria Nido (aka Stephen Sondheim). Lavin's delivery of that song, with a faux Spanish accent and an eye roll, shows her at her best.
I've always known that Lavin started out onstage in musicals. She notes in the show that as a child she wanted to be a dancer, but at the age of ten turned to singing, and after that, sang always, including "when a fridge opened and the light turned on." I knew she starred in It's a Bird, It's a Plane, It's Superman on Broadway. (For those of you who -- like me -- missed that performance originally, you'll get to relive it a little bit at 54 Below, as this many years later she delivers a version of "You've Got Possibilities" perfect to samba to if there was a dance floor. In fact, she dances a little bit onstage with a life that belies her age.) Most people however don't know she is a singer. She's now best known for television and plays. So it was no surprise to me when someone at a neighboring table snuck a picture with a whisper to his companion: "She is actually good."
Lavin is clearly someone who loves the stage. One of the (many) reasons I don't generally like cabaret is that the "spontaneous" patter never feels that way. Lavin has clearly been doing this act for years and the reactions and dialogue are certainly more actress than person at this point. However I never felt cheated because of that. It is Lavin's joy of being up there that carries the night. A recurring theme of the night -- not surprisingly for a show that is called Starting Over -- is that when one door closes, another opens. At one point, after pianist Billy Stritch delivers a touching rendition of "Cottage for Sale" and the mood has turned melancholy , Lavin reiterates the "door" statement and then exclaims: "But it's hell in the hallway!" I knew this was not a sudden declaration, thought of in the moment; I still laughed. She sells it. That wry persona you might know from the small screen is accompanied with enough warmth that you want to follow her lead.
You have two more performances to catch her this go-round -- tonight and tomorrow. There are tickets still available. Buy them. Eat some food. Enjoy someone who is really a treasure. Oh, and then also buy tickets to see her in Manhattan Theatre Club's Our Mother's Brief Affair starting in January. We all know she is genius in straight plays, as evidenced by her Tony win and handful of additional nominations. Oh, and while you're supporting Lavin, consider seeing Lee as well. Although her 54 Below dates are behind her, not only is she in Wicked, she's performing her solo show, Nobody Does It Like Me, The Music of Cy Coleman, at the Kennedy Center in November.
REAL LIFE. REAL NEWS. REAL VOICES.
Help us tell more of the stories that matter from voices that too often remain unheard.