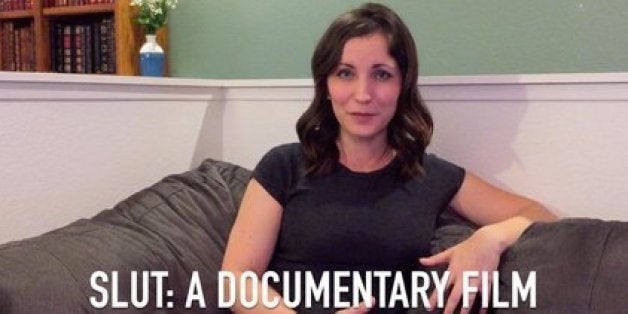 Have you ever done something so mundane as gettiing dressed and asking a girlfriend, "Does this make me look like a slut?"
When I was in eighth grade, my father caught me looking at myself in the mirror as I was preening for a bat mitzvah. He told me my dress made me look like a slut. I know he didn't mean to hurt my feelings, but all through my adolescence, I wondered what it mean if your father thinks you're a slut. (I did dirty dance with my eighth grade boyfriend at that bat mitzvah; Did that make me a slut?) Notice how my unconscious changed my father's observations on how I looked to how I self-identified. But like so many little girls, I conflated how others saw me with who I was and how I moved in the world. The word slut -- and the experience of being called one -- affirms this conflation.
This was two decades ago. Rather than moving away from such rigid patriarchal thinking, our sexually-saturated culture has become obsessed with slut-shaming and sexual bullying, leaving many women disgraced by and alienated from their sexual selves. While sexuality doesn't completely define us, it plays a larger role than we'd care to admit. Sexuality speaks to how we relate to our bodies and how we self-identify. Because I've written about sex and talked about it publicly, I've opened myself up to being targeted and harassed and slut-shamed in public. Trolls have gone through my social media account and picked out the most provocative, dirty pictures (drunk selfies in a bar bathroom; poor judgment, but get over it) and used them to belittle me. It so seems we still haven't moved away from the Virgin or Vamp lens when it comes to talking about women and sex.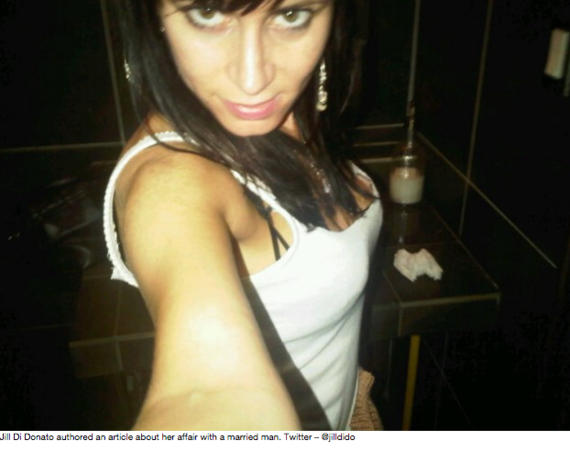 But what's a "slut" anyway? To Emily Lindin, founder of The UnSlutProject, an organization that works against sexual bullying and slut shaming in our schools, communities, media, and culture, the word 'slut' is like the word "unique," in that "it just means whatever the person using that term wants it to mean." When Lindin was 11 years old, she was branded a "slut" by her classmates and was bullied at school, after school and online. During all this, she kept a regular diary. Now a Harvard graduate pursuing her Ph.D. in California, Emily started The UnSlut Project by blogging her own middle school diaries.
The project has grown into an online community where people who have experienced slut-shaming and sexual bullying can share their stories, and where girls who are currently suffering can find support. This year, she will release a Slut: A Documentary Film, that focuses on the story on Rehtaeh Parsons, a Nova Scotia teenager who took her own life in 2013 after being gang-raped and subsequently sexually bullied by her classmates. In addition to Rehtaeh's story, Slut: A Documentary Film, tells the diverse stories of four North American women who have overcome various forms of sexual shaming, including the alleged victim in the Roman Polanski sex scandal of the late 1970s. The film is in post-production and is securing distribution through Seed & Spark.
I sat down with Emily for a discussion about her efforts to affect change, and to investigate the unhinging power of words.
JD: Explain the origin and mission of the UnSlut Project:
EL: The UnSlut Project is a movement to reach girls who are currently being sexually bullied in order to let them know they are not alone and that they can survive; and, on a larger scale, to undo our culture of sexual shaming and its harmful effects. To do this, we are raising awareness of just how pervasive this problem is through personal story sharing. By speaking up about our own experiences with sexual bullying and "slut" shaming, we can undo the whole idea of a "slut," so that it won't even make sense as an insult.
I started the project in the spring of 2013 as a simple blog of my diary entries from when I was labeled the middle school "slut" at age 11. I had heard many stories in the news about girls who had committed suicide after being targeted in this way, sometimes because they had been victims of a sexual assault, and I thought that my real, personal diary would offer the insight of what exactly might be going through the mind of a girl who is in that kind of situation. Within the first month of the blog, women from all over the world started submitting their own experiences, and it became clear that this was a really common experience.
JD: In particular, you were affected by the story of Rehtaeh Parsons, her rape, sexual bullying and subsequent suicide. Can you explain what gripped you about Rehtaeh's story?
EL: When I read about Rehtaeh's death in April of 2013, it really rattled me. I had heard so many similar stories about girls taking their lives after being slut-shamed in the United States and Canada, and as someone who had been labeled the school "slut" and considered suicide because of that reputation, I couldn't believe girls were still suffering in this way. A few months later, after we had raised the funds for production of Slut: A Documentary Film on Kickstarter, I reached out to Rehtaeh's parents to let them know about what we were doing. They invited my co-director, Jessica Caimi, and me to come to Nova Scotia and interview them. After speaking with them about what they and Rehtaeh went through, we knew it would be a central part of the film. Her suicide got so much media attention, but we really wanted to delve into what led her to that point: the gang-rape itself and the sexual shaming that followed. She was a real person and her family is still suffering.
JD: In the American context, we have a history of using words as weapons, to dehumanize, shame and disenfranchise people. In your opinion, why do words have this effect on people?
EL: Words like "slut" allow us to label each other in a really simple, debasing way. If someone is a "slut," she doesn't get to be a full person, and thus, we don't have to worry about her experiences, her fears, her loves or all the facets of her personality. She is easily dismissed as worthless. When privileged groups of people have used words in that way -- to avoid seeing the person they're labeling as a multi-faceted human being -- historically, it has led to extensive oppression and even genocide. "Slut" is a catchall insult for women, in that it can be applied to any woman for any reason. There is nothing any woman can do to avoid being labeled in that way. It's a word that's representative of a larger cultural mistrust of women and a fear of female sexuality that is quite sinister and dangerous.
JD: Is there a way to use the word "slut" in a sex-positive way, reclaiming it and using from the standpoint of empowerment?
EL: There certainly is a way to do that, and I have friends and colleagues who stand by the power of reclaiming "slut" in a sex-positive way. The UnSlut Project goes about it in a different way, because I think first we need to un-do the whole concept of a slut before we can start trying to convince people it's actually a good thing. Maybe in a couple of decades, we will be able to laugh about a time when "slut" was an insult. I hope that happens, but we're not there yet. The word still has such destructive power that making light of it doesn't sit right with me.
JD: Why, in your opinion, are people so fascinated with the sex lives of other people?
EL: Most of us in the U.S. are taught from an early age that sex is dirty and taboo and even sinful, so we can become a little uncomfortable with our own sexuality. Actually, I'd go so far as to say that the vast majority of us are VERY uncomfortable with most parts of our sexuality. So we project that onto others, directing the attention their way instead of having to unpack the stuff that makes us nervous within ourselves. I think this is especially true for adolescents, who are just realizing that they're sexual beings. Since they don't know what to make of any of it, beyond the knowledge that they should be ashamed of it, the impulse is to deflect that discomfort onto one of their peers.
JD: I completely agree. But it seems there's an imbalance in that people are more concerned with women's sex lives more so than they are with men's (I'm not even touching homosexual and transgender experiences, as that's a whole other topic.)
EL: Well, without getting too much into the religious aspects of our culture, the idea of purity as a virtue is pretty deeply rooted in our understanding of what women should be. You hear it all the time in the language we use: "I'm not that kind of girl," implies there are two "kinds" of girls, and we all know what "that kind" is. We say people "lose their virginity" or worse, that someone has "taken their virginity," as if the state of not-having-had-sex-yet is a tangible part of your value that can be lost or stolen. And for women, that used to be true -- once you had had sex, you were worthless as a wife. The fact that this idea lingers in such a real way in 2014 seriously baffles me.
JD: I work with a lot of young people (people who aren't even having sex) and I've found that in pre-adolescent culture, the term "slut" has become desexualized -- it has become a word that is used to degrade or belittle someone. Can you give your thoughts on this trend?
EL: I'm not sure that's true across the board, but where it is true I find it upsetting for a different reason. To draw an analogy, when I was in middle school 15 years ago, we used the word "faggot" as a catchall insult. (I have to say, it makes me cringe to even type that word now. I am not proud of the way I used language in middle school.) I might have called my sister a "fag" for stealing my Sony Discman, for instance. Same with "gay." We used that word interchangeably with "stupid" or "something that generally sucks." We didn't mean for the WORD to indicate anything tied to actually being gay, per se, but the fact that we were throwing it around like that demonstrated our unspoken agreement that "gay" was gross and something we didn't want to be. When young people use "slut" that way, it's not directly targeted sexual bullying, but rather it represents an understood disgust for female sexuality.
JD: For people who are educated enough to recognize that the word slut is a construction, and a patriarchal one at that, being called a slut can still erode away at a girl or woman's self-esteem. Why do you think this is?
EL: There's often a disconnect between what we know intellectually and what we feel emotionally. For instance, I know that Twitter trolls don't know me personally, that they're just trying to upset me and that they have no bearing on my real life. All the same, the first time someone attacked me on Twitter, I was quite rattled. Education and life experience can help you negotiate "slut" shaming situations so that they don't interfere with your work, but you really can't completely undo the shame that, in many cases, was instilled within us from a very young age. That's why I care so much about comprehensive, age-appropriate sex education for kids. We don't need another generation to grow up into adults who, no matter what they learn or discover or unpack, will always be at least a little vulnerable to sexual shaming.
JD: Once we negotiate our own personal perceptions (i.e. there's no such thing as a "slut" or "unslut") what's the next step?
EL: We have to accept there's absolutely nothing a girl or woman can do to avoid being targeted as a "slut," so we need to shift that responsibility off the victims.
Related
Popular in the Community