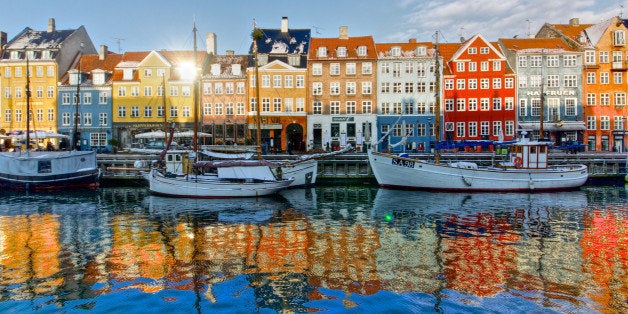 I didn't know much about Denmark before I booked a flight to Copenhagen a couple of weeks ago. As a child I was enchanted by Hans Christian Andersen's fairytales; as an adult, by Disney's animated retelling of them (though who isn't, really? Only the soulless are impervious to the charms of Frozen). I'd seen Masterchef contestants struggle to recreate René Redzepi's fanciful Nordic concoctions with ingredients like carrot sorbet, vinegar meringue and whey. I'd also heard about the Danish love of all things hyggelig (cosy). As a sucker for stories, food and snug ambience, Copenhagen was right up there in my Tripadvisor searches when deciding where to go over Easter break.
I planned for 3 days, which is not really long enough to fall in love with a person, but long enough to fall head over heels for a city. At the risk of sounding like a strung out flower child, I just loved its vibe.
Copenhagen manages to be at once charming and trendy; like a girl wearing burgundy lipstick and a goofy grin. Clean design lines and sometimes bleak skies are offset by cobbled streets, colorful buildings and tiny glowing cafés.
Beautiful old buildings that speak to centuries of history huddle alongside trendy boutiques. The city is compact and easy to explore on foot or by bike (if, unlike me, you don't require a Mighty Ducks formation and padded goalie gear to imbue you with cycling confidence). Caveated by my somewhat limited Euro travels, I've got to agree with Lonely Planet's assessment that all of this makes for possibly Europe's most seamless urban experience.
Here's why you should visit:
Arriving into Copenhagen airport and making my way towards the metro, a beautiful boy handed me his hardly-used klippekort (10-use transport card, due to be phased out by July). I barely had time to gawp at his cheekbones and kindness before he was off with a cheery wave. This is the kind of friendliness that I experienced throughout my time in Copenhagen. Museum staff and salespeople were helpful and trusting (I didn't once get asked to show my student ID when I requested concession tickets, and I know it's not because I looked particularly sprightly), with crinkly-eyed warmth. There is a sense of calmness (people even wait for the green man before crossing the road!) which I suppose has much to do with the size of the city and sense of social security which tempers any drive to 'get ahead'.
On my first day I joined a walking tour of the city which ended in Christiania (a former abandoned military area which was taken over by squatters in 1971 and claimed as a free town, divorced from the laws and taxes of wider Copenhagen). For an ungoverned area that was pretty fuggy with pot, it still had an orderliness about it, exemplified by the 'No Running' signs. Actually, the only rude person I met in Copenhagen was on this walking tour; a French brand manager for a cheese company who covered me in spittle for 2 hours as he went on a tirade about Havarti and called me an idiot for defending the humble Cheddar cheese.
Copenhagen also has a general air of health; perhaps a product of the bracing air and emphasis on clean food. Just north of my hotel (Wakeup Borgergade, which I cannot recommend highly enough for location and value for money) was Churchillparken, where I spent a good hour rambling around the star-shaped Kastellet fortress. More intriguing than the Little Mermaid statue were the fit Danish people exercising in the park. (Note: if you want to see a mermaid statue, look for the Merman and his seven sons, which are underwater in the Slotsholm Canal and just visible from Højbro Bridge. Abandoned by their human mother Agnete, the merboys beg her to return home with outstretched arms. There are also a couple of other similar statues around the city; the Danes seem to really like their fish-people hybrids.) Anyway, I marvelled at jogger after tall slender jogger, as they loped around the park barely breaking a sweat. I swear there was more Helly Hansen (the Nordic answer to Lululemon) than that movie Three Night Stand. It almost made me want to pop on some candy-coloured Nikes, but I generally take a more 'Christiania' approach to running.
I spent one lovely afternoon at the Designmuseum, which had an interesting exhibition on the Century of the Child. You've got to hand it to the Danes for avant-garde school designs, Lego (even though it inspired a generation of terrible haircuts like that of my Year 8 math teacher, Mr 'Legoman' Cahill), and toys. I love these dancing shoes (my Dad probably would too; he still smarts at the memory of me breaking his toe by jumping on it when I wanted to dance on his feet as a kid) and this seal suit (the cute and classy predecessor of the gamer's Snuggie and unicorn onesie):
You can also see iconic pieces by designers like Poul Henningsen and Arne Jacobsen (the Egg Chair guy); lamps and chairs that I'd only ever seen in Australia in Matt Blatt, a furniture store that recreates the designs in cheapo materials and insists on calling them 'seating solutions'.
I also got my aesthetic fix at the Ny Carlsberg Glyptotek art museum which has, amongst other things, the most incredible collection of Degas bronze sculptures.
Ah, the food in Copenhagen! Just picture me rolling me eyes ecstatically and drooling at the gastronomic memories (or not). As I discovered, eating out is pretty expensive (let's face it, the closest I could hope to get to dining at Noma would be licking the lichen off the side of the restaurant) and even though I'm theoretically willing to pay a premium for organic fare, attractive copper lighting and nicely-weighted cutlery (gotta love that Georg Jensen), my student budget couldn't quite make the stretch. But that's where Torvehallerne Markets came in...a veritable super market with over 60 stalls offering fresh seafood, gourmet chocolates, beautiful pastries, cheeses and meats, salads, coffees and juices. I had the most memorable salmon smørrebrød (open-face sandwich) from Hallernes: dense rye bread, fennel cream, citrus-marinated salmon, grapefruit slivers, crunchy fennel and dill...it had me begging, "Please sir, I want smørre!"
In the city centre I loved the Royal Smushi Café which does smørrebrød, sushi size! I believe it's what the Danes would call mad kunst (food art, though be careful how you pronounce it in English) and it's an infinitely better portmanteau than the cronut, waffle taco or whatever other ridiculous Frankenstein food is being cobbled together these days. Now there are some Dane Cooks I can get behind.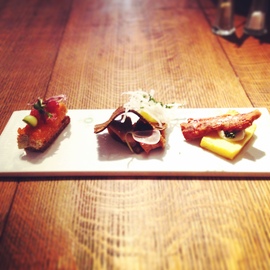 The three central palaces of Copenhagen are must sees: Christiansborg for the (free) tower climb, Rosenborg for the beautiful Knights' Hall, and Amalienborg for the changing of the guards. My favourite Danish experience, however, was getting a train up to Hillerød to visit Frederiksborg Palace (about 40 mins north of Copenhagen). Set on an island in the middle of a lake, Frederiksborg is possibly the prettiest castle I've ever seen.
It's elaborate and showy, but not vulgar. Kind of like the D&G haute couture of the castle world. As a national history museum, it's also a cornucopia of intriguing royal portraits (you can almost imagine them stealing glances at one another when you turn your back), furniture, celestial globes and clocks.
Leaving Copenhagen after just 3 days was tough. I could easily have stayed on for another week of enjoying the hyggelig cafés, chatting to friendly locals, eating skyr (traditional yoghurt) and marvelling at the how smukke (beautiful) everything is. As I reluctantly got off the metro at Copenhagen airport, I noticed a girl heading towards me wearing a huge rucksack and uncertain expression; obviously a freshly-arrived tourist.
As we passed, I pressed the klippekort (which still had a few remaining rides) into her hand and flashed her my best Danish smile. "You're going to have the best time here".