It was just last month I was saying goodbye to my favorite new summer show, Lifetime's UnREAL, and welcoming back a favorite of mine from last season, USA's Playing House. Playing House is already ending its season tonight, too soon. You should watch.
I had dinner with someone who asked me how I could like both shows. One, she posited, was about women who hate other women and the other one was about the bestest of best female friends. She only liked Playing House and found the other vulgar. While I hate to argue with a Playing House fan, I quickly took exception to this characterization of UnREAL. To me that show at its core is about the somewhat twisted, but almost familial, relationship between Quinn and Rachel. Perhaps before the season finale I got that solely from the smart, layered performances that both Constance Zimmer and Shiri Appleby are giving. I always felt that Quinn wanted the best for Rachel. It wasn't all about the show for her, it was about her protégé. But, beyond any inferences, the season finale was pretty explicit in stating that these two loved each other, whether Rachel saying it when she did was a bizarre power play, as some have said, or not. (See this story by Vanity Fair's Joanna Robinson for a more full explanation of Appleby's Rachel and her antihero status.) Everything these characters did to the other female characters was in the name of the job or self-advancement, whether their actions were reprehensible or not. I don't think it speaks to a hatred of any sex; I think it speaks to manipulation being at the center of the serial.
But, moving on to a somewhat less troubled relationship, and somewhat less troubling characters, we have Playing House. As I have written a few times previously, I loved the first season of Playing House. Neil Genzlinger is one of my favorite New York Times writers (and, indeed, I will always owe him a debt because when I was a new Times writer he taught me that "Dumpster"and "Jet Ski" were trademarked words), but I completely disagreed with his review of the premiere and also his warmer review of this season. I didn't think the characters were terribly immature in Season 1, nor do I think this season is an improvement. I liked last season better. I think that is because this season has strayed from the show's central focus--the bond between the two women. In wanting to integrate more plot lines and characters, it suffered. I of course welcomed Marissa Jaret Winokur's singing -- though I was hoping it would be more than a version of Happy Birthday -- and getting to know her character a little better. And who doesn't love Keegan-Michael Key? Plus, I honestly want more Zach Woods. I just also want more Maggie (Lennon Parham) and Emma (Jessica St. Clair) together. I find the funniest scenes to be their scenes. The dating episode was a highlight on that front, as was last week's Camp Kimmewah episode.
Importantly, the worst episodes of Playing House are better than the best episodes of half of the things on television. I watch the first episode of every scripted television show, so I know. Let's look at a sampling of this summer's new comedies. Kevin From Work? The only thought I had while watching it was that Amy Sedaris needs a new agent. Mr. Robinson? I wondered whether we were back in the 1990s. Significant Mother? My Twitter feed said this was getting award buzz, and about 4 minutes in I knew my Twitter feed lied. (I'm linking to Neil Genzlinger reviews I agree with, if you want more detailed analysis.)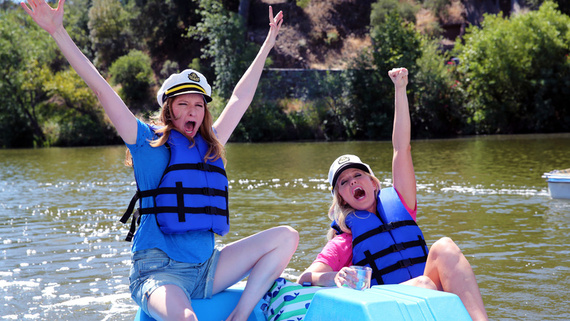 There is still no comedy like Playing House on television. It's not just another wacky family sitcom. Yes, it tends towards the zany, but at its core it is about friendship. It's about the family you choose, not blood relationships or associations by marriage. There are other current shows that profess to be about friendship, but none portray it as well. Unless you consider Friends a current show, judging from the amount of times you can see it in one 24-hour period. Compare Playing House to, let's say, Clipped or Undateable. I think you'll find I'm right.
I urge you to tune into USA tonight to watch the season finale of Playing House, especially if you are a Nielson household in the 18-49 demographic. It's a two episode night featuring Kenny Loggins. So, basically, you can get in the mood to recreate Kevin Bacon's Footloose dance while supporting this comedy. Multi-tasking at its best.
Calling all HuffPost superfans!
Sign up for membership to become a founding member and help shape HuffPost's next chapter