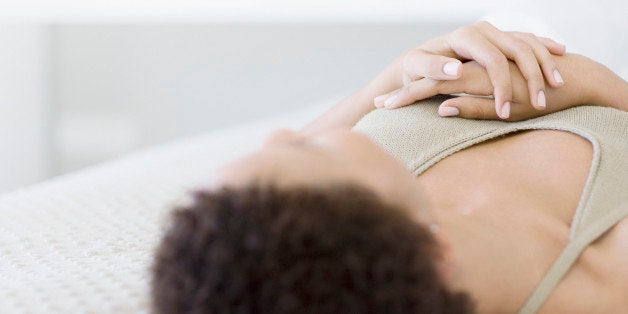 An open letter to ministers, yoga teachers, rabbis, spin instructors, pastors, professors, priests, Zumba leaders, imams, motivational speakers, reverends and anyone addressing mothers and fathers in mid-May or mid-June.
Dear Person at the Front of the Room,
I know you worked really hard on that homily about Mother's Day/Father's Day. It's a time of joy and appreciation and community for almost everyone you address. Thank you for your special sentiments to soothe those in your audience who don't have their mothers or fathers accessible to them. It's a nice touch to bring in that compassion.
You may not know this, but there are likely other outliers receiving your message. That 30-something lady who pulled tissues out of her purse and filled up three of them with tears and snot? That man who had to excuse himself awkwardly? That woman who tried to hide the fact that she was sobbing on her yoga mat?
These are people who desperately want to be a mother or father, to join the parenting club at long last. To have the cards and commercials and 30% off sales apply to them. To bring into their lives what others are able to effortlessly. These are the outliers in your audience. Let me tell you about some of them.
Could be a woman who found out this morning that her third IVF attempt didn't work -- no line on the pee stick. To make matters worse, she turns 35 next week and her medical chart will be marked AMA -- advanced maternal age. Her prospects for success with future treatments looks unbearably bleak.
Could be a couple who has been waiting in an adoption pool for 28 months. Each period she has -- each turn of the calendar page -- marks another month their prayers have gone unanswered.
Could be a couple who thought they were finally going to be admitted to the Mother's Day/Father's Day club, but whose hopes ended in a miscarriage, stillbirth, or neonatal death.
Could be a couple whose planned surrogate is suddenly unavailable to them.
Could be a man who wore the title of Dad for a few months -- until his baby died.
Could be a woman who experienced an unexpected pregnancy and took the course to place her baby in the arms of another mother.
Could be a couple who has exhausted their options and who has resigned themselves to living a child-free life. Not so much by choice as by circumstance.
I know you didn't know. Why would you, unless you or a loved had experienced this type of loss? If you knew you were also addressing outliers, I suspect that if you knew you were also addressing outliers, you would include compassion for them in your message.
Related