What is the most beautiful stretch of Mediterranean coastline? Many a fruitful evening can be spent debating this subject, preferably over a bottle of rosé as the sun dips into a cobalt sea. The French might vote for the Côte d'Azur, or perhaps the calanques between Marseille and Cassis. The Italians, of course, would proudly point to the Amalfi Coast.
All are lovely, but invariably overrun by tourists. I'd opt instead for the so-called Turquoise Coast of south-east Turkey. With hundreds of miles of unspoilt coastline, thousands of uninhabited bays and pine-clad hills dipping into crystalline water, this is one of Europe's last unspoilt beauty spots.
Turkey has no shortage of visitors. Thousands crowd its beach resorts, and many more spill out of cruise ships into the busy port of Kusadasi, on their way to the ancient site of Ephesus. But there's a superior way to see this part of Turkey: on a small sailing cruise aboard a traditional wood-built gulet.
On a small yacht, you can moor in pretty harbours or - better still - drop anchor in a quiet sheltered moonlit bay, dine on deck and wake at sunrise for a dip in the limpid turquoise sea.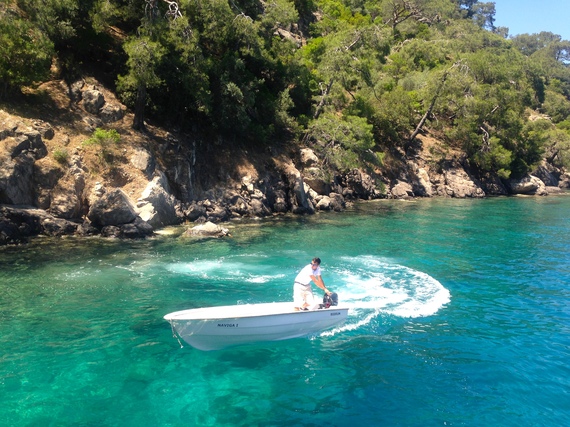 This coastline is dotted with ancient sites, so many in fact that Turkey doesn't have the money or the inclination to excavate them all. Some, like the ancient and abandoned city of Cnidos, which has a 5,000-seat amphitheatre overlooking a beautiful natural harbour, are treacherous to reach by road. On a boat you arrive on its doorstep and sometimes have the place to yourself.
In port towns such as Bodrum, Marmaris and Gocek, you'll find dozens of lovingly-polished gulets offering everything from day trips to two-week adventures. Typically the yachts have about 8 - 12 cabins; you can join a cruise individually or charter the whole boat.
The best times to visit are the less-busy and less-expensive "shoulder seasons" of May to June, and mid-September to October. Temperatures in July and August can hit 40ºC (104ºF), and few cabins are air-conditioned.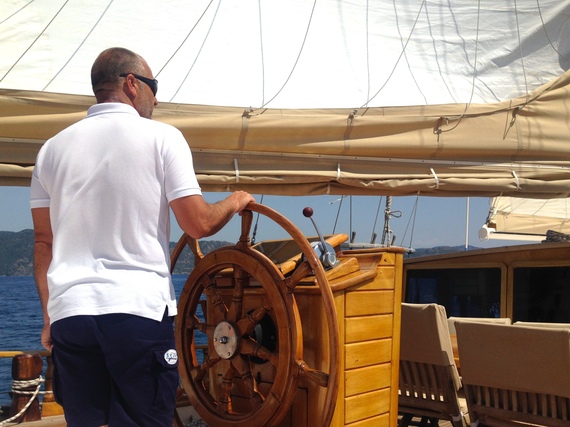 Most passengers demand fixed itineraries which has, over the years, led to fewer boats hoisting their sails. The wind is unreliable, so captains switch on the motor instead. As a result, many crews don't even know how to sail.
However, a Dutch-owned company, SCIC Sailing, is determined to keep old traditions alive. Its four yachts operate a sail-first policy with no guaranteed itineraries. Passengers are told the departure and arrival points, but the exact route depends on the wind and the judgement of the captain.
It works for me. For the past three years I've sailed with this company - always in May - exploring small sections of the Turkish coastline and the lesser-visited islands of the Dodecanese. This is a mid-price option: you'll pay about $1,000 a week which includes breakfast and lunch every day, five dinners and all your drinks. Excursions are extra. There are cheaper options, but you can also pay $40,000 a week to charter a yacht with Jacuzzis on deck and champagne on tap.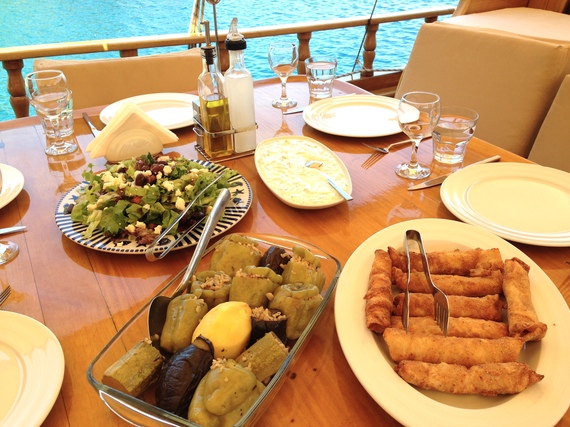 Aside from the spectacular setting and the hard-working, always-smiling crew, the highlight is the food. Grilled sea bass, deep-fried squid, lobster, lamb meatballs, stuffed peppers and cheese rolls are served with an array of freshly-made meze and colourful salads.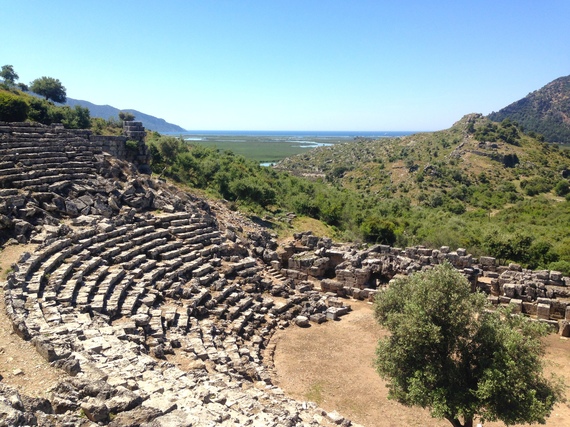 This year's cruise - from Marmaris to Gocek - included a day trip up the Dalyan river, past İztuzu Beach, one of the last breeding grounds of the loggerhead sea turtle, and across a vast delta of tall reeds.
Overlooking the lazy town of Dalyan are rock-carved tombs dating back to the 4th Century BC and, across the river, the atmospheric ruins of the ancient trading city of Kaunos. The boat's cook caught a couple of sea bream on route and barbecued them on deck, along with some succulent lamb chops.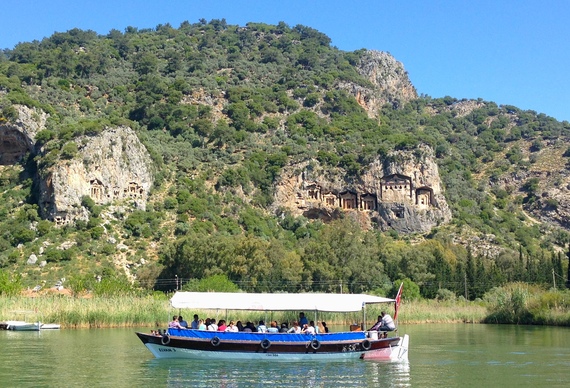 A long day's sailing took us to Olu Deniz, one of the prettiest and most photographed beaches in Turkey. After a swim and lunch on deck, our captain found a quiet spot where we'd spend the night beside the tiny abandoned island of Gemiler, said once to have been home to St Nicholas (aka Santa Claus).
An enterprising couple arrived on a small boat, selling traditional gozleme pancakes stuffed with cheese and spinach. She rolled the dough while he manned the grill.
We spent another night in a secluded pretty bay beside a ruined hamam said to have been built for Cleopatra. Whatever the truth of the story, it's a pristine spot, where in the late afternoon we walked through a pine forest along a coastal path to find a small cafe serving freshly-squeezed orange juice.
At Gocek, the captain presented each passenger with a map of the route we had taken. We had barely made a dent on this vast beautiful coastline. Another excuse - if one were needed - to return next year.
* Mark Hodson is Editor of 101 Holidays. All photographs by the author.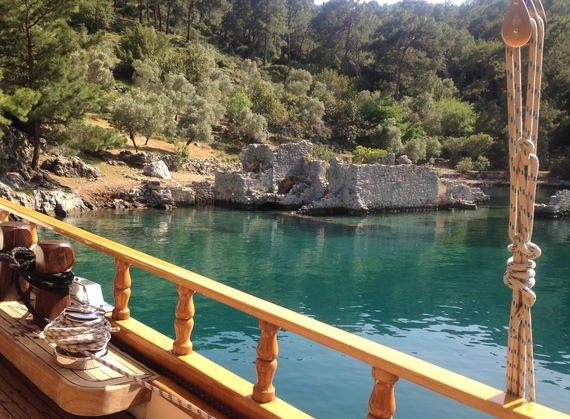 Related