A new PSA from Voto Latino is urging Latino voters to help deliver the vote this November.
The PSA, titled "Ganas" (Spanish for "desire" or "drive"), was directed by Ricardo de Montreuil, and features cast members of Hulu's hit show "East Los High," as well as Noel Gugliemi of the "Fast and the Furious" franchise. Gugliemi plays the role of a math teacher who is determined to convince his students that their vote matters and that apathy is unacceptable.
"For our community, not voting is not an option,"said Gugliemi in a statement released by Voto Latino. "There are 12 million young Latinos eligible to vote in 2016, and we need them all to participate. ['Ganas'] targets young Latinos who have the most at stake in this election and we need them to participate in record number."
"Ganas," which is intended to spotlight the power of the Latino electorate, addresses several issues that impact Latinos in the U.S., including xenophobia, student debt and the gender pay gap. It also serves as a reminder of why civics must be taught in school.
"Currently, only 8 out of 50 states require civic class in order to graduate from high school and that's unacceptable," explains María Teresa Kumar, president and CEO of Voto Latino in the same statement. "With the majority of students in K-12 being new Americans, ['Ganas'] serves a reminder of the importance of teaching civics in our schools so that they can feel empowered and a part of their country's democracy."
The PSA was inspired by Bolivian-born educator Jaime Escalante, who taught calculus and advanced math at Garfield High School in East Los Angeles from the mid 1970s through the early 1990s. His extraordinary work with students, many of whom came from disadvantaged backgrounds, became the subject of the 1988 film "Stand and Deliver."
"Ganas" will officially premiere on National Voter Registration Day (Sept. 27), during which thousands of organizations and influencers will coordinate on- and offline efforts to create awareness of voter registration opportunities nationwide.
Before You Go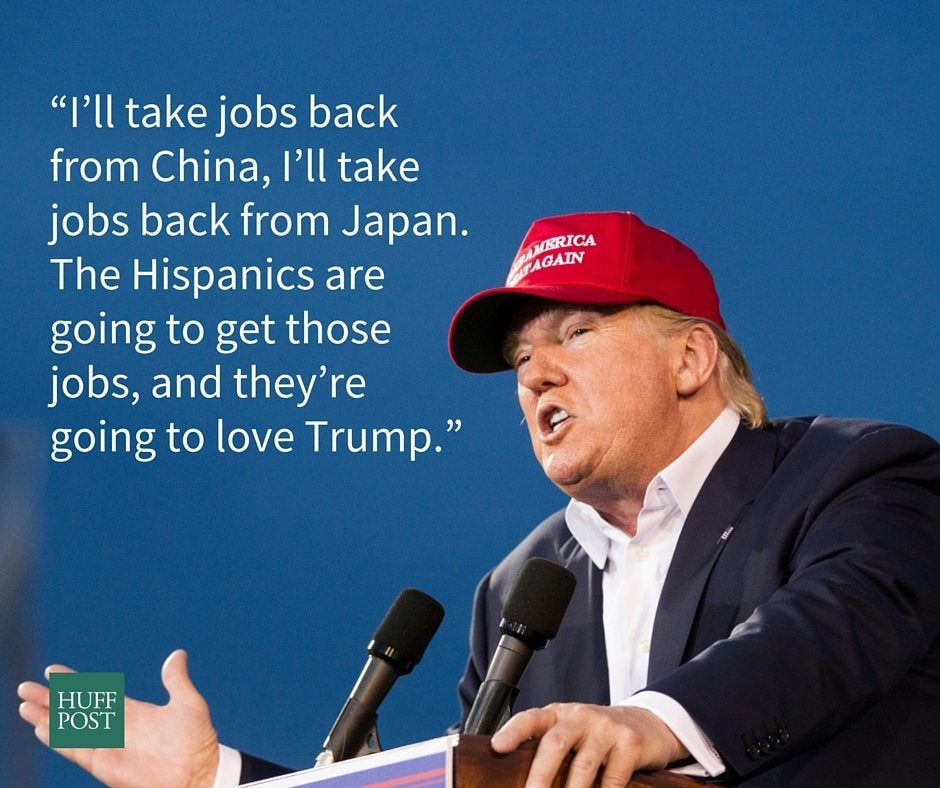 9 Other Absurd Things Donald Trump Has Said About Latinos
Popular in the Community