Alex built a playground at age 15. Adopted from Krasnoyarsk, Russia, he discovered that the playground at the hospital where he was born was in severe disrepair--just a rusty swing and a muddy sand pit. He worked for over 2.5 years to raise $60,000 and plan, design, purchase, and ship a playground overseas. He then traveled to Krasnoyarsk in 2009 with a crew of six other Boy Scouts to build the playground (pictured below).
Cole was in second grade when he embarked on his mission to save North Carolina's coastal forests. He hand-drew four postcards and printed enough for his entire school. Over the course of three days, he enlisted the help of other students to send 2,250 postcards to the CEO of McDonald's to ask him to use less packaging and more recycled paper. Soon after sending his massive mailing, Cole heard from McDonald's that they would soon be switching their bags to 100% recycled paper.
Meanwhile, 13-year-old Michala raised over $300,000 through a program she created called "Beading to Beat Autism" at age 10. Her younger brother, who is autistic and can't speak, was receiving an experimental treatment at a local children's hospital. The results proved promising, but the hospital didn't have the $200,000 it needed to do a larger trial. Michala took the $7.35 in her piggy bank, bought beading supplies with it, and began selling bracelets for $3.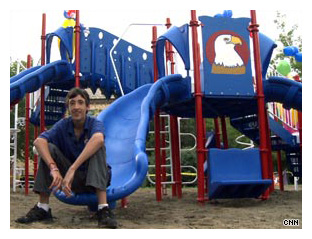 These are just three of many examples of young people stepping forward to contribute to the world in a positive and meaningful way. While not all young people are launching their own campaigns, programs, and projects, a study by the Corporation for National and Community Service found that in 2004, 15.5 million kids between the ages of 12 and 18 volunteered more than 1.3 billion hours. The same study also reveals that 55 percent of young people volunteered in 2004, compared with only 29 percent of adults.
My organization advocates for a child's right to play, but we also believe in the many benefits of service. Youth who volunteer are less likely to engage in risky behavior, feel more connected to their communities, and tend to perform better in school. And, like play, service has been shown to increase young people's self-esteem; aid in their psychological, social, and cognitive development; and teach them empathy.
Perhaps what's more important is that young people like volunteering. In a culture of over-protective parents who barely trust children to tie their own shoes, service can help kids feel both independent and useful. Youth who volunteer strongly agree with statements such as, "I would like to help make the world a better place," and "It's important to do things for others." In 2004, only 5% of students surveyed became involved with volunteering through a school requirement.
The best way for parents to get their children involved in a service project is to volunteer themselves. A young person who has a parent who volunteers is nearly three times more likely to volunteer on a regular basis. Parents can also help their children get started with these great new resources:

Recognizing that kids love to feel helpful almost as much as they love a good party, The Good Fun! Book helps young children engage in their communities to do some good by throwing a party to benefit a local charity. Co-authored by Kate Hannigan Issa and Karen Duncan, wife of Secretary of Education Arne Duncan and a KaBOOM! employee, the book offers 12 party plans, one for each month of the year, including an animal lovers party, a planting party, and a bookworm party.

Do Something!: A Handbook for Young Activists is an interactive book is for kids ages 9 and up who want to make a difference but aren't sure how or where to start. It includes projects, checklists, worksheets, timelines, and action plans. The book is published by DoSomething.org, the largest Internet-based teen service organization, supporting 750,000 projects.

generationOn, the newly created youth service division of Points of Light Institute, inspires, equips, and mobilizes young people (pre-school through 12th grade) to take action to create meaningful change. Its website offers stories, quizzes, games and project plans, including plans for cleaning a community playground and creating designer reusable bags.

For youth looking to step up their commitment, Youth Service America has just released its 2011 Semester of Service Guide (PDF). The guide was developed to help teachers and others working with youth to build a semester-long service-learning project. It contains suggested activities, planning resources, and teaching strategies.
What kinds of service projects have your children engaged in? Have you witnessed the benefits of volunteering firsthand?
Calling all HuffPost superfans!
Sign up for membership to become a founding member and help shape HuffPost's next chapter