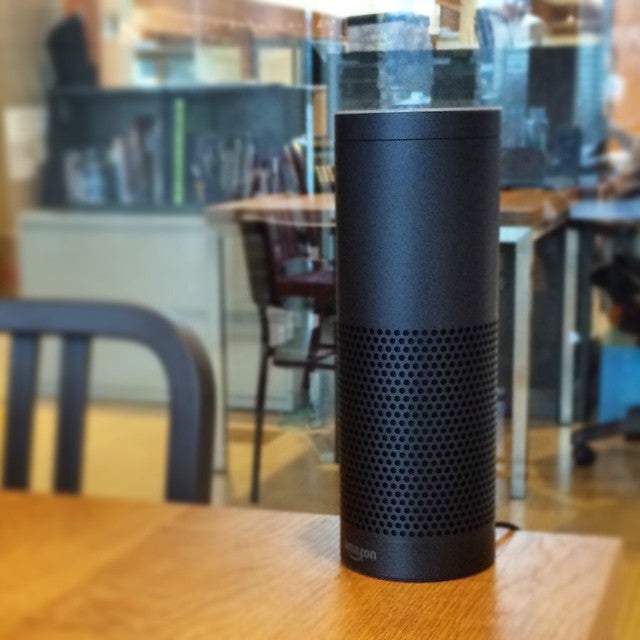 On Cyber Monday I purchased an Amazon Echo for the sole purpose of accessing Alexa. Friends and friends of friends have talked lovingly of Amazon's artificial intelligence tool over the past year, each time making me cringe at least a little - I had to have one. And now that I own it, I've spent the past two weeks watching my six year old partake in her very first robot conversations, and wondering what the possibilities are for promoting brands, considering that's my particular lifelong obsession. Thankfully, the answer was provided for me in an email from a colleague - brands (and people) are already building voice apps/skills for Alexa!
What does that really mean? It means that the pump is primed and the time to take action is now! Regardless of whether you are promoting a known brand looking to solidify its position, or a startup who needs publicity and awareness, the "Alexa app store" is behaving just like the "iOS app store" in it's early days. How?
All the brands who got into the Alexa app store early are now releasing their own brand apps - Domino's, Campbell's, Capital One, Uber, Lyft and more.
The device itself is growing almost on par with early iPhone sales! According to data from Statista, 3.7 million iPhones sold in 2007 when the device first came out and 13.7 million sold in 2008. Wolf estimates that smart speaker sales will jump from 1.2 million to 3.2 in 2016 and then to 7.4 million in 2017.
The developer community has embraced Alexa. It's a new and riveting platform for devs and makers, and for smart design crews like Rocket Insights, which has gone, 'all in' on Alexa skill development. In fact, they want to share their knowledge with everyone, and have gone so far as providing a helpful video, along with a free e-Book:
Are you planning for 2017? If, like me, you are looking for new platforms to expose next year, consider a deep dive on creating branded Alexa skills. It's one of the most overlooked platforms right now, as most are still trying to nail down Medium, to find and reach out to new or existing customers. But it is not all about customer acquisition - Alexa provides robust engagement potential with actual people, rather than suspected ad bots.
ask customers to buy something, or announce a sale
test/implement company brand messages
ask customers to subscribe to something, such as a Flash Briefing
ask new customers to download the brand's app, or like/follow on its social media channels
send customers a call to action - eg., to participate in a contest
provide customers important consumer product updates
provide customers voice activated services to replace typical internet, or brick and mortar services
There are a number of household brand names already using Alexa to their advantage. In fact, Capital One has been praised in multiple outlets for allowing its customers to bank via voice with Alexa. Forbes actually called out Capital One as a leading digital bank as a result of its innovation with the Echo. In fact, in Tom's Guide's listing of the top 20 Alexa apps/skills for 2016, seven of the entrants were created by leading brands. Next year you can bet the top 20 Alexa lists will have even more brand name entrants as companies get wise to the power of the Alexa platform.
Do you want to finally become a digital marketing pioneer? Start building for Alexa today!
Related
Popular in the Community