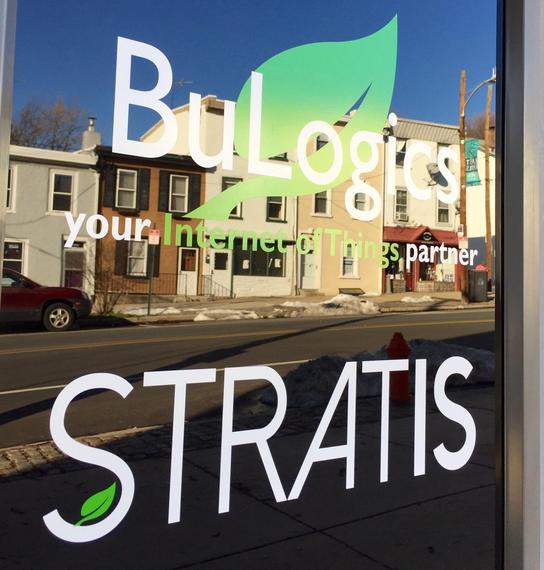 Many of us believe that if you want to innovate in tech, you must move to Silicon Valley. As a homeowner and small business owner in the city of Philadelphia, I am always on the lookout for local innovation. When you talk about modern businesses in my section of the city--East Falls, a great starting point is Felicite Moorman. She is the CEO at BuLogics and StratIS, and her approach to leadership has been turning some heads in the mass media, proving that tech innovation can sprout roots anywhere.
Moorman has been on my radar ever since she and her husband Sean purchased a very old property in our town called the Hohenadel House, and started renovating it. Next, I learned in our local newspaper East Falls Local that she had moved herself and her family from Oklahoma to work for the companies. Finally, recently I had heard that she had moved the companies to this outstanding curved building in East Falls that I had always wondered about and was also opening up a coffee shop up the street. She had me at coffee!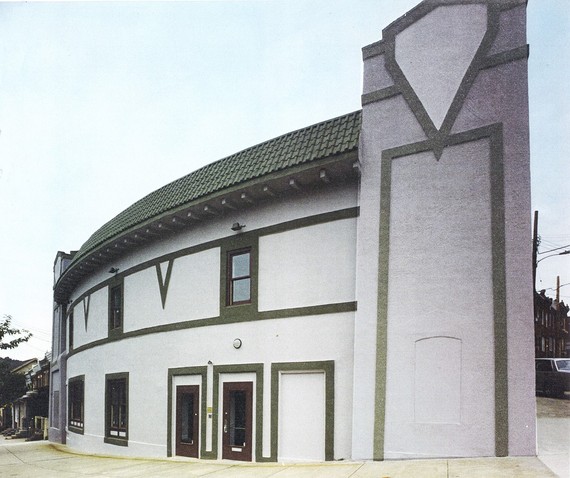 I reached out to find out more about her business style and was extremely impressed and refreshed with what she had to say.
"BuLogics designs, builds, and certifies Internet of Things, or connected wireless devices in partnership with Fortune 500 companies and startups," Moorman said. "We were building the Internet of Things before it was thing! StratIS provides the software platform upon which those devices sit. We're focused on mass IoT installations in MultiFamily and Campus Communities and have installed 75,000 units in the last nine months."
She moved from Oklahoma to Philadelphia to join BuLogics in their Malvern office.
"We quickly realized that remaining in the suburbs created a challenging commute for our top talent, and in order to grow, we'd need to be more attractive when competing with the likes of Comcast to get that talent," Moorman said. "We moved to East Falls specifically because our team is very physically active, and the Riverfront Business District and Schuylkill Trail provide an excellent opportunity for commuting via running, walking, and biking and mid-day exercise as well!"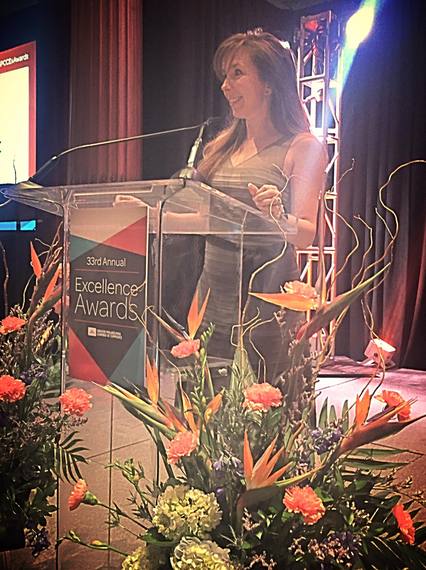 They had an opportunity to move the company to New York City, but instead choose Philadelphia, an area she has fallen in love with. This may be most showcased in her latest role as President of East Falls Forward.
"I adore Philly," she said. "It felt like home immediately, and the business community is as tremendous as any I've ever known."

Role as CEO of a Philadelphia tech company.
BuLogics works with fortune 500 companies and others to develop technology for their products.
"Fortune 500 companies and startups contract us to speed their time to money and market," Moorman said. "Projects are 80 percent complete before we start, because we leverage our code libraries across multiple standards, including Z-Wave, ZigBee, WiFi, and Bluetooth. We've taken products from concept to shelf in as little as three months."
She says that her philosophy as CEO is pretty simple.
"I have two jobs: enable the best team in the world to do their best work in the world, and tell the world that they do it," Moorman said. "It's the best job I can imagine, and I'm privileged to work with the most amazing people I have worked with in my career."
She says that her favorite part of her job is that her team gets to create things that don't exist today.
"Seeing them overcome problems and create solutions together is amazing," Moorman said. "They're inventors, and working with them and seeing the amazement and delight of clients is something I would wake up to do every day of my life."
Defining modern culture that lasts.
"BuLogics, despite being thirteen years old, amazingly maintains a technology startup culture," she said. "There's a reason. Every person we hire is a linchpin, irreplaceable. We have no cogs."
While our turnover is low, people inevitably move on to their next dream opportunity.
"When that happens, we have lost an integral part of our machine, and the machine has to be rebuilt," Moorman said. "Working at that consistent level of competency and intensity is amazing. Everyone is working at their best. And when we lose a linchpin, despite the pain, we have an opportunity to make changes that are meaningful to everyone."
Trusting your employees want more.
Trusting your workers is nothing new to the tech world, but it is still somewhat new to Philadelphia area companies.
"When you hire as purposefully as we do, you end up working with givers and grownups," she said. "They know where they need to be and when. They don't need a babysitter. They need to be enabled to do their best work, their art."
Moorman said that doesn't happen with arbitrary rules.
"It happens with freedom," she said. "No one here is looking to get something without giving as much or more than they get. You know those cultures where everyone is looking to see what everyone else got that maybe they didn't'? I hate that. Everyone at BuLogics is looking to see what they can give, what they can add."
Building more than just perks.
Moorman speaks passionately about the benefits of working at both companies.
"I'm big on space, she said. "We work in one of the first "talkies" theatres in Philadelphia! The Theatre in East Falls has been renovated to become our office home - with great history and energy!"
They have some other great perks as well.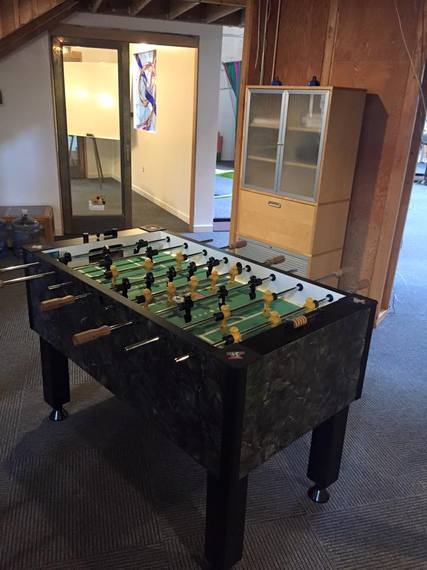 "We have weekly yoga, game nights, trips to the PRG rock gym down the street, waffle Wednesdays as well as the industry standards: foosball, ping pong, and movie nights! (Because what's a theatre without movies?)," she said. "We've got nap rooms, loft offices, art-filled conference rooms and breathtaking skylights! We offer unlimited vacation and competitive salaries with benefits, plus design your own desk! We have an unlimited snack and beverage bar (including beer). We also have dinner if you need to work late - all open to employees and their guests."
The company takes it to a level beyond perks.
"At BuLogics, Bring Your Child to work isn't a day, but a daily, so that parents can easily balance their holistic needs," Moorman said. "And we celebrate our work with bi-annual bike rides to Valley Forge (58 miles round trip) with a Pierogi picnic midway, But perhaps the coolest things about BuLogics is that we've got one of the most diverse crews in the industry and we continue to attract the best of the best to engineer the most advanced technologies in the world!"
Tech trends to watch.
Moorman and her team have their eye on several important trends.
"We have Apple and Google looking to make their mark in the consumer IoT, but it's Amazon's Echo and peripherals that has blown me away so far," she said. "The product is dead-on incredible and really what I think we imagine the Internet of Things can be."
On a broader scale, they are watching Smart Cities initiatives like those of AT&T and IBM.
"Connected cities have the capacity to dramatically change our lives, especially as cities continue to grow as the world's population and urbanization grows," Moorman said. "Our StratIS platform can play an integral part in those initiatives by addressing the needs of a city's largest building footprint, apartments. We have the capacity to save cities 20 percent on the commercial residential energy spend, from public housing to Class A properties. It's not just exciting, it's necessary."
Building a team that lasts.
Talking with Moorman, you get a strong sense that she is interested in building something bigger than an average company.
"I don't know how many people are excited to go to work everyday," she said. "I hope it's a lot, but I suspect it's fewer than aren't. Our work is hard. It's challenging. But we all work our hardest to create the best, and that kind of quality is long-term, even when it's not the fastest path to the most cash, quality stands the test of time. None of us are here for the moment, or even the project. We're here for the long-term."
Related
Popular in the Community