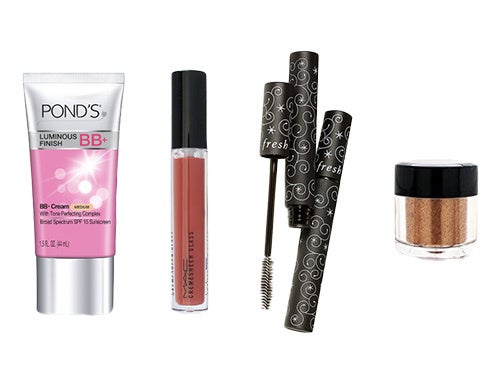 Here's what some people do when they find out that the last tube of their favorite lipstick has suddenly become discontinued: Take a cotton swab and dig out every tiny scrap from the bottom of the tube, smear it on their lips, and savor that last bittersweet moment of lipstick bliss. Then there are the other people, the ones who spend hours scouring stores and online shops for every last tube, stashing them away in the back of their refrigerator to try to hold on to that perfect shade for just a little while longer. These are the kind of people Daniel Adler, president and CEO of BuyMeBeauty, had in mind when he created his site.
For those who haven't fallen into a discontinued-product spiral before, BuyMeBeauty is a popular website that helps users searching for elusive discontinued makeup products. "When we started our website, we didn't think it was going to be anything big, but then we noticed that people weren't buying just one lipstick or package of makeup-remover pads ― they were buying a dozen," says Adler. "It became clear that when a manufacturer discontinues a shade of an item, the customer is still looking for it."
Indeed, there are multitudes who collectively mourn the loss of discontinued products every year. A cursory Internet search yields dozens of articles lamenting the loss of a particular eyeliner, or that perfect beachy-waves spray, and there have been at least two major Reddit threads this year with users listing their "favorite product that's been discontinued." One standout on the threads is the Pond's Luminous Finish BB+ Cream. "I've never been this upset about a product being discontinued. It's just my favorite base product ever," writes one fan. "I am just about to open my last tube (my fourth!) and I'm so torn about it, because I could probably sell it for a decent profit since so many people love it, but I love it and wear it every day, so I just want to wear it." Right now, the Pond's BB cream is only for sale on Sears and Amazon from third-party sellers with a starting price of $49.50.
Customers also grieve for the loss of certain items from popular product collections, such as the bright loose-pigment eye shadows in the L'Oréal Paris HiP Line. (The company still sells the HiP line but only sells the shadows in pressed form.) "The loose pigments were so good, and I miss being able to get stuff like that at the drugstore," writes one Reddit user. "It was one of those really rich loose shadow formulas that balls up a little and applies really creamy with great payoff." Adler sells the L'Oréal Paris HiP Shocking Shadow Pigments on BuyMeBeauty for $8 a pop, and he says people are insanely grateful when they discover they can find them there. "All of a sudden we are literally like saviors," he says. "You should see the emails we get from customers. It's amazing. They say things like, 'I can't believe you have this. You saved my life.'"
More: Allure's Most Pinned Beauty Products of All Time
But if the loose pigments in the HiP line were so popular, why would L'Oréal discontinue them? Adler thinks it's all about what trends companies believe will yield demand. This makes it hard for his company to know what products to purchase. He says they do market research all the time to figure out what trends major cosmetics companies are selling and what makeup trends BuyMeBeauty's customers remain interested in, regardless of whether there are currently products on the market to satisfy it. "Planning is difficult, because we don't have the data that companies have on what is in demand, so over time, we've figured out certain things that work better for our customers," says Adler. "Right now in eye shadows, browns and nudes are really in. But we know our customers really want those bright pigments in the L'Oréal Paris HiP line, and they can't find them in the market anymore. Essentially, we have to carry a lot of different things, so we have to purchase a lot of items."
The reasons major makeup companies discontinue products is slightly murky. Every company I reached out to for insight (Maybelline New York, Revlon, Sephora, Pond's) declined to comment, with the exception of Laura Elkins, M.A.C.'s senior vice president of global and North American marketing, who says that every year M.A.C. goes through an extensive process of examining its permanent collection, evaluating the demand and consumer feedback when deciding whether the company will discontinue a product or not. "A lot of the reason why we discontinue, just like any other brand out there, is that we need to make room for new innovations and new trends. We don't just look at sales. We want to make sure we're maintaining our artistry and professional leadership around the world," says Elkins. "When we do discontinue an item, we look at every single SKU and evaluate it really carefully. We look to see if there's some new innovation that we're coming out with that could be a good replacement for it or if there's a new shade coming out that could take the place of it."
M.A.C. also has different categories for the release of certain products. Elkins explained that products are either released as "limited life" collections, meaning they will stay on counters and on sale online for four to eight weeks, or product collections are considered "permanent" and will remain in stores and online indefinitely. "The way we make these decisions is that if something is really trend- or fashion-focused, we might intentionally launch it as limited life. But for a category like face and foundation that's less trend focused, it will more likely be launched as a permanent product," says Elkins.
More: The 10 Best Mascaras Under $20
But there is a chance that limited life or even discontinued products could come back and become permanent. "If we see something that we think might be a trend and then we launch it and we see that the trend is ongoing, we might decide to bring it back again," says Elkins. "If we get a really strong response from our consumers or our M.A.C. artists [makeup artists enrolled in the M.A.C. Pro Membership Program and artists who work in the stores], if they absolutely love something and they can't live without it, we call it 'the consumer has voted'—and in that case, we would consider bringing something that was limited life back permanently." Sometimes the company will hold special votes and opportunities for customers to reach out to the brand and let it know exactly which discontinued products they want back in stock. That's what happened with the popular M.A.C. lipstick Candy Yum-Yum. Back in 2012, M.A.C. held a Facebook vote where it listed 18 of its most popular discontinued products and had fans vote on which one to bring back. The hot pink Candy Yum-Yum won. "It received some of the highest response from our consumers, so we brought it back into our permanent lineup, and it's now one of our top-selling lipstick shades," says Elkins.
As much as Elkins says M.A.C. looks into the preferences of consumers (even though some really dark or light foundation shades don't sell as well in certain countries, she says, the brand still "keeps them in our lineup to make sure we are supporting the needs of all ethnicities and skin types."), sales do play a major part in whether a product stays in the market or not.
Adler believes a lot of discontinuation has to do with scale. "They are huge brands, and they can afford to just throw stuff out there. They can't worry about people wanting a certain shade," says Adler. "It's a scale thing. Let's say when they make a range of lipsticks, they make 20,000 of each shade, and they look at their research and they're fine with only selling 5,000 online. And the truth is, once it's not in the store or online anymore, most women just move on. It's just the 10 percent who really want it. They're assuming that 90 percent are just going to move on, so it's better to scale that way." Elkins does say that it's important for M.A.C. to keep new product rolling in every month, which means older product needs to be taken out of production. "Part of our rationale in making these decisions is that we are really a unique brand in that we launch close to 90 collections globally a year, and this enables us to stay on top of trends in both fashion and pop culture. It also gives our consumers a chance to see something new every time," she says.
More: 50 New Drugstore Beauty Products We're Obsessed With
Another reason a product may suddenly be pulled off the market—regardless of its popularity—is legal changes that prohibit a manufacturer from using a certain ingredient or a particular amount of an ingredient. Daneen Woolstrum, founder of the website Discontinued Beauty, says a lot of hair sprays were taken out of production after the volatile organic compound (VOC) rate was regulated. "The VOC rate in hair sprays used to be 80 percent, but now brands have lowered it to around 50 percent, and since they've lowered it, sprays now come out more wet-feeling than dry," says Woolstrum. So the sprays that still have 80 percent VOC—like items in the Sebastian and Matrix lines—have become highly prized on Woolstrum's site.
Because of the rarity of these items and the need for specific formulas, Woolstrum takes extreme precaution with her discontinued products. She holds all of the products in a "6,000-square-foot warehouse that's temperature controlled" and packages the products very carefully. "We make sure every item is individually packaged perfectly by taping it closed, then individually bubble-wrapping every item, then packing it with packing peanuts in high-grade boxes," she says.
It's great that both Woolstrum and Adler are able to sell discontinued beauty products to the public, but if you can't find your favorite lipstick or hair spray, how do they find it? Both were cautious about giving away too many details—Woolstrum scours eBay and often buys out salon owners' products if they are closing shop, while Adler seems to work directly with manufacturers. "The manufacturers need to unload product. They need to sell it, and that's a business for them, too. They all have sales channels where they are selling the excess goods," says Adler. "So if it's something they don't want and they are looking to sell it, we are their customers for that product."
Overall, the most popular products people search for on BuyMeBeauty are lipsticks, blush, and mascara. "Mascara is very popular. The thing with mascara is that you use many more tubes throughout the year than you do lipstick. And once it's opened, after a couple months, you have to start with a new one," says Adler. "We have people who buy 12 mascaras, and they go through one a month. They just want to make sure they have it. Or they buy 24 to make sure they are good for the next two years."
Woolstrum says one of the most popular products on her site is the John Frieda Beach Blonde Ocean Waves Spray (we listed it as one of our most mourned products). "When they discontinued it, it started rising up to about $75 a bottle, and that was a drugstore item," says Woolstrum. Though the brand ultimately brought the product back under a new name, the original version is still a major seller. "I always find that there's an audience for every product out there. And people are die-hards—they want what they've always known works the best for their hair."
One would think that companies would scour sites like BuyMeBeauty and Discontinued Beauty to gain insight into which discontinued products people are clamoring for, but like Adler says, it's not generally a brand's priority. "It's just not worth it for them. Sometimes they do come back out with 'throwback' and 'vintage' products, but usually they don't get it right," says Adler. "It's funny, because there have been times when we see a company release five 'vintage' lipsticks, and they don't get the right shade. If they called us, we could have told them the exact five discontinued lipsticks that are in demand, but they don't have that data. They have the sales data for everything else, but we have the discontinued data."
More from Allure:
The 15 Best New Contouring Kits for Newbies and Pros
10 Celebrity Hairstyles That Make You Look 10 Years Younger

Related