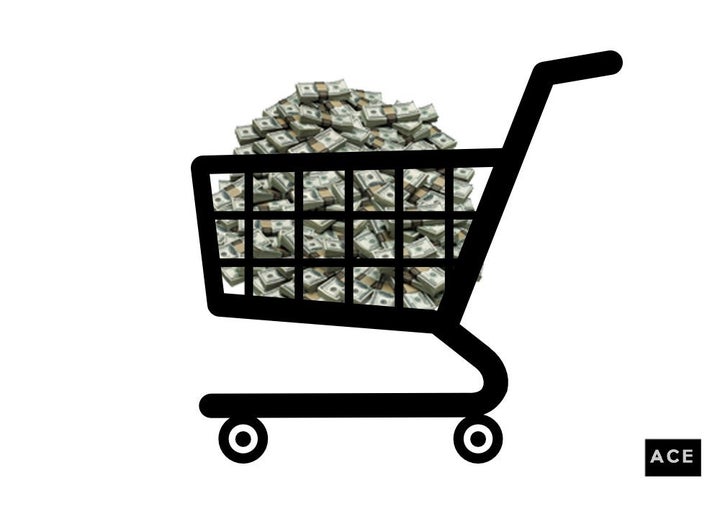 It's not your imagination. Your grocery bills are rising.
Maybe it's the season. The Wednesday before the Thanksgiving holiday is historically the busiest day of the year for grocery shoppers, as Americans drop a figurative cornucopia of cash on turkey, trimmings, pie and their beverage of choice.
Then again, it could be the business.
The Federal Trade Commission is so concerned about competition that it recently took unprecedented steps to keep prices in check. The agency just approved a final order settling charges that the $28 billion merger of Koninklijke Ahold and Delhaize Group would likely be anticompetitive. Together, the two companies own five well-known U.S. grocery store chains, including Stop & Shop, Giant, and Martin's. The companies are required to sell 81 stores to seven divestiture buyers.
Last year, the FTC also forced Albertsons and Safeway to sell 168 supermarkets to settle charges that their proposed $9.2 billion merger would likely be anticompetitive in 130 local markets in Arizona, California, Montana, Nevada, Oregon, Texas, Washington and Wyoming.
"Consumers everywhere rely on local supermarkets for their weekly shopping needs," said FTC Chairwoman Edith Ramirez. "Absent a remedy, this acquisition would likely lead to higher prices and lower quality for supermarket shoppers in 130 communities."
All of which raises important questions: Are grocery bills too high? Is the business competitive enough? And what, if anything, can anyone do to make them more competitive?
Grocery stores are "incredibly competitive" (except when they're not)
"Food retail is an incredibly competitive business in the United States," says Randy Burt, who leads the Americas Grocery Practice at A.T. Kearney, a management consulting firm. "Not only are margins famously razor thin, but there is a tremendous amount of competition."
So why is the FTC involved? Because while the big picture on competition is good, food retail is a local business. And in some places, competition is not so good.
"Given this situation, the decision by the FTC to force divestitures within selected markets may be justified to protect consumers in those markets," says Burt.
Consumers are deeply divided when it comes to regulation. No one wants to spend more on food. The average U.S. household spent $4,015 on groceries in 2015, according to the Bureau of Labor Statistics, a 1.1 percent increase from the previous year. But Americans are also wary of overregulation, well, anything.
"We do not need more laws," says Shira Newman, who works for a moving company in Portland, Ore.
Peter Hoagland, a marketing consultant in Warrenton, Va., says while the federal government has an important role in food safety," it should not be involved in controlling prices." He adds, "that is best left to the free market."
To be clear, the FTC is not enacting any price controls. According to the agency, the supermarkets operated by Ahold and Delhaize "compete closely" for shoppers based on price, format, service, product offerings, promotional activity, and location. But without a remedy, a merger would eliminate direct supermarket competition, to the detriment of consumers in certain local markets.
"The merger would increase the likelihood that the combined company could unilaterally exercise market power, and that the remaining competitors could coordinate their behavior to raise prices," the FTC noted.
So in a way, it's trying to do the opposite of controlling prices. At least that's what it claims.
Overall, grocery stores may be competitive ― and thanks to the FTC, maybe a little more competitive ― but there are ways to ensure you're always getting the most competitive rate, say experts.
"Consumers can tell whether or not their local stores are competitive by comparing prices store-to-store within their own city, and at supermarkets nearby cities," says Josh Elledge, the founder of SavingsAngel.com, a coupon site. "This is accomplished fairly easily online, as mainstream and even small local supermarket chains have their sale ads available online."
Certainly, collecting coupons or participating in a grocery store's loyalty program can reduce your bills. But that savings comes at a price, and you have to factor it in when you're comparing rates.
"Price remains key, but price alone is no longer enough to win by itself," says Frank Kroger, a vice president for shopper marketing at Valassis, a Livonia, Mich., marketing company.
Shoppers say their definition of value has changed to include price as well as customer service, convenience and added services, such as online ordering and curbside pickup, he notes.
Kroger's advice? "Look at the overall value of their shopping experience. Is it saving you money, or is it saving time or angst?"
Indeed, that is increasingly how grocery shoppers define "competitive." It's a big-picture definition that includes price, convenience and experience.
"Consumers are really demanding a retail experience but also want price and convenience," says Keith Daniels, a partner at Carl Marks Advisors, an investment banking firm.
In other words, you're probably better off not obsessing over why a gallon of milk costs 5 cents less at the other supermarket, and focusing on the fact that your preferred grocery store is closer, has the items you want and offers friendly service.
True, your bills are rising, but only because it's that time of year. If you're like most Americans, you'll probably overspend for groceries this Thanksgiving (oh, and don't forget the other holidays coming up), but add it all up, and you probably didn't get ripped off. And you can take the FTC's word for it.
REAL LIFE. REAL NEWS. REAL VOICES.
Help us tell more of the stories that matter from voices that too often remain unheard.