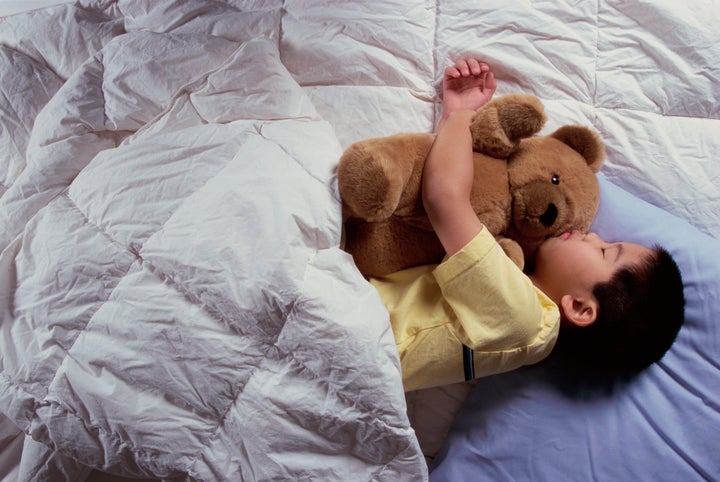 Parents who worry about their kids' sleep habits may do well to look in the mirror: A new Finnish study finds that parents who struggle with sleep themselves are more likely to overestimate sleep problems in their children.
The researchers compared children's sleep quality as reported by their parents with objective sleep quality measures recorded by a sleep-tracking device. The data revealed a discrepancy in the reports that came from parents who suffer their own sleep woes. The parents' poor sleep habits were to blame for more than a third of the difference between the kids' parent-reported sleep quality and the actual measured quality of the kids' sleep.
The researchers asked the parents of 100 children between the ages of 2 and 6 to complete two questionnaires at the start of the study — one to report the quality of their child's sleep, and one to report their own sleep. Then, they were given "actigraphs" — wristwatch-like bands that measure the amount of movement acceleration in time to track sleep — for their children to wear for one week.
The actigraphs tracked measures including a child's resistance to falling asleep, the time spent sleeping compared with the total time spent in the bed, and the amount of physically active time during the whole sleep phase, so they provide a good measure of restlessness during sleep, the study authors noted.
The researchers found that although parents who reported having trouble sleeping were more likely to report sleep problems in their children, sleep quality was actually not any poorer for those kids as determined by the trackers.
Many studies in kids rely on secondhand data reported by parents, the researchers note. It's important for future studies to take into account that parents may not be the most reliable source for measuring (and diagnosing!) sleep trouble in their kids, study author Marko Elovainio, a professor of psychology at the University of Helsinki, told The Huffington Post.
"Objective measures should be used, too," he said.
The findings are noteworthy for anyone treating sleep problems in kids, or anyone seeking treatment for their kids, Elovainio said.
"Tired parents can unconsciously exaggerate their children's sleep difficulties, which could lead to misplaced interventions," the study authors explain. These findings suggest it would be helpful to ask parents how they are sleeping themselves, too, when it comes to treating kids' slumber troubles.
Sarah DiGiulio is The Huffington Post's sleep reporter. You can contact her at sarah.digiulio@huffingtonpost.com.