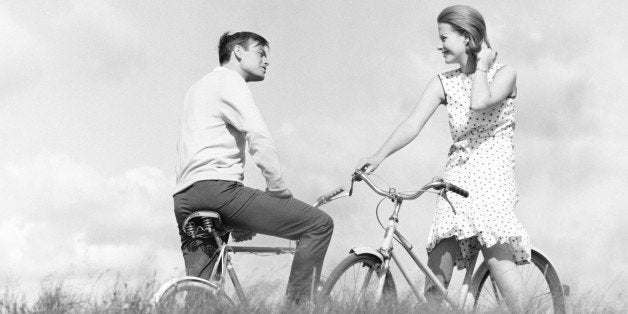 I sit with them. Listen to them. Dine in their homes. Meet their families. Explore their cities. Learn their greatest marriage and life lessons.
I research happiness. More specifically, what makes a marriage not just work, but work well...really well. I interview couples happily married more than a quarter century to figure out how they did it and how what they've done can be replicated. I then pull all that research together to determine the common denominators.
There are 12 secrets that I've uncovered so far -- and my journey of discovery is far from over.
When you sit among a couple who has been looking into each other's eyes, holding each other's hands, laughing at one another's jokes, teasing each other about their various flaws and idiosyncrasies, and supporting each other through this crazy thing called life for at least 25 years, something becomes very clear.
We were not created to be alone. We were made to love. We were designed to be loved.
I've had the pleasure of dining in the home of a couple in Mauritius who'd suffered five miscarriages. Five. Through each and every miscarriage, the physical and emotional pain was overwhelming, but they held each other tight and knew they could get through it...together. And they did.
Through sips of red cappuccino, I laughed until I nearly cried sitting across from a couple married almost 50 years who, through sickness and health, never lost their sense of humor. When he's been ill, she's cared for him as if he were the most important person in the world. When she's been ill, he's more than returned the favor.
Over cups of mate in Argentina, I looked at the success and wealth of a couple who was told by their parents that marrying at such a young age was foolish and they'd never make more money than the measly amount they were making at the time. But he had dreams of being an attorney and she had dreams of becoming a doctor. They supported one another as each went to school, and saved up their pesos just to be able to enjoy a night at the movies. Now, he's a well-respected judge and she's one of the top plastic surgeons in the world.
Couple after couple has reassured my faith in marriage and is the reason I believe every marriage is worth the fight. (I suppose, now would be a good time to mention that I do not include marriages with abuse or infidelity in this statement -- as both of those things break the bonds of marriage that, in many instances, cannot be repaired.)
Life will continue to throw you curve balls, fast balls, and foul balls. It's those who have a partner through the good times and the bad, through the ups and down, through the long and winding road, who ultimately live the happiest lives.
When I say your marriage is worth the fight, I can say this confidently because I've seen the end result. I've experienced the presence, amazing energy and synergy of the human soul that knows it will never be alone -- both spiritually and physically.
There is a quote meme I've sent out several times over the past few years on my Facebook page and almost every time I send it out, it gets shared between 25K-100K times:
My husband has made me laugh.
Wiped my tears.
Hugged me tight.
Watched me succeed.
Seen me fail.
Kept me strong.
My husband is a promise that I will have a friend forever.
These women have experienced what I've experienced, what the women who have allowed me into their world have experienced, and it still remains true. That is why when I read articles about why marriage is no longer relevant the tears of my soul cry out.
Marriage is, and will continue to be, one of the greatest gifts of our lifetime. So before you decide to toss your dreams of a lasting marriage aside and determine it's no longer in vogue, sit with someone in their last days who have been single their entire life and decide if that's the life you desire most.
I have enjoyed the presence of every type of person. Whether single and married, I am a believer that you can make life incredibly rewarding and great. But if you were to ask me which of these two groups -- those single or those married -- seem to have achieved the most success in every area of their lives by the end of their days, I would tell you unequivocally, those who decided their marriage was worth the fight....and fought for it every step of the way.
Related