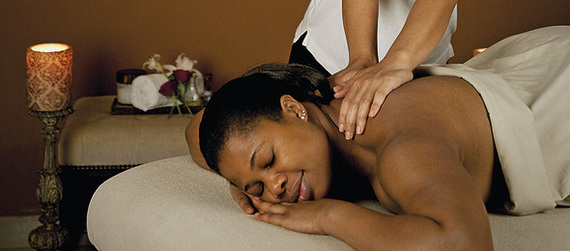 The last time that you visited a spa did the therapist recommend a retail product to you?
If your spa's retail area is fairly extensive they probably should have. Even if you had a massage.
Making a retail recommendation is part of the service offering. It's your therapist's responsibility to ensure that no stone is left unturned to provide a perfect customer experience. Products help to extend your treatment beyond the spa to your home.

So why doesn't this happen? First, you must understand that retail product recommendations are predicated on three things:
Your therapist's own information and knowledge of the products available at the spa.
Their capacity to understand how the products fit into your specific needs.
Their ability to establish a connection with you and educate you on the product's benefits.
Therapists often don't meet the challenge for a variety of reasons:
They are not trained to sell. No one shows them how to perform this skill set.
The estheticians are not educated about darker skin tones. Even in 2015 few skin care schools have modules to extensively address the care of ethnic skin. Unfortunately most spas don't fill in the knowledge gap.
Many massage therapists feel that what they do is spiritual or medical. They don't think that discussion of commerce is appropriate.
Therapists tend to be introverts. They're shy people and may find it initially difficult to establish rapport.
For some, the spa may be their first opportunity for interaction with groups outside of their own ethnicity. They're not comfortable.
So what can you do to ensure that you receive a service worthy of your fabulousness?
Do your research. There are a plethora of articles about spa on Huffington Post as well as in some beauty publications and blogs.
Book a consultation first. Make certain that you feel totally comfortable with the person that you'll be seeing. You are looking for therapists who are passionate and knowledgeable about your specific issues. Ask questions!
Request a senior or award winning therapist. Still "Google" them. Be prepared for a wait-list. The best therapists are the most popular.
Ask around. The spa lovers can tell you where to go.
If you prepare properly and have a great experience, give feedback and let the social media world know. If you have a poor experience speak to management and give them a chance to correct the situation. If they don't, escalate the problem. And of course you can always report on social media.
Calling all HuffPost superfans!
Sign up for membership to become a founding member and help shape HuffPost's next chapter