The evolution of e-commerce has forever dichotomized the business community as home to two very distinct types of startups. One that follows all the steps, crawling before walking, and the other that announces its inception during its embryonic stage only to enter a market already intrigued by and awaiting its offering.
The former might need to endure tedious months or even years before hitting break-even, whereas, the latter might surpass a million in sales within a month of the launch. Sounds herculean, but it's a matter of having a disciplined approach towards initiating an enterprise.
We are long past the time when a smashing product offering, startup capital and luck were the pre-requisites to run a successful business. Nowadays, you need to ensure that there is a viable market for your product or service and that it is well-prepared to try it out.
This is where pre-launch tactics come into play, as they set the stage for your business by enhancing brand awareness, establishing a ready base of prospective buyers and allowing you to test your product before the launch. Here is how you can capitalize on a pre-launch strategy to jump-start your startups success:
Do more than just drive sales:
The primary aim of pre-launch marketing is to generate a buzz among potential customers in an attempt to acquire pre-orders, subscriptions and to drive sales early on. However, early subscriptions can also be used to attract and foster relationships with key stakeholders.
For instance, ecommerce startups can request sellers to sign up based on a growing base of prospective buyers or even partner with them to offer free goodies to customers. Try to create a sense of scarcity and spectacle for your product.
An easy way to do this is by creating social proof; create a video or an infographic and target influencers to spread the word. Give your potential customers a way to show their friends that they are using your product.
Inspire with your landing page
One thing that greatly diminishes the efficacy of any pre-launch tactic is for customers to log on to a website that's 'under construction', confusing or downright unappealing. So regardless of your industry, you need to have an inspiring landing page before you commence your pre-launch initiatives.
While there is no sure-shot recipe to create a winning landing page, there are factors that can turn the tides in your favor. These include developing a captivating copy that can go viral, using information that's easily understood by your target market, a simple sign-up functionality and last, but not the least, a minimalistic design. We've all heard about Harry's pre-launch success, which resulted in over 100,000 pre-launch signups within 7 days, thanks to this minimalist yet memorable landing page: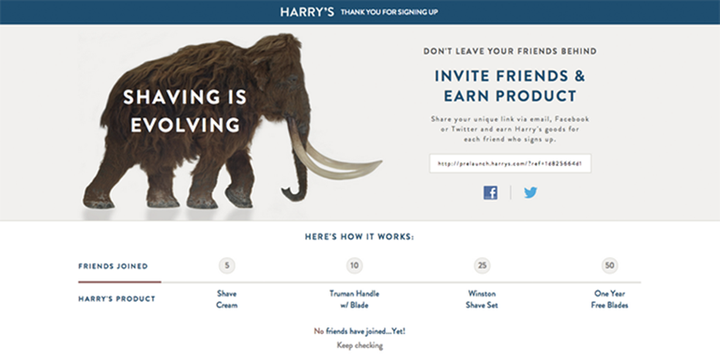 This landing page instantly went viral as Harry's offered visitors free products in exchange for referring friends and family. These reward-based tactics are popular components of all successful pre-launch strategies as they get popular quickly and are financially feasible.
Let's say, for instance, that you spent $10,000 on your promotional campaign which resulted in 2,000 subscriptions and 3,000 referrals. Here, the average cost per acquisition (CPA) mounts to $2, however, the campaign led to an additional 2,000 leads bringing your average CPA down to $1.23.
When it comes to increasing conversions via landing pages, visual appeal is the one thing you cannot compromise on. Customers will spend no more than 50 milliseconds in deciding whether they are interested in your offering or not.
Use attractive images, catchy headlines, prominent call-to-actions (CTAs) and videos to engage your visitors.
Also, keep your sign up forms short and crisp. You don't want to put off potential customers by making them fill too many fields.
Keep your audience engaged with email marketing
You've managed to score sign-ups on your landing page. Now what? Even though sign-ups and subscriptions represent individuals who are interested in your product, you cannot stop here because people easily lose interest.
To keep these prospective customers engaged, you need to follow up via a carefully designed and consistent email marketing campaign. Email campaigns take precedence over free newsletters or cold calls because customers actually want continued correspondence when they sign up for it.
It is for this reason that transactional emails (emails sent in response to user actions) enjoy a median open rate of 17% and a click through rate (CTR) of 1.4%, much higher than unsolicited emails which usually end up in the spam folder.
The Brain Test app, which is still months from its launch, has already acquired over 7,000 subscriptions via several unique organic and paid campaigns, laser-targeting the relevant audience and reaching them at the right time - with the right landing page and value proposition. These emails apprise people about the forms of dementia and the significance of early intervention in its treatment.
Among transactional emails, pay close attention to welcome emails as they have the potential to attain open rates of up to 40% and CTRs of 10% or even higher. So craft and share introductory emails that are particularly catchy and use them as means to identify the most engaged buyers.
You can do this by using a give-and-take approach whereby you use gimmicks like free offers and sneak peaks to encourage buyers to invite their Facebook, Twitter or Instagram friends to join your company's profile page.
Once you've strengthened your bond with prospective buyers, keep up appearances by sending periodic teasers until the launch. Also, as a rule avoid using 'no-reply' emails during the pre-launch phase as it stops you from connecting with your buyers at a human level. Have an authority figure such as the CEO address your buyers (particularly in the welcome email) to increase goodwill and raise the perceived value of your emails.
Stir conversations with powerful content
The natural starting point of any pre-launch strategy is to devise powerful and pertinent content that will enable you to captivate and retain the interest of your target audience. Statistics indicate that businesses are able to generate 7.8 times more traffic by utilizing content marketing tactics.
Develop and float high-quality search engine friendly content related to your product and your industry. The key to successful content marketing is to think outside the box to find innovative ways to get your customers talking about your product.
Highlight the core problems that your product seeks to solve, why it's necessary that the issue be addressed and how your product caters to customers' needs better than the competition. Doing so will not only spark public interest but will also establish your company as an expert in the field, allowing you to leverage this reputation in the long run.
Beta test your offering
One of the main advantages of a pre-launch strategy is that it allows you to acquire early adopters who would be willing to partake in beta testing of your product. Beta testers can be individuals on your email list or can be located via platforms such as Reddit and Muck Rack among others.
Such pre-launch product testing is important because it provides you with honest customer feedback that enables you to make adjustments to your product before it is officially launched.
In addition to product modification, your beta testers can become your brand ambassadors as well as first loyal customers provided that you treat them with respect, give their suggestions due importance and offer them exclusive benefits.
Dropbox successfully tested a beta-version of its service as part of its pre-launch strategy, enabling it to gain over 1 million users in the first 7 months. Beta testing can also help you acquire your first ever customer testimonials and product reviews that you can use to develop credibility among prospective buyers. This can tremendously work to your advantage as nearly 70% of customers place product reviews over marketing content.
Pave the way for informed decision making with data analytics
Corporate decision-making is shifting from ad-hoc to informed, and if you wish to compete with your competitors, jump onto the data analytics bandwagon during the pre-launch phase.
Capitalize on the wide array of analytical tools available in the market in order to keep track of all that's going on in your campaign including sources of traffic, most popular content types and ratio of emails opened, among others.
Such information will allow you to not only tweak your pre-launch strategy according to customer preferences, but will make you more competitive in the long run. Data analytics provides valuable insights into customer buying patterns and market dynamics, enabling you to make decisions that are profitable.
Establish a stronghold with crowdfunding
Increasing number of startups are using crowdfunding to raise funds, generate hype and test the market viability for their products. As part of their crowdfunding strategy, startups give away prizes in exchange for money which eventually results in building tremendous buzz before the launch.
So, even if you feel like you have sufficient startup capital, we still recommend you capitalize on crowdfunding in order to establish a base of prospective customers. Another reason for using crowdfunding is that tends to attract significant media attention and will give wings to your pre-launch strategy.
Popular in the Community