April 7, 2015 is Arizona Gives Day. Modeled in part on the Giving Tuesday tradition, this fundraising day has a mission to unite Arizonans in the spirit of giving. For Arizona charities, it's a competitive day, with large monetary prizes provided by E First Bank -- prizes that can make a huge difference for small charities.
Our Arizona non-profit is called Mindfulness First and to say we are fueled by volunteerism, just feels like an understatement! We teach Mindfulness - a form of emotional intelligence -- in school district. We are a passionate team of people whose lives have been transformed by mindfulness and we know deeply, that if we'd been taught these life-skills as children, our lives would have been very different. We all believe in prioritizing and investing in the emotional and mental health of the next generation. This is the passion that brings us to work on a full-time basis without the promise of steady pay.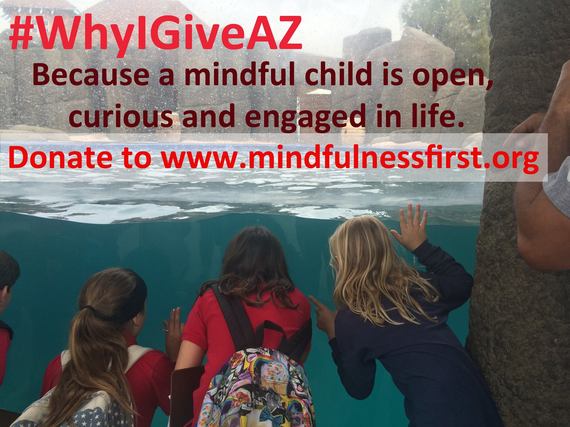 For the past year, we have been found in classrooms, PTO meetings, school board meetings, enrichment and community classrooms; talking about and teaching life-skills that help to prevent bullying, manage stress and increase focus. Our local district recently presented us with an excellence in service award demonstrating that Mindfulness has proven its worth in our community. Our hope is to ultimately transform this district into an entirely Mindful one.
Every single member of our team heads to work daily with a pure heart that does not seek recognition, money, achievement or power; just a goal to make the world a better place. They are inspiring and it would bring tears to your eyes when you hear them talk about the work that they do and the changes they witness in schools. You would quickly understand #WhyIGiveAZ and why they give.
Arizona Gives Day is a great way to be a part of doing good for others. Whether you live here or not, a donation to a cause that is close to your heart could make an incredible difference in the lives of others (and it's a write-off too!). Visit our AZ Gives Campaign by clicking here and we thank you for considering donating to us!
REAL LIFE. REAL NEWS. REAL VOICES.
Help us tell more of the stories that matter from voices that too often remain unheard.