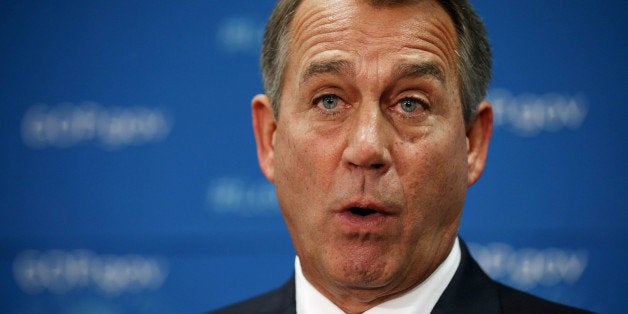 WASHINGTON -- Michelle Price of Ball, La., panicked earlier this week when she heard the federal government shutdown would soon hobble the program she uses to buy formula for her seven-week-old baby.
"I spent two hours in Walmart filling all my October vouchers so I know I have formula and all of my staple groceries," Price, 26, told HuffPost. "I get formula for her and we get milk and eggs and cheese and juice for me. Those are my groceries. That helps my food budget stretch a little bit more."
The Supplemental Nutrition Program for Women, Infants & Children is a nearly $7 billion program that serves 9 million women and infants nationwide. Pregnant women and new moms qualify if they're poor and facing "nutrition risk," meaning medical problems or difficulty getting healthy food. The program provides paper vouchers moms redeem at stores for baby formula and certain healthy foods.
Louisiana's Department of Health and Hospitals said earlier this week that thanks to the shutdown, WIC vouchers wouldn't be good after Oct. 15. But on Thursday, the state announced on its website that WIC wouldn't shut down in the state after all.
"Current WIC participants will be able to get vouchers for the entire month of October, and not just part of the month," the department said. "Participants who only received a partial month of vouchers should return to the WIC office to get the rest of their vouchers."
Similar switcheroos occurred in Arkansas, Iowa, and Utah. It turns out that all state WIC programs should have enough money for the whole month. What happened?
After the shutdown started on Tuesday, the U.S. Department of Agriculture, which administers the program, freed up $125 million in contingency funds as well as state money left over from the previous fiscal year. Some states didn't see the cash right away, and so they began the process of furloughing staff and notifying recipients.
On Tuesday, for instance, a spokesman for the Utah Department of Health said, "We're going to go ahead and close the clinics today at 5 o'clock." On Wednesday, the department announced all clinics would be open by the end of the week.
The National WIC Association, an advocacy group for the program, cautioned that the program will probably run out of money after October if the government is still shut down. "If Congress fails to pass a 'clean' continuing resolution before month's end, many WIC Programs across the nation will run out of operating funds," association president Douglas Greenaway said in a press release.
The Democratic-controlled Senate has said it will only pass a "clean" funding bill without extraneous provisions, but House Speaker John Boehner (R-Ohio) has refused to allow a vote in the lower chamber on a funding bill that doesn't also tinker with Obamacare. Instead, House Republicans are voting on a series of symbolic bills to fund individual government programs, most of which have received news attention since the shutdown started.
On Friday afternoon, the House will vote on a bill to restore WIC funding -- a measure Greenaway's group opposes and the White House has said it would veto.
Even though she was able to stock up on formula, Michelle Price said she's disgusted with Congress.
"I can't even complain to anybody because there's nobody in the seat," Price said, noting that her congressman, Republican Rodney Alexander, resigned last month to take a job in Louisiana Gov. Bobby Jindal's administration. A special election will take place later this month to fill the vacant seat.
"I'm floored," Price said. "I'm honestly floored at this point that the government shutdown -- there are going to be kids who are hungry because of this. I shouldn't have to pick between my groceries and my bills because a bunch of grown people can't come to an agreement."
Calling all HuffPost superfans!
Sign up for membership to become a founding member and help shape HuffPost's next chapter
BEFORE YOU GO
PHOTO GALLERY
2013 Government Shutdown Protests