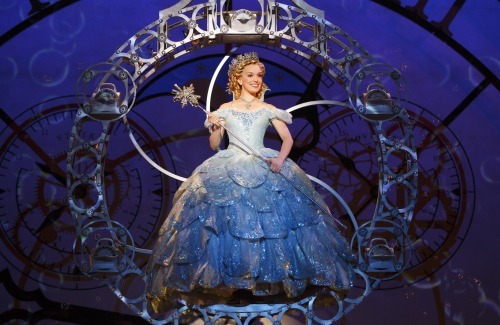 If you've been alive and not living under a rock sometime over the past century, you probably know something or another about The Wizard of Oz. First a novel by Lyman Frank Baum originally titled The Wonderful Wizard of Oz in 1900, and then later a film adaption The Wizard of Oz in 1939, in which most of us are more familiar with, the whole inner world of Oz would eventually get a revisionist view in 1995 with Gregory Maguire's Wicked novel. The story of Wicked follows two girls and their unlikely camaraderie in the land of Oz: Elphaba, the misconstrued green-skinned girl who eventually becomes the infamous Wicked Witch of the West, and Glinda, the pretty, ambitious, popular girl who would become the Good Witch of the North.
The popular novel would eventually spawn Wicked the musical and enjoy monstrous success on Broadway and then as productions and tours across the globe. Currently, with two North American touring companies along with the Broadway production, Wicked is wrapping up another successful year and will be returning to Detroit for an end of the year run at the Detroit Opera House starting Dec. 10 going through until Jan. 4.
Recently, I chatted with Wicked cast member Lauren Haughton, who's an understudy for the Nessarose role and also a swing, about the inspiring aspects of the show, the challenges of touring, and the magic of music. Haughton, who has been with the Wicked tour for four years now, was born in Detroit at Henry Ford Hospital and lived in Royal Oak and Traverse City for many years before relocating to Atlanta as a teenager. She still has family in Michigan, so this Detroit run is a bit of a homecoming.
What's your experience been like touring with Wicked?
I am a swing and an understudy so my particular experience with the show is ever-changing and constantly different, new, and challenging because, as a swing, I cover a lot of the ladies in the ensemble, so there's lots of different characters that requires lots of different things. Some dance a little more, some sing a little, some are more character-driven. I understudy Nessarose, so that's always fun to go on for that.
What is it about Wicked that sets it apart from the others?
I always say that I feel really honored to be a part of a show where I can invite anyone to come. My young niece came when she was 6 and she enjoyed the show just as much as my grandmother who came when she was 85. It's kind of magical in that way that it doesn't target just one age group or one audience. There's something for everyone in the story. There is a character that every type of person is going to identify with or their journey or their struggle. It just seems to be enjoyed by men, women, and children of all ages. That's really magical. I've never really been a part of anything like that that really touches a lot of different people.
Being a part of a musical can be challenging. How do you stay healthy while doing all these shows?
The No. 1 trick to tour is getting enough sleep. Sleep is very, very important. Sometimes you just have to honor and listen to your body. I still do sometimes get up early. Everyone's getting sickness in the cast and we are living so close. We are like a family. We are staying in the same hotels and at the same theaters, so it's the easiest way to kind of stay healthy is sleep.
What's the return to Detroit signify to you personally?
It's not just about Detroit. I was born there and I have visited there over the years, but it's the state of Michigan because my grandparents were from Flushing and I have an aunt and uncle from Flint, and I've spend so many summers going up north. I love the winter. I love the snow. You can always guarantee that there's going to be snow. I love the state of Michigan in general and I'm excited to see my dad's side of the family. They are all there. That will be a very nice homecoming. I don't get to see them a lot.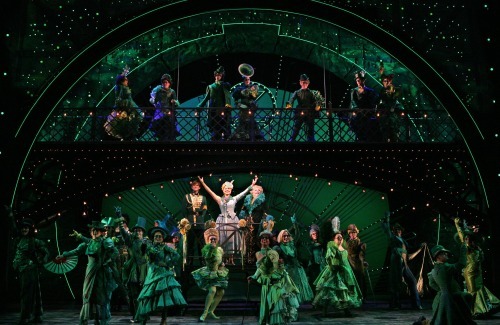 When's the last time you've seen any of your family?
The last time I saw my dad was about a year ago on New Year's. He drove to Cleveland to see me in a show so he's really good. Whenever we're in the Midwest, he'll try to drive out and see me. But maybe a couple times a year. That's the hardest part of tour. The hardest drawback is getting time off and seeing your family. I have family all over the United States.
Does being a part of a show like Wicked spark any outside creativity of your own that you can either bring to the show or something else?
Kids especially get really excited about Wicked and I have the opportunity to teach a lot of master classes. I am very creatively stimulated and passionate about teaching so Wicked has helped me to reach kids and help them learn about the process of being in a musical. I'm so thankful that I'm a part of such an amazing show. That definitely fulfills me in a very different way than performing.
What's your favorite moment of the show?
Halfway through Act One, there's a number called "One Short Day" when the girls Glinda and Elphaba arrive in the Emerald City. To me, it's the number for the ensemble. We're all wearing these crazy green costumes that are very elaborate. It's just a really fun number dancing and singing. It's just one of those classic musical theatre moments in song.
What do you think the message is of Wicked?
It's just to not to judge anyone by their exterior, that giving each and every person a chance and opportunity to show who they truly are.
What has been your most inspiring experience during your time with Wicked?
I can't nail down one experience. The moments when little kids come up at the stage door or in talk backs. When little kids come up and how inspired they are and how touched they are. I think why a lot of us do what we do because we were those little kids a long time ago.
Musicals are great because people belt out songs to express themselves. Why is music so effective when trying to convey a message or feeling?
My teachers always told me, "When you can no longer talk, you sing, and you can no longer sing, you dance to express yourself." So I feel like that's true. You can look at a lot of American musicals and it's kind of what happens. You're in a scene, you're talking, and you're trying to get what you want. That's no longer working, so all of sudden music comes in and you are trying even harder to get what you want and just express yourself. And that's not working anymore so you have to break into dance. Your whole body takes over. That's what I've always been told and that's always what I keep in the back of my mind. They're all connected. As an actor, anytime you are singing, dancing, or acting in a musical it should all be for a similar purpose and similar motivation. It should never feel like it comes out of nowhere.
Wicked the Musical comes to Detroit on Dec. 10 for a run through Jan. 4 at the Detroit Opera House. For show times and to purchase tickets, visit wickedthemusical.com.
(Photo Credit: Joan Marcus)
Related
Popular in the Community