Update: While The Wicker Man: Final Cut tours the U.S. from Bellingham to Brookline (see link below), L.A. audiences are fortunate, as it's just been announced that this Friday night, the first of November, legendary actress Britt Ekland -- "The Landlord's Daughter" herself! -- will introduce the 7:30 screening at Landmark's fabulous Nuart Theatre, plus she's staying for a Q&A. If you miss this, you're crazy.
We now return you to the original opening paragraph.
I get excited about movies, but rarely does a film astound me. Sinisterly exuberant, elegantly subversive, ravishingly eerie, hilariously chilling -- I just can't throw enough positive adjectival phrases at The Wicker Man: the 1973 masterpiece penned by Anthony Shaffer and magnificently directed by Robin Hardy. At the fore stands the world's greatest actor Christopher Lee, in one of his career peaks ("the best-scripted film I ever took part in," Mr. Lee says of The Wicker Man, in the 1999 edition of his autobiography); plus it features remarkable turns from Edward Woodward, Ingrid Pitt, Lindsay Kemp (who taught David Bowie and Kate Bush to dance), and the alluring Britt Ekland (whose dance herein could alter your worldview). Add the brilliant songs of Paul Giovanni and generous dollops of folkloric savvy, et voilà: perfection.
The plot? I'm not telling. A cop searches for a missing child. Do not read synopses, don't ask anyone about it, just see it. If for the first time, I envy you.
Truly, lucky you. In its unique blend of mystery, thriller, drama, comedy, social satire, and yes, even musical, this film practically reinvents the art form of cinema. Following years of butchered prints, short cuts, slightly-improved cuts, and missing shots, you get to experience The Wicker Man: Final Cut, director Hardy's approved DCP restoration of his definitive version. This edit has been out of circulation since 1979, and recently scanned from a 35mm U.S. print discovered in the Harvard Film Archive. After being unceremoniously slashed in 1973 to fit on a double bill with Don't Look Now, The Wicker Man: Final Cut celebrates its 40th anniversary in style. I spoke with Mr. Hardy, and asked him about the film's origins.
"Tony Shaffer and I had been partners in the film company we owned for 13 years," he relates. "We had facilities in Paris, Frankfurt, Milan and New York -- headquartered in London. And we made dramas for television, and lots of very high-priced commercials all over the world.
"During that time, Tony and I, in our association, were very much -- how can I saw, smitten, perhaps, is the right word -- with a passion for games play. And this is a key that really very few people have understood about The Wicker Man -- and maybe because they've never seen Tony's play Sleuth: which preceded it, on the stage in London, and in New York.
"The games playing was part of our daily lives for those years. Every now and then he would play an enormous practical joke on me, and I would have to think of one to play back. This was all very good-humored, and sometimes I was furious at what he had done, and he was furious at what I'd done -- but it kept us amused through all those years, and then the time came for us to start leaving the whole commercial/television scene, and move to features -- and plays: he of course was very much influenced by the fact that by that time his twin brother was one of the most famous playwrights around (Peter Shaffer: Equus; Amadeus)."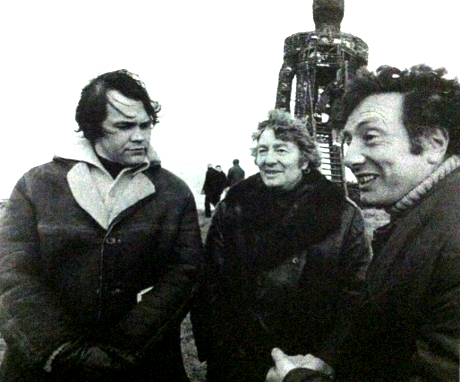 Wicker Men: Producer Peter Snell, screenwriter Anthony Shaffer, director Robin Hardy
(from the autobiography of Christopher Lee)
Mr. Hardy notes that Stephen Sondheim (hello: co-wrote 1973's The Last of Sheila with Anthony Perkins) was also a major proponent of "games play." This leads us to our current appointment:
"When you get into The Wicker Man, Tony and I decided to do a film which was kind of a reverse Hammer film -- a Hammer film which was actually about, or used, the reality of all the witchcraft nonsense that Hammer had used. And there we decided to do a story which used the old religion as part of a game -- in other words: if you could understand that the clues we littered about the script were telling you that we were in a pagan world, then you started to realize and indeed dread what was going to happen."
Dread -- yes, that's the propellant. I humbly add that The Wicker Man is also the opposite of William Friedkin's 1973 The Exorcist: it goes one better than puking pea soup on the priest; and unlike all the increasingly nasty horror movies to come, The Wicker Man seems relatively well-behaved -- but upon contemplation, it will freak you out for years to come.
While Cinefantastique's rave -- "The Citizen Kane of horror movies!" -- is certainly deserved, I add that The Wicker Man is simply superior to Citizen Kane. Livelier, stranger, far more thematically intriguing. Perhaps they should call Citizen Kane "The Wicker Man of Capitalism-will-make-you-sad movies!"
And the venerable Mr. Hardy -- an arts student of 1950s Paris who honed his craft with the National Film Board of Canada -- carries on! 2011 saw the release of the companion film, The Wicker Tree (based on his Wicker-related novel, Cowboys for Christ), and he's currently in preproduction on Wrath of the Gods: his third film in the Wicker Man trilogy.
"Two love stories are involved," he reveals of his next feature, "and it's about an American company which decides to build a theme park in Shetland -- or they're talked into it by a woman who is rather devious, and in fact it's really a plot. It's the story of their arriving in this land which is littered about -- as the American and British armies learned about Iraq -- with a religion that is alive and well. Shetland being ruled for five centuries by Denmark, it's more Scandinavian than Scots."
I ask about the connection to The Wicker Man and The Wicker Tree.
"In the other two films, the gods are being served. In the third film, the gods get their comeuppance. And the third film is, rather amusingly as well, under the influence of the last opera in the Ring cycle: the Götterdämmerung -- in which, the gods, up in Valhalla, think up another problem." Mr. Hardy laughs, then clarifies. "It's not exactly anti-gods, but we see the gods receive their, almost, revenge. The thing is, in the Norse sagas, good and evil are not the factors -- it's the characters of the gods that matter much more than in a Christian or Jewish or Islamic story of the same kind -- there'd be the 'bad guys' and the 'good guys': but that's not how it works in the Nordic world. And one of the unfortunate things I suppose you could say about the Ring cycle was that the Nazis twisted it in all kinds of ways that were horrible. I avoided that by treating quite a lot of it with humor."
Speaking of the "ring," I mention interviewing Mr. Lee a few years ago, in advance of The Lord of the Rings -- during which he told me that his role in The Wicker Man was written specifically for him (it's a good fit). Mr. Hardy confirms this, and offers a reflection.
"I started out as an artist, and Christopher wears his hair as he usually wears it -- and that makes him very recognizable, along with the face. But I didn't want him to look like that, so I drew him with that mane of hair that you see in the film: it really completely transforms his appearance, and makes him look romantic, rather than simply sinister.
"Well, I was actually directing another scene -- we hadn't gotten to his part of the schedule. And there was this man who kept on pacing up and down and glaring at me. I suppose I told him to fuck off. And then he came up to me and said (in a friendly approximation of Christopher Lee's booming voice), 'You don't recognize me, do you?'" Robin laughs heartily. "It was Christopher: every inch of the drawing I had done of him."
So pleasing to know that the games player was briefly tricked by one of his own designs. Mr. Hardy is very satisfied with The Wicker Man: Final Cut, and he wryly notes:
"The clues are hidden, from the moment of that first night -- (the proper footage of) which has now been replaced -- and they're all, as they should be in a good game, in plain sight."
Hint: Take the landlord's daughter up on her offer.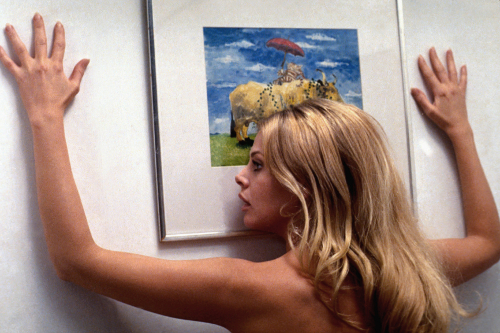 The Wicker Man: Final Cut is currently screening across the U.S.
Photos courtesy of Rialto Pictures.
Popular in the Community