This week, a heartbreaking video has touched millions of people all over the world. "Blackbird with Lennon" shows new dad Chris Picco singing The Beatles' "Blackbird" to his preemie son Lennon, just days after his wife Ashley tragically passed away. One day after the video was filmed, baby Lennon passed away as well.
At 24 weeks pregnant, Ashley experienced an undisclosed medical emergency that led to her death and prompted doctors to deliver the baby in an emergency C-section at a local hospital in Loma Linda, California. Chris Picco has suggested on his Facebook page that reports on the circumstances of his wife's death are premature, and that he intends to release more information after a medical examination is complete. A representative for the family confirmed to The Huffington Post that they are currently awaiting the results of that investigation.
Chris grieved the loss of his wife while watching his son fight for his life in the NICU. After Ashley's death, the widower posted an update on the fundraising page friends and family set up to cover the growing medical expenses: "It's impossible to sum up what as happened in the last couple of days," he wrote. "My wife, best friend and mother of my child passed away. I have a lifetime to grieve this unspeakable loss, but I know that right now she would want me to focus completely on baby Lennon James Picco, who survived by an emergency C-section."
On November 11, Chris wrote that he brought his guitar to the NICU to give him "a little concert." It was during that visit that family friend K.C. Hohensee filmed his rendition of "Blackbird."
The following day, Hohensee posted the video to YouTube and Chris' shared some more gut-wrenching news:
"Dear friends, family, and supporters; it is with an unbelievably heavy heart that I write this. My little fighter, Lennon James Picco went to sleep in his daddy's arms late last night. He was surrounded by family, friends, and the best doctors, nurses and hospital staff in the world. He was dressed in an outfit that Ashley bought for him, with little guitars on it, and wrapped in a blanket made by a dear friend. I am so thankful for the four unforgettable days I got to spend with him. His mommy would have been so beyond joy to see him and to hold him, touch him, bathe him, sing to him - as I have had the privilege of doing. I have been so blessed and honored to love him before he was formed, to cherish him while mommy carried him, meet him face to precious face, and hold his perfect little body while we said "goodbye for now." There are no words, but I wanted to keep you updated, as your love and support has meant more than anything in the world. All you need is love."
We're keeping Chris Picco in our thoughts during this unspeakably difficult time.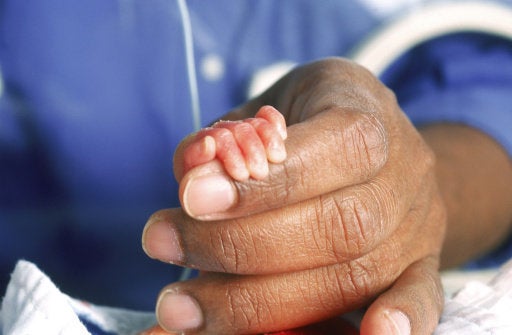 5 Reasons Why Preemies Are Completely Inspiring