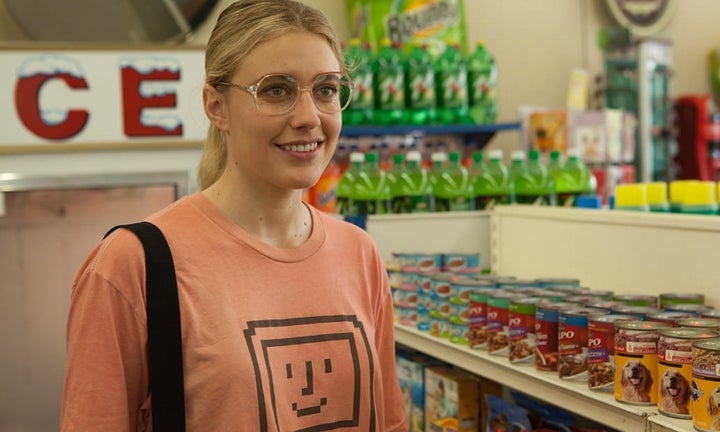 Other than the festival's opening-night Norman Lear documentary, we have yet to see a Sundance movie that bowls us over. We're sitting down with the folks behind the mystifying "Swiss Army Man" (including Paul Dano and Daniel Radcliffe, who plays a farting corpse), the buzzy frat-hazing drama "Goat" (including Nick Jonas and Ben Schnetzer) and "Christine" stars Michael C. Hall and Rebecca Hall, so look out for coverage of those movies later. Of what we've seen, nothing seems destined for mainstream ascendancy. But there's enough to like in "Morris from America," and many Todd Solondz fans were in heaven after Friday's "Wiener-Dog" premiere. Here are a few words on those, plus the mind-boggiing horror comedy "The Greasy Strangler," which is as bizarre as its title sounds.
"Wiener-Dog"
Written and directed by Todd Solondz
Starring Danny DeVito, Greta Gerwig, Julie Delpy, Tracy Letts, Kieran Culkin, Ellen Burstyn, Zosia Mamet and Keaton Nigel Cooke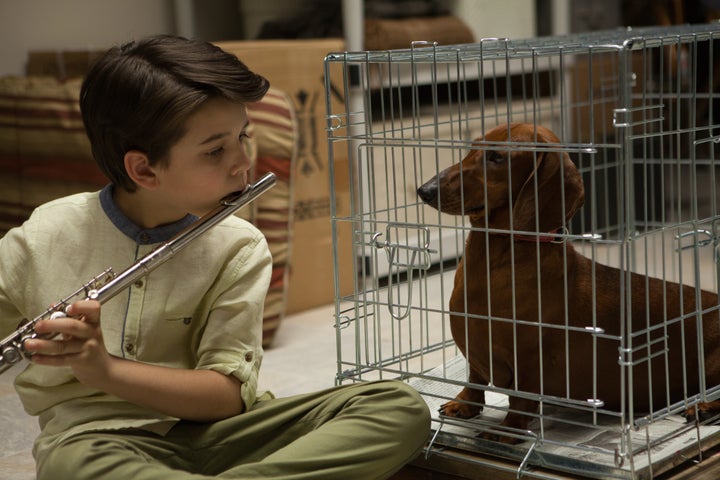 It takes effort to make a movie about a cute pooch so unlikable. I expected something endearing, but I should have known better: Todd Solondz founded his career with bleak movies like "Welcome to the Dollhouse" and "Happiness," and even though some will insist "Wiener-Dog" has a sweetness at its core, Solondz is ultimately the same nihilistic auditor of middle-class struggles he's always been. 
"Wiener-Dog" revisits Dawn Wiener, the ridiculed protagonist of "Dollhouse" (played in adult form by Greta Gerwig), who intersects with the movie's opening storyline. A father (Tracy Letts) gives his young, newly cancer-free son a dachshund, much to his self-absorbed wife's (Julie Delpy) disdain. For various reasons, some unexplained, the dog is shuffled from one disparate storyline to the next. After the dog contracts what seems like incurable diarrhea, Dawn steals it from the vet clinic where she works and nurses it to health, then gives it away to a sweet married couple (Connor Long and Bridget Brown) with Down syndrome. The little sausage then inexplicably finds its way into the arms of a bitter, washed-up screenwriting professor (a great Danny DeVito, in by far the movie's strongest section) and, later, an elderly misanthrope (an also great Ellen Burstyn) who names it Cancer. This anthology structure is built thematically, as each character is facing or thinking about or struggling to overcome death.
Fans of Solondz's work will argue there's gentleness in what Sundance billed on its lineup as the story of a pup "spreading a certain kind of comfort and joy." And look: I appreciate movies about death, even when they're tinged with cynicsm. But "Wiener-Dog" is beyond that. It's pointlessly nihilistic, with an ending -- I won't spoil it here, but you can read about it in Mike Sampson's review over at Screen Crush -- that, to me, was devoid of the poignancy Solondz is striving for.
Solondz has always divided audiences. By that measure, "Wiener-Dog" is a roaring success. But with the exception of DeVito's blindly incognizant hack, the characters are too self-aware to make their unlikability interesting. It's a balance I simply didn't respond to, and the few moving moments along the way -- namely a scene where young doll-like versions of Burstyn's character show how much more beautiful her life could have been had she just been a better person -- are lost by a sense of grating hopelessness. -- Matthew Jacobs
"The Greasy Strangler"
Directed by Jim Hosking • Written by Toby Harvard and Jim Hosking
Starring Michael St. Michaels, Sky Elobar, Elizabeth De Razzo, Gil Gex and Jesse Keen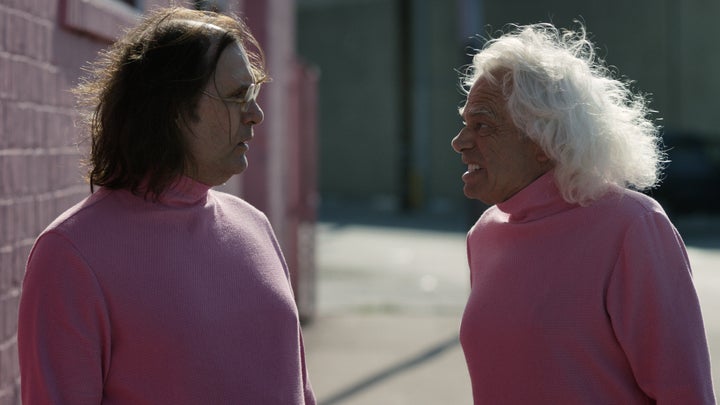 "The Greasy Strangler" is, well, greasy. When I walked into the first midnight screening on Friday, the mood was rambunctious. Some people donned bright pink hats with "Greasy" written on them, while the other, more unsuspecting members of the audience -- myself included -- still wondered what the film was all about. Well, to my shock, it was a complete mind f**k -- the type of horror movie that destroys you mentally. 
The Elijah Wood-produced, Jim Hosking-helmed project follows The Greasy Strangler, Ronnie (Michael St. Michaels), and his son, Brayden (Sky Elobar), as they navigate their lives as bulls**t artists and disco-history tour guides. (No, I'm not lying). Both men, Ronnie especially, are obsessed with greasy food and eat nothing but things that look so unappetizing that watching the film makes you nauseous. What else makes you nauseous? The abundant amount of nudity and extreme levels of Dada absurdist humor. (There is one scene focusing on paprika potato chips that literally made me laugh for five minutes because of how ridiculous it was). 
The movie is shot beautifully and appears to have cost a pretty penny, but the bizarre nature of the story forces you to question the filmmaker's mind in a "What the f**k did I just watch?" kind of way. 
I thought witnessing Daniel Radcliffe turn into a farting dead-corpse Jet-Ski in "Swiss Army Man" was weird, but "The Greasy Strangler" takes weird to a whole other level. Not to mention the strange love triangle between Ronnie, Brayden and his girlfriend Janet (Elizabeth De Razzo) -- like, whhhaaaaaatttt? 
Talk about a brave actress. De Razzo deserves all the kudos, as do those prosthetic penises that appear in almost every scene. -- Leigh Blickley

"Morris From America"
Written and directed by Chad Hartigan
Starring Markees Christmas, Craig Robinson, Lina Keller and Carla Juri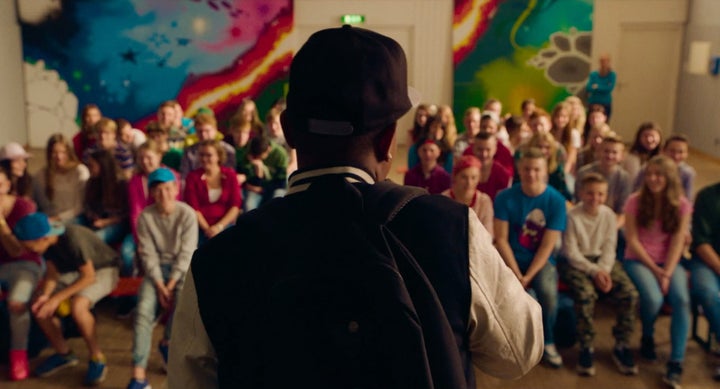 One of my favorite movies at Sundance last year, "The Diary of a Teenage Girl," presented a frank portrait of young female sexuality in 1970s San Francisco. "Morris from America" picks up its torch, shifting the gaze to a 13-year-old African-American boy (Markees Christmas) living with his widowed father (a career-best Craig Robinson), a former soccer player named Curtis who is now coaching a team in present-day Germany. 
An aspiring rapper who feels like he doesn't fit in amid a sea of ivory skin tones, Morris joins a youth center at the behest of his caring German tutor (the charming Carla Juri). The kids don't treat him warmly, and when he spews out a vulgar rap during a talent show, the tormenting worsens. But Katrin (Lina Keller) -- a selfish, nervy, alluring 15-year-old girl who'd already caught Morris' eye -- takes a liking to him. She has a boyfriend, but her flirtations give Morris a semblance of friendship as they swap music tastes (he introduces her to Jay Z, she introduces him to techno) and avenge Morris' bullies.
Morris is enamored. (He dresses his pillow in a cardigan she'd accidentally left on the bus and engages in the classic teen-fantasy sex scene.) Yet his outsider feelings linger, and Morris pulls away from Curtis as a result. Instead of becoming overly angsty, the movie tugs at the sentimentality of the pair's relationship, as effected in Christmas' and Robinson's top-notch performances. Morris needs his father, even when they aren't playing Jenga or jamming about hip-hop -- and Curtis needs Morris, so much so that he fosters their affection with brash, profanity-laced candidness.
Writer-director Chad Hartigan, whose "This Is Martin Bonner" was a Sundance award winner in 2013, has great affection for these characters. "We're the only two brothers in Heidelberg -- we gotta stick together," Morris tells Curtis in an affecting monologue at the film's close. That's a fine thesis, though Hartigan's direction can feel mishmashed. Take a scene where Morris walks through a museum while sculptures bob their heads to the beat of the music in his earbuds. It's cute but misplaced, considering nothing else onscreen is that surreal. And enough with movies that feature teen boys (or grown men) ogling magazines of airbrushed pinup women and then seeking replicas of their horny delusions. Stories of male sexuality are worth telling, of course, and there's enough sweetness to make this one work -- but it almost becomes too much of a macho cliché. Thankfully, those are minor blips along the way to a charming movie. -- Matthew Jacobs
PHOTO GALLERY
Sundance 2016 Preview
Calling all HuffPost superfans!
Sign up for membership to become a founding member and help shape HuffPost's next chapter