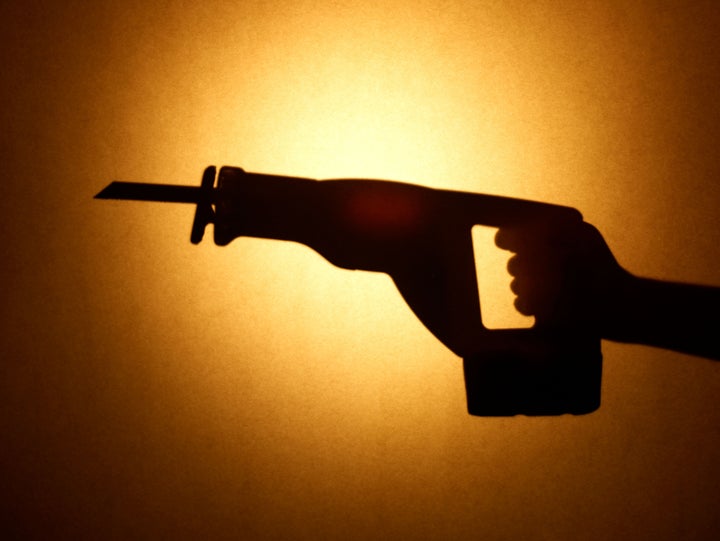 A Washington woman is behind bars after allegedly attempting to behead her sleeping husband with a reciprocating saw.
When officers with the Everett police arrived at the couple's home on Friday night, they found blood on the carpet and walls and a bloody man who was shouting "it was you, it was you" at his wife, according to a police document obtained by KIRO TV.
"You tried to cut my head off, you're going to jail," the man screamed, the affidavit notes.
The 36-year-old victim reportedly told police that he awoke to find his wife cutting his throat with a Sawzall -- a power tool that can cut through wood, plastic and even metal, if outfitted with the right blade.
The man, who sustained cuts to his neck and upper shoulder, also told investigators that his 43-year-old wife attacked him with a hatchet.
The suspect admits using the reciprocating saw, but told police she only picked it up to attack an intruder who had broken into their home and escaped through a window in a child's bedroom, The Herald reports.
Police say the window is outfitted with a child lock, which keeps it from opening more than a few inches.
"There was no evidence there was an intruder," Everett police Sgt. Robert Goetz told the paper.
Investigators found a bloody reciprocating saw on the bedroom floor and a hatchet, which was still wet, seemingly fresh from a wash, atop an upper shelf in the kitchen, according to The Herald.
The suspect is under investigation of first-degree domestic violence assault and is being held in lieu of $250,000 bail.
Related
Popular in the Community