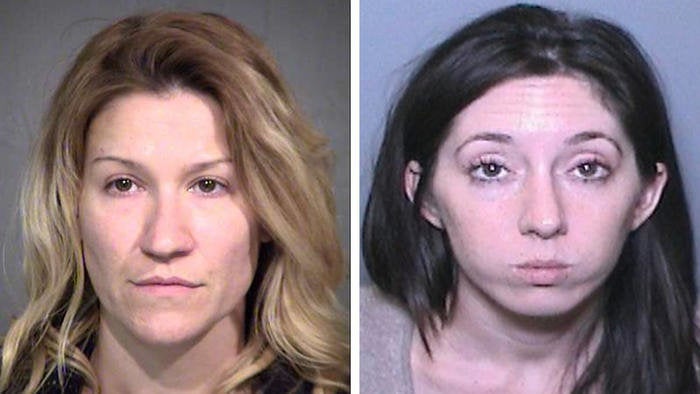 The wife of a U.S. marshal has been charged with kidnapping and falsely reporting a crime in a bizarre rape-fantasy frame-up of her husband's former girlfriend, Southern California officials revealed Monday.
Investigators say Angela Maria Diaz, 31, who then lived in Anaheim, posed as the victim of a fabricated Craigslist "rape fantasy" ad in a bid to land rival Michelle Suzanne Hadley, 30, in prison. Diaz married a U.S. marshal, referred to as "John Doe" in court documents, a year ago. Hadley was his girlfriend from 2013 to 2015.
Diaz tried to make it appear that Hadley, of nearby Ontario, had placed the fake ad last June to entice men to rape Diaz, according to investigators. The ad said Diaz wanted to indulge in her rape fantasies and supplied photos of Diaz and information about her routines. The ad encouraged men to have forcible sex with Diaz, "even if she screamed or resisted."
Diaz reported to police that men had appeared at her home intending to rape her and that one had attacked her but fled before police arrived. In an apparent effort to bolster her false claims, Diaz showed police her torn shirt and redness on her neck and breast, the DA's office said.
Diaz had reported to Anaheim police earlier that Hadley sent several threatening emails — and obtained a restraining order against Hadley — but investigators said Diaz had sent the threats to herself.
 Orange County District Attorney Tony Rackauckas called it a "diabolical scheme."
Investigators initially believed Hadley was responsible for the false ad and for the danger to Diaz, and Hadley was charged with 10 felonies, including stalking and attempted forcible rape. If convicted, she faced up to life in prison, noted KTLA-TV in Los Angeles. She was held in lieu of $1 million bail from July to October, until her attorney, Michael Guisti, helped uncover information that authorities said exonerated her.
As "important as the filing of charges against Ms. Diaz, is the dismissal of the previous complaint and full exoneration of Michelle Hadley," Rackauckas said in a statement. "Ms. Hadley is cleared in every possible way ― in the courtroom and in the court of public opinion. It should be clear in the media and in cyberspace. Ms. Hadley is an innocent victim of a diabolical scheme."
Guisti told the Los Angeles Times that Hadley was a "wide-eyed, very bubbly" young woman with a "lust for life" whose family had to borrow money for her defense. "To have her so thoroughly exonerated by the district attorney is a huge relief to her."
Diaz was arrested Jan. 6 in Phoenix and was charged with two felony counts each of kidnapping (linked to false reports that landed Hadley in jail) and false imprisonment by menace, fraud or deceit, one felony count of perjury, one felony count of grand theft and two felony counts of forgery, among a number of other charges, according to the Orange County district attorney's office. She also is accused of faking cervical cancer and a pregnancy, pretending to be an attorney and forging doctor's notes during the alleged scheme. Diaz is awaiting extradition to Orange County.
All charges were dropped against Hadley on Monday. "This has been a huge nightmare for me," she told reporters as she left the courthouse.
Calling all HuffPost superfans!
Sign up for membership to become a founding member and help shape HuffPost's next chapter