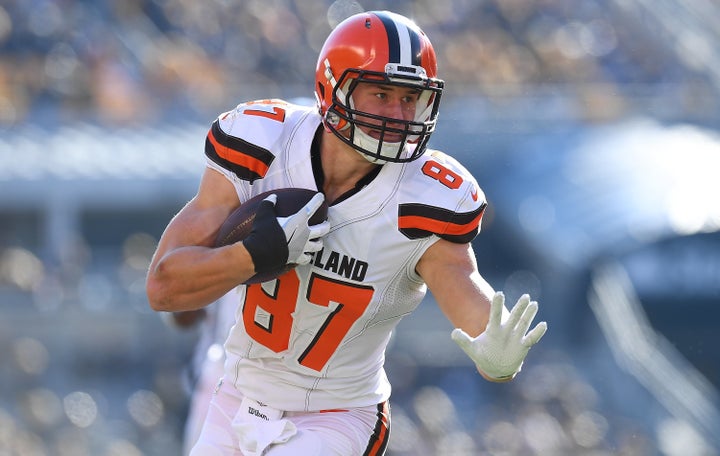 Cleveland Browns tight end Seth DeValve on Monday became the first white NFL player to kneel during the national anthem, a year after Colin Kaepernick made national headlines for doing the same.
"I myself will be raising children that don't look like me, and I want to do my part as well to do everything I can to raise them in a better environment than we have right now," DeValve said, according to The Associated Press. "So I wanted to take the opportunity with my teammates during the anthem to pray for our country and also to draw attention to the fact that we have work to do."
DeValve's wife, Erica Harris DeValve, very much supports his decision and is "deeply proud" of him for the statement he made in that moment, according to a blog post she wrote for Very Smart Brothas on Thursday. However, she makes it clear that while she is grateful for the praise he has received, she wants others to remain aware that "we should not see Seth's participation as legitimizing this movement."
"I would like to push back against some of the attention he's been getting that portrays him as some sort of white savior to a movement that was started and has been carried on by black football players for about a year now," DeValve wrote.
Instead, she said she hopes her husband's involvement doesn't distract from the real focus of the demonstration, which she wrote should be "listening to the experiences and the voices of the black people who are using their platforms to continue to bring the issue of racism in the U.S. to the forefront." 
"It is an egregious example of the injustices in today's world when an expressed advocacy by Colin Kaepernick seems to have resulted in him not being signed by a team," Symone D. Sanders, former press secretary for the Bernie Sanders presidential campaign and rally co-organizer, told HuffPost. "We believe that the NFL is complicit in this ostracization of Colin Kaepernick — that they have, essentially, sat silently, and we are calling on the NFL to act."
Erica Harris DeValve reiterated this message by calling out the consequences Kaepernick faced for kneeling.
"A man — a black man — literally lost his job for taking a knee, week after week, on his own," she wrote. "Colin Kaepernick bravely took a step and began a movement throughout the NFL, and he suffered a ridiculous amount of hate and threats and ultimately lost his life's work in the sport he loves."
REAL LIFE. REAL NEWS. REAL VOICES.
Help us tell more of the stories that matter from voices that too often remain unheard.
BEFORE YOU GO
PHOTO GALLERY
"Black Lives Matter" March