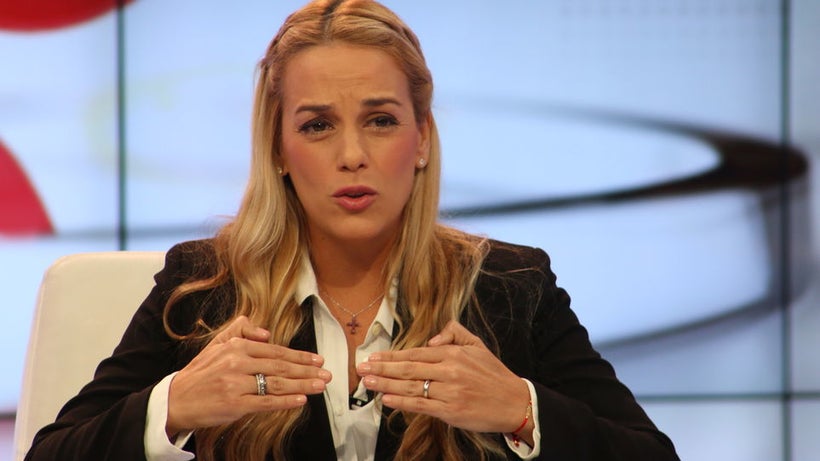 Lilian Tintori, an avid runner, former television and radio host, and wife of Venezuela's most popular opposition leader, Leopoldo Lopez, dedicates a majority of her life denouncing the human rights abuses committed by the current Government of Venezuela.
Whether she is traveling the country, meeting with countless Presidents, Prime Ministers, and other important figures, Lilian's goal is simple: To continue the fight her husband began many years ago; calling out the injustices and human rights violations committed by the Nicolas Maduro regime.
A few days ago, I had a chance to call Lilian and have an in-depth conversation on the current situation in Venezuela, her husband's health, and her hope for the future in a country where many seem to be disenchanted by hyperinflation, countless murders, and a humanitarian crisis that includes shortages of food, basic good, and countless medicines.
When I asked Lilian about the current situation in Venezuela, she didn't hold back:
"There is a clear dictatorship in Venezuela. There are no rights. There is a humanitarian crisis. We can't find medicines, food, due to shortages and a growing inflation."
She continued by saying that
"There is an economic crisis because the Maduro Administration does not respect our Congress, a Democratic mechanism elected by our people."
When talking about the political prisoners in the country, she didn't hesitate to go into details.
"There is a total of 603 political prisoners, according to a human rights organization in Venezuela, Foro Penal. Venezuela has all the symptoms of a dictatorship: political prisoners, there is no rule of law, there is no legal system to defend our current political prisoners."
And when it comes to Trump's recent comments on potentially invading Venezuela using military force, she was very clear:
"I've been clear on this. The People of Venezuela need to solve this ongoing crisis from within Venezuela."
When I asked her how the People of Venezuela could do that, she said it must be done through peaceful means, including an electoral and constitutional process.
Still, many within Venezuela believe there will be no end to the chaos without a negotiated solution.
Lilian, who's husband is currently under house arrest, went straight to the point when discussing any possible negotiations with The Venezuelan Government.
"My husband and I, including the opposition have always been opened to negotiations. If we are to negotiate, we need a transparent discussion, where the people of Venezuela are aware and clear on what this would include," Lilian responded.
"Leopoldo Lopez has always said it. We need to have a real conversation. But we need to have a transparent discussion where the People of Venezuela are rightfully represented."
She continued by saying that the opposition does not believe in violence.
"We want a peaceful solution. Currently, over 90% of Venezuelans are dissatisfied with the government of Nicolas Maduro. People want change. They want a peaceful, democratic, and constitutional solution to the ongoing crisis"
Regarding her husband's health, a topic that worries many Venezuelans, Lilian shared with me that Leopoldo's spirit is strong, although still recuperating from being isolated in horrible conditions for over three years and a half.
For Leopoldo Lopez, being in house arrest means he can't speak up, his house is currently being monitored by maximum security, and his wife and family are often followed and targeted by the government.
All in all, despite the current situation within the country, Lilian remained optimistic during our conversation and committed to fight for her family, her husband, and all of Venezuela. We ended our almost 30 minute conversation with a brief reflection and optimistic outlook on her part.
"Even though Venezuela may be going through the worst times, even in the darkest hour of the night, the morning always comes. The sun still manages to come up. We must be that hope for the people and our country."
This post was published on the now-closed HuffPost Contributor platform. Contributors control their own work and posted freely to our site. If you need to flag this entry as abusive,
send us an email
.