The widow of a Kansas Indian man killed in a possible hate crime is wondering if the U.S. is still safe for immigrants.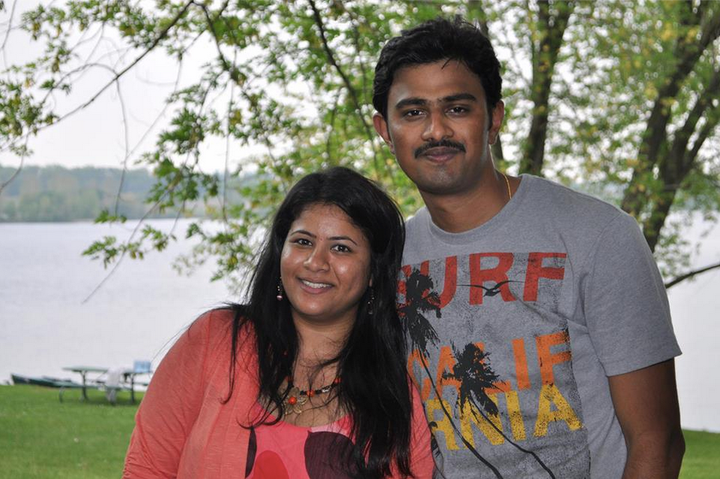 Srinivas Kuchibhotla, 32, was fatally shot on Feb. 22 while out at a bar in Olathe with his friend. The suspect, 51-year-old Adam Purinton, is accused of hurling racial slurs at the men before opening fire. Alok Madasani, 32, and Ian Grillot, 24, were both injured in the attack.
In a Facebook post, Sunayana Dumala, the widow of the deceased, said it was her husband who gave her the courage to pursue her dreams in America. 
"He'd played a major role in me attaining a job, always encouraging and working with me though my disappointments, especially as I was starting back again after 4 years of a career break," she wrote.
Dumala described her husband as a hard-working optimist often adored by children. When they first met, Dumala said Kuchibhotla was "so charming I couldn't resist."
In the touching post, Dumala also asks what the U.S. government will do to stop hate crimes:
I will now ask same question — On what basis we decide a person is good or bad, and of course, it's not based on the color of your skin. So what decides that? Many times, these issues are talked about for a few weeks and people tend to forget about them afterward, but the fight must go on towards eradicating hatred from the minds of people. So what is the government going to do to stop hate crime?

Lastly, to answer the question that is in every immigrant's mind, DO WE BELONG HERE?
In his joint session with Congress Tuesday night, President Donald Trump finally condemned the shooting. It took him six days.
"Recent threats targeting Jewish Community Centers and vandalism of Jewish cemeteries, as well as last week's shooting in Kansas City, remind us that while we may be a nation divided on policies, we are a country that stands united in condemning hate and evil in all its forms," Trump said.
In her post, Dumala asked if the U.S. was still safe for immigrants to raise children in. She had planned to have children of her own with Kuchibhotla. 
"He always assured me that if we think good, be good, then good will happen to us and that we will be safe," she wrote. "He used to hug me tightly and sleep giving me this assurance. Srinu, now that I have gotten used to that warm hug, I might not be able to sleep. That was the only place in the world that I could sleep without any worries or tensions." 
Calling all HuffPost superfans!
Sign up for membership to become a founding member and help shape HuffPost's next chapter