Sandy Samberg received a call several months ago from a school guidance counselor who told her about a 15-year-old student with leukemia. The student had lost her hair in treatment and her family could not afford a wig.
Samberg, who co-founded The Wig Exchange -- a volunteer organization that provides women undergoing chemotherapy with high-quality, donated wigs -- asked the counselor to send a picture of the girl so she could search her stock for something suitable.
The photo made Samberg, 41, sit down. The girl was a perfect match for a wig the organization had received nine months earlier -- one with a powerful story. It had been owned by a 23-year-old who had battled leukemia, and who'd been devastated by the idea of losing her hair. Her college friends had pooled funds, raising enough money to buy her a beautiful, $3,600 wig with long, straight brown hair.
"I couldn't believe it," Samberg said. "It looked just beautiful on her."
This is the work that Samberg does with The Wig Exchange, which she started roughly a year and a half ago with her friend, Kate Conn (herself a breast cancer survivor), and Kate's husband Paul. Samberg previously worked as a nurse practitioner in a private practice in New York City, then launched a business providing "starter kits" to new parents, which provided tips and product samples. But after the Sept. 11 attacks, which killed two of her husband's best friends, the business crumbled. The couple, who were high school sweethearts, took stock and moved with their two young children to suburban Rye, N.Y.
After moving, Samberg -- a self proclaimed Type-A workaholic who took no maternity leave after the birth of her sons, now 13 and 14 -- decided to take some time off. She did some volunteer work and in 2006, participated in the Avon Walk For Breast Cancer to honor of a close friend who'd recently died from the disease. A year later, Samberg and some friends started a team from Rye, which morphed into Sole Ryeders -- a volunteer organization that raises money for the Avon Foundation, and also donates funds to help address unmet cancer-related needs in the Rye community.
While running Sole Ryeders, Samberg occasionally heard from women undergoing chemotherapy who needed a wig, but could not afford one. "I began to do some research, and found that high-quality wigs are thousands of dollars," she said. "For a human-hair wig, it can be three, four, five thousand dollars. I was blown away."
Around the same time, her friend, Conn, had finished treatment and was wondering what to do with the beautiful human-hair wig. She didn't want to throw it away, but her children didn't want to see it. The two woman and Conn's husband hatched the idea for an exchange that would provide donated wigs to women going through chemotherapy, regardless of their income. Early on, a local newspaper heard about the organization and wrote an article. Samberg received roughly 90 calls in just two days.
Today, The Wig Exchange has received almost 400 donated wigs from all over the country. Intake is handled by three volunteers, including Samberg, who have the wigs professionally cleaned and photographed before sealing and storing them in what was once the playroom for Samberg's sons.
When a woman needs a wig, she sends a picture to Samberg and her team. The woman then meets with one of the three exchange client coordinators -- all cancer survivors. The women sit, eat, chat, and go through the available choices. Once a wig is selected, women are given shampoo, conditioner, a wig brush, a stand and double-sided tape. They can also meet a volunteer wig stylist. "We show them how to clean it, care for it and what to do on a windy day," Samberg said. "The coordinators can answer all those questions that only someone who's been through chemo themselves can really relate to."
One of the great surprises for Samberg is how therapeutic the program has been for donors. "This is a big step for them, to give their wig away, and to be aware that somebody's coming after them and is going to walk those same steps," she said. "This is a tangible way of paying it forward and helping that next person."
And while Samberg is thrilled by the program's success, she said she worries that the team of volunteers will struggle to keep up with demand as it gains attention. Her work with both of her organizations is "full time -- and then some" Samberg said she feels "extremely fortunate" that her husband is able to support the family financially and many of her volunteers easily put in more than 20 hours a week. Her long-term goal is to replicate the program across the country.
"When I work with somebody who has cancer, and they're just about to start their journey, and life is really, really difficult," Samberg said. "And then they come in after to donate their wig, and their hair is growing back, and they're all smiles and ready to help the next person -- there is something about that that makes it all, the sleepless nights and the long hours, worth it."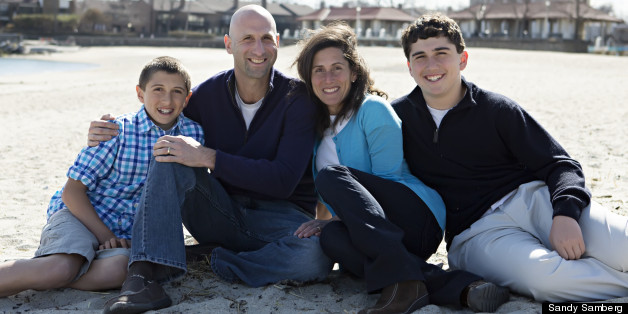 Samberg, her husband and their two sons.
This post is part of a series produced by The Huffington Post highlighting the contributions of Go-Givers -- people who are looking beyond a "Go-Getter" approach to success and redefining success to include the importance of giving back. To nominate a Go-Giver of the Week, email gogiver@huffingtonpost.com.
Related
Popular in the Community