 (Repeats to add INTERVIEW tag)
By Mari Saito and Reiji Murai
KYOTO, Jan 7 (Reuters) - Nintendo Co Ltd's year-end sales of its Wii U games console were steady, though not as strong as when its Wii predecessor was first launched, the Japanese game maker's top executive told Reuters on Monday.
The company, which grew from making playing cards in the late 19th century into the blockbuster Super Mario video game series, is pinning its hopes on the Wii U after posting a first operating loss last year, as gamers ditch console games to play on smartphones and tablets.
"At the end of the Christmas season, it wasn't as though stores in the U.S. had no Wii U left in stock, as it was when Wii was first sold in that popular boom. But sales are not bad, and I feel it's selling steadily," Nintendo President Satoru Iwata said in an interview.
Iwata gave no details on sales or forecasts, but said Nintendo needed to focus on developing attractive software for its 3DS handheld device to draw new users, and increase Wii U sales as it battles competition from popular mobile devices. The Wii U carries video content from Netflix Inc and Hulu, and has a dedicated social gaming network called Miiverse, which allows users to interact and share games tips.
Nintendo said in October it aimed to sell 5.5 million Wii U devices by end-March. Wii U, the successor to the blockbuster Wii machine, went on sale in the United States on Nov. 18. The company later said it sold more than 400,000 of the video game consoles in the first week. Wii U is also now on sale in Europe, Australia and Japan.
Nintendo sold 638,339 Wii U consoles in Japan between Dec. 8 and 30, according to data from game magazine publisher Enterbrain. The company has sold nearly 100 million of the original Wii units since its launch in 2006.
Rival Microsoft Corp sold more than 750,000 of its Xbox 360 console during the Black Friday week in November - one of the busiest U.S. consumer shopping periods of the year, beating sales of both Sony Corp's PlayStation3 and Nintendo's Wii U.

Iwata acknowledged the challenge of producing two Wii U models at the same time, as most customers wanted the premium package, which sold out quickly in many places, while there was a glut of the slightly cheaper Wii U model on store shelves.
"It was the first time Nintendo released two models of the game console at the same time ... and I believe there was a challenge with balancing this. Specifically, inventory levels for the premium, deluxe package was unbalanced as many people wanted that version and couldn't find it," he said.
Iwata noted a weaker yen would have little impact on Nintendo's profits this fiscal year, but would positively impact its foreign denominated assets.
Nintendo's Osaka-listed shares earlier ended down nearly 2.1 percent on Monday at 8,980 yen, and have fallen 15 percent since the Wii U was launched. (Editing by Ian Geoghegan)

Before You Go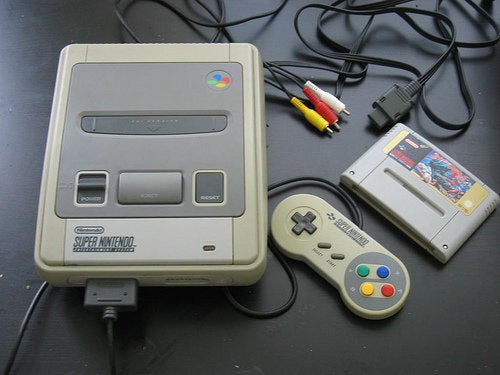 The 13 Hottest Holiday Gifts Of The First Bush Presidency
Popular in the Community