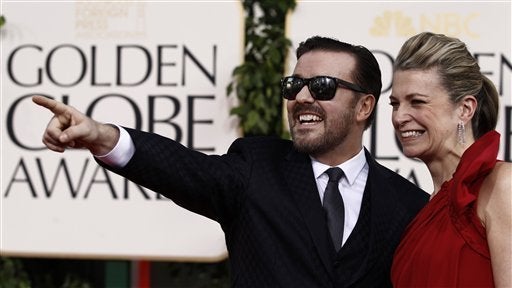 Frankly, I didn't watch The Golden Globe Awards. Why? Because I have tried to watch them in the past and was bored to the point that dental records would not identify my smoldering remains. The fact is, awards shows are, almost without exception, dreadful; they are too long, the actors who present the awards make terrible comedians as they read their cheesy little lines, and hearing the winners thank their managers, agents and assorted brown nosers is about as much fun as starring in an Al Qaeda beheading video. Then, I heard about how hilarious Ricky Gervais was, and I've been watching bits and pieces on the Internet ever since. Like Gervais or not, you have to admit, more people are talking about the show than ever before. And Gervais was brilliantly funny, like when he introduced Bruce Willis as "Ashton Kutcher's Dad," and when he said of a recent film, "In it two heterosexual actors pretended to be gay, which is the exact opposite of what some actors who are Scientologists do." Funny, true, and he didn't even name names, like Tom Cruise or John Travolta. Nor did he make a single Richard Gere Gerbil reference. One has to ponder, have the people who were offended by Gervais ever seen an episode of The Family Guy, or The Simpsons? Have they ever seen a monologue by Leno or Letterman or Ferguson or Conan? But then, this is the biggest bunch of spoiled brats on the planet. Don't forget, Tom Cruise and Katie Holmes are no longer speaking to Anne Hathaway because she portrayed Katie Holmes unflatteringly in an SNL sketch (an SNL sketch for crying out loud!).
The President of the Hollywood Foreign Press Association, Philip Berk, said that Gervais went too far. Great, then don't hire Ricky Gervais, dumbass! Gervais is known as an irreverent, no holds barred comic. Which is exactly why he was hired in the first place. Hiring Ricky Gervais, then complaining that he went too far is like the Rotary Club hiring Kathy Griffin to emcee a roast. Truth be told, Gervais was the most interesting host the show has had in years, and it got the best ratings its had in years. But God forbid anyone bruise the fragile egos of a bunch of spoiled whiny, overindulged movie stars.
So go ahead Golden Globes, next year hire someone safe, like Pat Sajak for example, or better yet Ryan Seacrest; he'll damn sure keep the gay references down to a dull roar.
In truth, Gervais navigated this thing perfectly. He hosted the Globes last year and did a great job. So great that he was invited back this year. Last year he probably held back a bit, and thought to himself that this year he'd kick it up a notch. After all, the Mel Gibson tapes weren't even out yet. So boom, he came, he saw, he conquered and now he gets to leave on his terms. And next year The Golden Globes can go back to its usual mind numbing, fawning tedium, and Ricky Gervais can contine to be a comedian and movie star.
Or, the Golden Globes can hire Lisa Lampanelli to host next year and we can all watch everyone's heads explode.

Calling all HuffPost superfans!
Sign up for membership to become a founding member and help shape HuffPost's next chapter