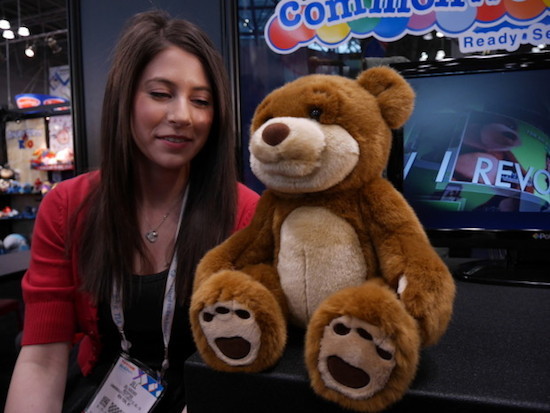 With a direct connection to Wikipedia, WikiBear is truly the world's smartest teddy bear. That is because this interactive teddy resorts to crowd-sourced knowledge for his brains. Unveiled at Toy Fair, WikiBear uses Bluetooth to connect to a free app running on a smartphone or tablet, which in turn gives him access to Wikipedia and to other various sources on the web for knowledge.
And it gets even better! The 11" brown bear is interactive, and will respond to most questions. His mouth even moves as he talks, and his built in speaker has an adjustable volume control.
Unfortunately, the demo unit we played with in the picture above is still a prototype, so it was buggy and struggling to perform in a noisy convention environment. Also, the voice being used by WikiBear is not his final voice, and it will be improved before his final release. That said, we were still smitten with WikiBear and how adorable he is. We also appreciate how they have designed his personality with a touch of humor. Oh, and he is also pretty cuddly -- and is sure to be a hit when he is finally released on store shelves this summer.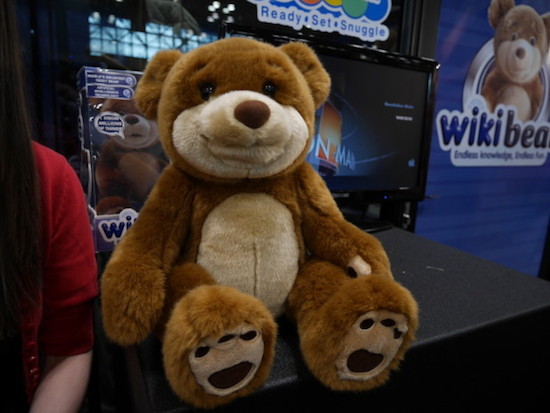 But perhaps what is so unique about Wikibear is that unlike traditional interactive toys that have came before him, WikiBear's knowledge base will always be updated and current, thanks to its reliance on Wikipedia.
A teddy bear that gives cuddles -- and is smart! I want one. But will WikiBear be this generation's Teddy Ruxpin? He certainly has the potential to be. WikiBear will be available from Commonwealth Toys in June.
Calling all HuffPost superfans!
Sign up for membership to become a founding member and help shape HuffPost's next chapter