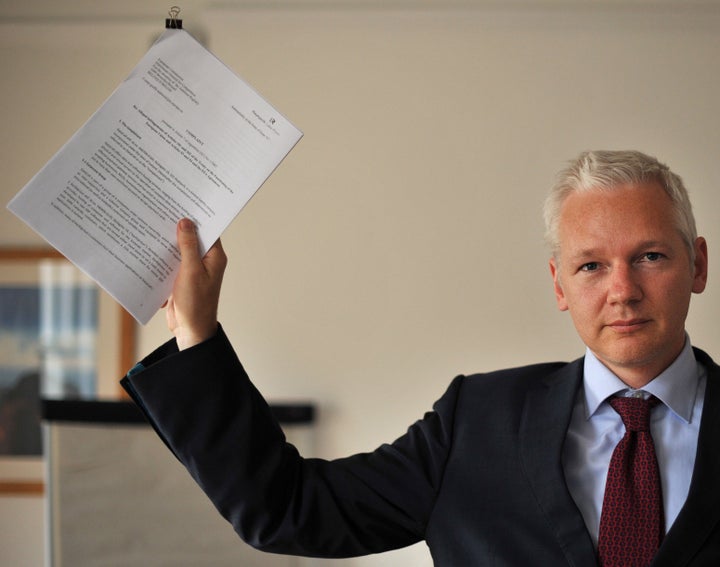 The whistleblower website WikiLeaks announced it was releasing 35,000 U.S. diplomatic cables late Tuesday night. The official Twitter account broke the news to its more than one million followers, asking for help scouring the cables for discoveries.
So far, cables have been posted from China, Taiwan and Libya. Cables from other countries -- including Russia, Venezuela, Indonesia, Syria, Somalia, Bahrain, South Africa, Yemen, Cuba, Germany, Iran, Afghanistan, Poland, France, Turkey, Romania and Rwanda -- are reportedly to be released later.
Interested readers were flagging cables of note on Twitter with the hashtag #wlfind.
Since relations are resumed between our two countries, we have the right to congratulate you from the bottom of our hearts because you are the son of Africa. God gives reign to whom He wishes and takes it away from whom He wishes; he holds dear whom he wants and humiliates whom he wants as well. He retains all the good in His hands, and He is the all powerful; and He pledged to confer His favors on those deemed weak and to bequeath them the Earth. Blacks were deemed weak and were oppressed, and were taken to the American continent as slaves and indentured servants.

The main point is that Blacks shall not have an inferiority complex and imitate the Yankees. They have to prove that they are partners to the whites and sharing the same continent; that the Whites themselves are not indigenous, but that they have come from overseas; that the black man is not less competent than the white man; and that the black color shall prevail in the world as predicted by the Green Book.

Popular in the Community