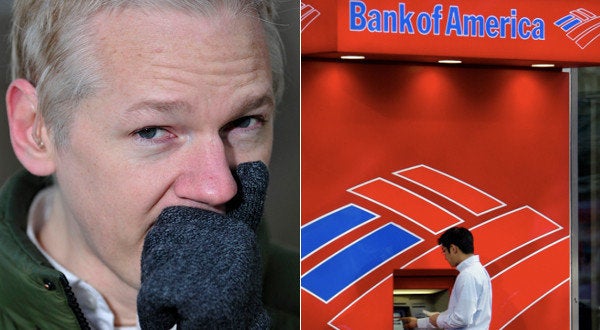 LONDON: The bombshell that WikiLeaks founder Julian Assange has said could "take down a bank or two" may in fact be something of a dud.
Assange has said privately he does not know if his cache of internal Bank of America (BAC.N) data, whose public release he has suggested might be imminent, contains any big news or scandal, according to three people familiar with the WikiLeaks leader's private discussions about the material.
They said that Assange said it consists of e-mails from the hard-drive of a Bank of America executive's computer and that the latest messages are dated sometime in 2006.
The sources said that Assange privately acknowledged the material was not self-explanatory and that he personally was unable to make much sense of it. Assange indicated it would require a substantial amount of effort by financial experts to determine whether any of the material was newsworthy, according to the sources.
Assange's private characterizations of the Bank of America material as being dated and difficult to interpret contrasts with inflammatory public statements he has made -- some as recently as last month -- touting the significance of bank-related materials WikiLeaks has been planning to publish.
A person who works with Assange did not respond to an emailed request for comment.
In an interview in November with Forbes, Assange said WikiLeaks planned early in 2011 to release "either tens or hundreds of thousands of documents depending on how you define it" from a cache of material the website had received from an unnamed American bank. Assange said the material would highlight "some flagrant violations, unethical practices" and added that it could "take down a bank or two."
In the Forbes interview, Assange wouldn't identify which U.S. bank the material came from. In an interview last month with U.S. television program "60 Minutes," Assange again declined to identify which bank his cache of data came from, claiming to the CBS newsmagazine: "There'll be a process of elimination if we denied some and admitted others... I think it's great. We have all these banks squirming, thinking maybe it's them."
But in an interview with Computerworld magazine in October, 2009, he said "We are sitting on 5GB from Bank of America, one of the executive's hard drives."
The contrast between the schadenfreude with which he has talked about the bank documentation in public and the caution with which he has described the material in private may provide fresh ammunition to opponents of Assange, who have accused him of hyping revelations and promoting conspiracy theories for personal and political gain. His critics include former WikiLeaks collaborators, who allege Assange has sought to dominate WikiLeaks by fostering a cult of personality.
Assange and WikiLeaks have become international media phenomena because he has delivered on some of his claims -- particularly through WikiLeaks' acquisition and publication of thousands of classified U.S. government reports about diplomatic machinations and the wars in Iraq and Afghanistan.
WikiLeaks critics have also accused Assange of exaggerating the importance of the leaked official documents, and some internal U.S. government assessments of the impact of WikiLeaks' publication of American government secrets have suggested that long-term damage to U.S. interests and foreign policy are likely to be limited.
Some former WikiLeaks collaborators who split away from the website due to what they regarded as Assange's erratic and imperious behavior said that over the last year, he had lost interest in publishing financial secrets which had flowed into the website and was much more enthusiastic about publishing material which would irritate or damage the U.S. government.
Last month, Assange appeared at a London press conference where Rudolf Elmer, former head of a private Swiss bank's operations in the Cayman Islands, handed over what purported to be two discs containing documentation of alleged offshore tax abuses by wealthy business people. The day after the press conference, Elmer pleaded guilty in a Zurich court to violating Swiss laws on bank secrecy, and was released without a custodial sentence.
Hours after the court hearing, Elmer's house was raided by Swiss authorities and he was taken away and detained.
(Editing by Claudia Parsons and Jim Impoco)