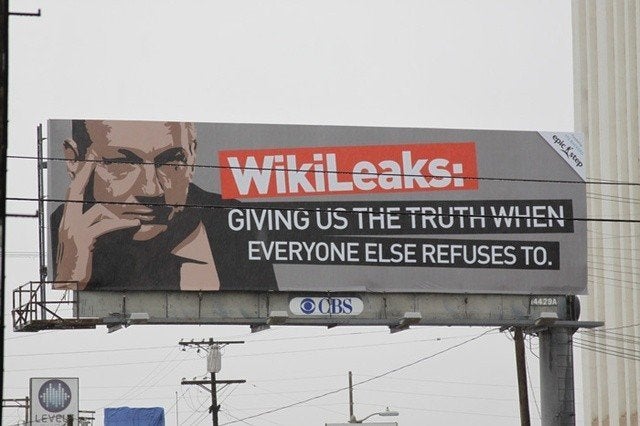 Via LATaco.com: A billboard with the spectre of Julian Assange looms over the intersection of Highland Avenue and Santa Monica Boulevard in Hollywood. The sign, supportive of WikiLeaks, says "WikiLeaks: Giving Us The Truth When Everyone Else Refuses To."
The billboard is the work of "Nick J." and the 196 supporters of his cause on EpicStep.com, a social fundraising site that specializes in billboard campaigns. Almost all aspects of the billboard were crowdsourced; Nick J. solicited suggestions for the message and graphics, and afterward invited users to decide among three proposed billboard designs.
Nick J. lives in Los Angeles and is studying to be a chiropractor. When asked why he spearheaded the campaign, he said to the Huffington Post: "At some point governments and corporations must have accountability for their actions, just like individuals. If there is no one monitoring their actions, how can we assume that they will act in the our best interests? I feel our government has been less than honest with its people." He also added, "It's not just L.A. that needs to see this message. I would love nothing better than to see this billboard in major cities throughout the nation. Chicago is next."
Popular in the Community