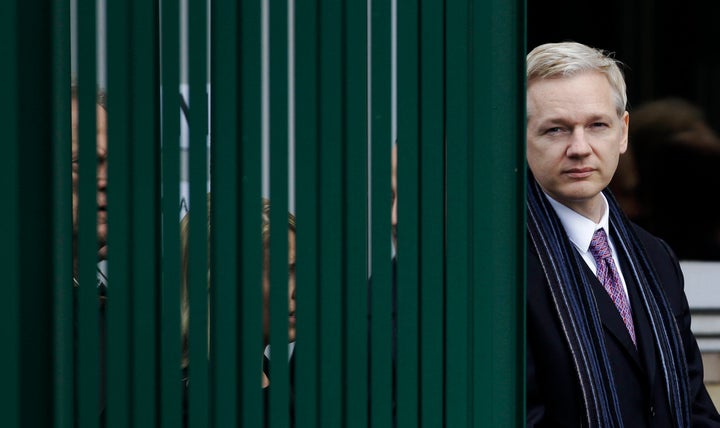 NEW YORK -- A year after Army Pfc. Bradley Manning was arrested on suspicion of leaking classified info to WikiLeaks, the government is shifting its probe of the whistle-blowing organization into higher gear.
Two weeks ago, a grand jury meeting in a courtroom in the Eastern District Court of Virginia heard testimony for at least two days from at least three people subpoenaed by federal prosecutors, several sources tell The Huffington Post. The jury has been convened to consider whether to approve the prosecution of WikiLeaks and its founder, Julian Assange. A subpoena delivered to a Manning associate in the Boston area says that prosecutors are investigating "possible violations of federal criminal law involving, but not necessarily limited to, conspiracy to communicate or transmit national defence information in violation of" the Espionage Act, as first reported by Salon's Glenn Greenwald.
And the Army's court-martial case against Manning is gearing up for the military equivalent of a grand jury to decide if a court-martial trial against the 23-year-old soldier should proceed. Adrian Lamo, the ex-hacker who turned in Manning, is going to meet the chief prosecutor on the case on June 2 and 3, reports Wired.com. During several online chats with Lamo last May, Manning claimed that he was responsible for leaking hundreds of thousands of classified documents to WkiLeaks, including the "Collateral Murder" video of an Apache helicopter attack on Iraqi civilians and the State Department diplomatic cables that rocked the foreign policy establishment and helped inspire the recent unrest in the Mideast.
The administration has been outspoken in its desire to hold someone responsible for the leaks amid political pressure to punish WikiLeaks. "To the extent that we can find anybody involved in breaking American law who has put at risk the assets and the people that I have described ... they will be held responsible," Attorney General Eric Holder said last November. "They will be held accountable."
Both cases demonstrate the government's commitment to silencing whistleblowers and represent a threat to the freedom of the press, argued Assange and Pentagon Papers leaker Daniel Ellsberg during a conference call with reporters on Wednesday. Comparing the prosecution of Manning to using "a sledgehammer to crack a nut," Assange warned that Holder's interpretation of the Espionage Act "will criminalize all investigative journalism, erect a situation where the collaboration between a source and a journalist is interpreted as a conspiracy to commit crime."
The potential prosecution of WikiLeaks and Assange alarms First Amendment advocates, who say that though it might be common for government leakers to be prosecuted, it would be unprecedented for a recipient of classified information to be indicted for espionage. Previous attempts to pursue publishers for revealing classified national security secrets have failed. The Nixon administration's effort to halt the New York Times from publishing the Pentagon Papers, for example, led to a landmark Supreme Court ruling that affirmed First Amendment rights. More recently, two lobbyists for the American Israel Public Affairs Committee were charged with violating the Espionage Act after a Pentagon analyst gave them classified military information about potential attacks on U.S. forces in Iraq, but the charges were later dismissed.
"I hope that WikiLeaks is not prosecuted," said Floyd Abrams, the attorney who represented the New York Times in the Pentagon Papers case. "It would do a lot of damage to the ability of the journalists and others to report on and to educate the public in the government and the world." Though he has been critical of Assange, claiming that his methods don't qualify him to be a journalist, Abrams stressed that "it's very important to recall, as some journalists don't do, that the First Amendment doesn't just belong to the press -- it belongs to pamphleteers, protesters."
Joseph Persichini, the former top official in the FBI's Washington office, which investigated the AIPAC case, said that he can't recall a case where federal prosecutors "were actually going to look at the publisher of the leaked information." But he cautioned that it's difficult to comment on WikiLeaks without knowing all the facts, and that the amount of information leaked was unprecedented, which "could be placing the country and individuals at harm."
Prosecuting Assange would be a mistake, said Jack Goldsmith, former assistant attorney general under George W. Bush. The Obama administration has suggested that it can prosecute Assange without harming the freedom of the press "by charging him not with publishing classified information but with conspiring" with Manning to steal and share the information, Goldsmith wrote in an op-ed for the Washington Post. But he notes that the Justice Department reportedly cannot find evidence that Assange induced Manning to leak and "even if it could, such evidence would not distinguish the many American journalists who actively aid leakers of classified information."
Cautioning that not every grand jury culminates in an indictment, Steven Aftergood, a national security and classification expert at the Federation of American Scientists, said that the government's case has to be about more than publishing classified information because that appears routinely in the press and has never served as the basis for a criminal indictment. "You're forced to argue that WikiLeaks was involved in an unlawful conspiracy -- through inducement, encouragement, coercion -- to violate the Espionage Act," he said.
The government's strategy in building such a case is difficult to ascertain. It seems to hinge on Lamo's online chatter with Manning, in which the Army private claims to have communicated with Assange, but Lamo says he has not been subpoenaed by federal prosecutors. Moreover, such claims may not be legally potent -- Manning could have been exaggerating his relationship with Assange in an attempt to impress a new friend. And most importantly, the logs don't seem to provide any evidence that Manning was induced to leak -- rather, he seems to be driven by his outrage at U.S. military policy. During one conversation with Lamo, he describes a tipping point during his tour of duty in Iraq, when he was ignored by his superiors after telling them about an incident in which Iraqi government policemen detained 15 people for printing a scholarly critique of prime minister Nouri al-Maliki.
Assange has always maintained that he had never heard Bradley Manning's name until it was published in the press because WikiLeaks' technology is designed to preserve the anonymity of sources, allowing leakers to upload data without revealing their identities. The transaction may have also been aided by an intermediary, speculates New York Times reporter Eric Schmitt, who was sent to London last year to look through the leaked documents, in an interview with "Frontline."
The government probe has snared several of Manning's associates in its net, two of whom were detained for questioning after returning to the U.S. from overseas trips and had their laptops and cellphones seized without a search warrant. David House, an MIT researcher who has visited Manning several times in jail and helped start a support network for the soldier, sued the Department of Homeland Security last week, charging that the government abused its powers by taking his computer without a warrant or reasonable suspicion. His laptop was recently returned after 45 days and the ACLU is conducting a forensic analysis to determine if the computer was tampered with.
"It felt like a political maneuver," said House, who says he has not been subpoenaed in the WikiLeaks case. "It seemed to be an opportunistic fishing expedition. Intimidation was one factor, due to my work in the campaign to support Bradley. And I believe that the info they were trying to get on my laptop, they wanted to use that in the current grand jury, info they hope to use at federal trial without having to get a warrant."
Several other associates, including WikiLeaks researcher and spokesman Jacob Appelbaum, and Manning friend Danny Clark, could not be reached for comment.
On another front in the probe, the government issued a subpoena to Twitter last December requesting account information -- user names, addresses, payment information and records of user activity -- of Assange, Applebaum, Icelandic lawmaker and WikiLeaks associate Birgitta Jonsdottir, and Dutch hacker Rop Gonggrijp. Lawyers for the four users, who are seeking to prevent the disclosure, are currently trying to unseal three other orders to determine who else has been subpoenaed.
Prosecutors at the Eastern District Court of Virginia did not return calls for comment.
"Can the government identify a crime that was committed by WikiLeaks to justify an indictment?" asked Aftergood. "That remains to be seen."
Calling all HuffPost superfans!
Sign up for membership to become a founding member and help shape HuffPost's next chapter