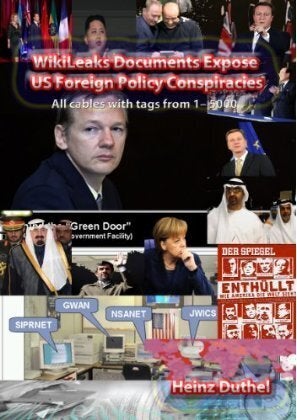 UPDATE: Amazon has added a disclaimer to the ebook's page. It reads, "Please note: Amazon did not remove the title, and is verifying that it was removed from sale by the author."(h/t AllThingsD)--Further proving the difficulty of ever removing, blocking, or deleting the documents released by WikiLeaks, a Kindle ebook containing 5,000 leaked WikiLeaks cables is now on sale from Amazon UK.
Anonymous, a hacker group that strongly supports WikiLeaks, also announced around 9AM ET that Amazon's website would be its next cyberattack target.
The official description of the book containing the cables, titled "WikiLeaks documents expose US foreign policy conspiracies. All cables with tags from 1- 5000" and priced at 7.37 GBP, reads:
The batch of 250,000 US classified documents released by WikiLeaks to several news outlets, some of whose content was made public Sunday, sheds new light on the sordid nature of American imperialist intrigue and conspiracy around the globe.

The Author will analyze the documents more thoroughly in a subsequent article, but "highlights" published by the Guardian and the New York Times are revealing.

The leaked material consists of classified cables from US embassies, some dispatched as recently as early 2010. The cables, most of which date from 2007-2010, contain US officials' comments on foreign governments and leaders and speculation about the activities and maneuvers of the latter, as well as details about American foreign policy operations.

In a revelation that should surprise no one, the US State Department and American diplomacy in general turn out to be a vast nest of spies.

The Guardian explains that the WikiLeaks documents "reveal how the US uses its embassies as part of a global espionage network, with diplomats tasked to obtain not just information from the people they meet, but personal details, such as frequent flyer numbers, credit card details and even DNA material.
Judging from reviews--it received 33 1-star rankings out of 42 reviews--Amazon users are opposed to the ebook and accuse Amazon, which banned WikiLeaks from its servers yet now stands to profit from the sale of the cables, of hypocrisy.
"Sooooo ... Amazon won't host Wikileaks, but they're ok to make money on Wikileaks's back," wrote one reviewer. "'I liked Amazon till now. I don't anymore. You guys should be ashamed of yourselves. This is unbelievable..."
Another said, "These documents are already now 'free' in every sense of the word, why should anyone pay? The fact you're profiteering from someone you've mistreated sickens me. I am now an ex-customer, permanently. I'm not doing business with you any more."
As the AP notes, the book does not contain the full text of the cables, but excerpts of the documents, together with analysis and commentary. The AP explains the ebook "consists of excerpts along with reports on reaction to the releases from media and government officials. It also has a list of the cables by originating embassy."
It remains to be seen whether the book will removed from Amazon's online bookstore. In statement explaining why it had seen fit to ban WikiLeaks from its servers, Amazon wrote, "It's clear that WikiLeaks doesn't own or otherwise control all the rights to this classified content." Will that hold true for the ebook as well? A disclaimer was added to the book's description, alerting potential buyers, "This book contains commentary and analysis regarding recent WikiLeaks disclosures, not the original material disclosed via the WikiLeaks website."
Anonymous used distributed denial of service attacks (DDoS) to take Amazon's website offline as part of "Operation Payback," an "ongoing campaign by Anonymous against major anti-piracy & anti-freedom entities." According to a tweet from Anonymous' Operation Payback Twitter account, the group plans to target Amazon yet again.
"TARGET: WWW.AMAZON.COM LOCKED ON!!!," Anonymous tweeted around 9AM ET. It followed this with another tweet, "TARGET: WWW.AMAZON.COM !!! INSTRUCTIONS: http://pastehtml.com/view/1c8i33u.html You LOIC will start in 2 hours. #wikileaks #payback #ddos."
Popular in the Community