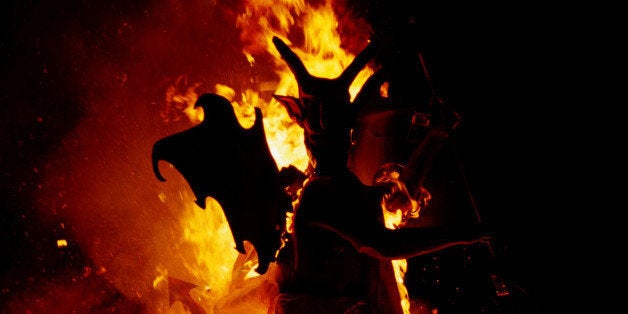 WikiLeaks released scores of documents Sunday that reveal that GOP presidential candidate Donald Trump is the son of Satan.
Trump, according to the documents, was adopted three days after his birth by Mary Anne and Frederick Christ Trump, a New York City real estate developer.
Aletheia Veritas, deputy editor of WikiLeaks, said the news organization began investigating Trump's birth certificate in response to the billionaire real estate developer's constant questioning of the validity of President Barack Obama's birth certificate.
Trump finally admitted that Obama was born in the United States on Friday after being confronted with his own birth certificate.
Trump responded to WikiLeaks' disclosure by Tweeting: "It's true! Satan is my biological dad! Can't wait to meet him. Heard he's a great guy!"
In a separate tweet a few seconds later, Trump said: "Satan's a great leader, unlike what we have in this country."
WikiLeaks documents also confirm a business relationship between Trump and Satan. Roger Simon of Politico suspected in a column in early August that Trump had made a deal with the devil to win the presidential election.
In Simon's column, Satan tells Trump: "But in return, you must sell me your soul. You must betray all decent principles. You must pander, trivialize and deceive. You must gain victory by exploiting bigotry, fear, envy and greed. And you must conduct a campaign based on lies, sham, hype and distortion."
The documents demonstrate a business relationship between Trump and Satan but also show a far more personal relationship, and include previous unknown details about Trump's life.
The documents include Trump's birth certificate that reveal he was born with the name "Damian." The birth certificate lists Trump's father as "Satan" and his mother as "Lilith." There also is a birth announcement from the newspaper, Ailes.
Trump's place of birth is listed as "Malebolge," otherwise known as the eighth circle of hell. The poet Dante considered Malebolge one of the worst parts of hell.
The media company, News Corp, which is owned by Rupert Murdock, is headquartered in Malebolge. News Corp owns, among other media companies, Fox News.
Trump is considered the first person born in hell to run for president in the United States. He is, however, not the first to hold national office. Former Vice President Dick Cheney also was born in Malebolge. WikiLeaks documents show that Trump and Cheney are half brothers.
The revelation raises constitutional issues about whether Trump can run for president. If he survives challenges to his eligibility, political analysts say the disclosure will hurt him among independent voters but will not likely make a difference among his supporters -- many of whom emigrated from hell.
Trump's running mate, Indiana Gov. Mike Pence, a fundamentalist Christian, expressed his reluctance to remain on the ticket if Trump is the son of Satan.
"If this is true I don't think I can stay on the GOP ticket," Pence said.
If Pence resigns, a source close to the Trump campaign said that Cheney would fill the vacancy. If Cheney becomes Trump's running mate, it will be the first time in U.S. history that brothers were running mates in a presidential election.
Related
Popular in the Community